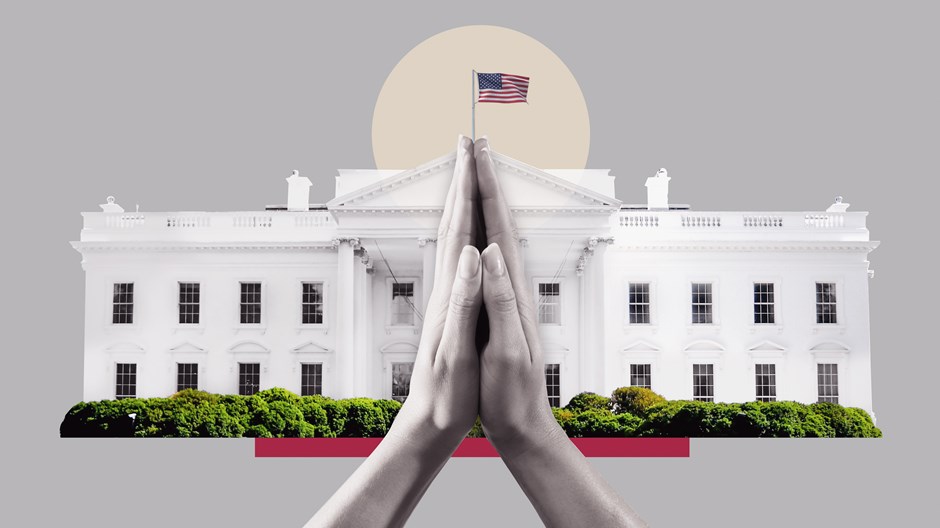 Image: Illustration by Rick Szuecs / Source images: Jacobs Stock Photography Ltd / Getty / Wikimedia Commons
Though I have never contributed to a time capsule, penning this column seems a curiously similar exercise. As I sit down to write, summer is blazing. Joe Biden handily leads President Donald Trump in the polls, but I can't claim to know who will win.
When you sit down to read this, the presidential election may or may not be over. The results may or may not be announced. Between pandemic occasioned mail-in ballots and the lawsuits and recounts I expect will follow, this column seems to me a distant, ominous smear on the calendar of a helter-skelter year. What can I write to such a future?
There is one certainty, however the election ends: A president of the United States will be chosen, and he will be in dire need of prayer.
Calls to pray for political leaders are familiar to evangelicals. We know Scripture requires it: "I urge that supplications, prayers, intercessions, and thanksgivings be made for everyone," writes the apostle Paul in 1 Timothy 2:1–2, "for kings and all who are in high positions, so that we may lead a quiet and peaceable life in all godliness and dignity" (NRSV throughout). We know, too, that prayers are commanded no matter what we make of our leaders' politics. We pray for their prudence and success for the sake of our neighbors, even if we would never give them our vote.
But I think we can pray more. Here are four ways to pray over a president, whoever he may be:
Pray honestly, but with mercy.
Around the time of the 2012 election, billboards appeared in several Southern states, urging passersby to pray Psalm 109 for then-President Barack Obama: "May his children be orphans, and his wife a widow. May his children wander about and beg; may they be driven out of the ruins they inhabit" (Ps. 109:9–10). Imprecatory Psalms like this appear in Scripture because God wants us to speak truthfully to him (Job 42:8). We should not conceal our emotions in prayer, as if we could fool God. But at the same time, as bitter honesty is preferable to decorous pretense, so mercy in our prayers is better than cruelty.
Pray for winners and for losers.
The COVID -19 pandemic; a summer of police brutality, protest, and riot; and Trump's cunning omnipresence in our political conversations have combined to intensify what is already the most intense date on the political calendar. For many Americans, this election feels apocalyptic. I don't think forecasts of widespread violence over its outcome are correct, but neither can I confidently dismiss their possibility. For those whose candidate lost, we should pray for calm, endurance, and comfort in what may be a moment of real fear. For those whose candidate won, we should pray for responsibility, humility, and grace. Insofar as conscience permits, let us "rejoice with those who rejoice, [and] weep with those who weep" (Rom. 12:15).
Pray for wisdom, peace, and justice.
Every presidency is much shaped by its staff, and the space between Election Day and Inauguration Day is a crucial time for the selection of presidential advisers. "Where there is no guidance, a nation falls," says Proverbs 11:14, but bad guidance can take a nation down also. Prayers for peace are needed, because our Constitution assigns the president perhaps his most unfettered power in the conduct of war—and its conclusion. And some policies of every presidency, whether at war or at home, inflict unjust harms. We should pray for our president's victims, for their receipt of justice and restoration.
Pray for perspective and discipleship.
The presidency, we must remember, is not everything. Who occupies the Oval Office cannot singly determine every course of the next four years. In the smaller scheme of things, many policies that most affect our daily lives are set at state and local levels. There is good to do in our communities, whatever happens in Washington. In the bigger picture, the president is not our true king and America is not our true kingdom. Our hope is in Christ, not "in princes, in mortals, in whom there is no help" (Ps. 146:3). Neither is the president our exemplar, the life around which we conform our own. Still, let us pray that discipleship will cultivate in us any of his virtues we admire—and that sanctification will excise from us any of his vices we revile.
Bonnie Kristian is a columnist at Christianity Today.
Have something to add about this? See something we missed? Share your feedback here.
The Lesser Kingdom
A prophetic, eclectic, and humble take on current issues, public policy, and political events with thoughts on faithful engagement.
Bonnie Kristian is the editorial director of ideas and books at Christianity Today. She is the author of Untrustworthy: The Knowledge Crisis Breaking Our Brains, Polluting Our Politics, and Corrupting Christian Community (2022) and A Flexible Faith: Rethinking What It Means to Follow Jesus Today (2018) and a fellow at Defense Priorities, a foreign policy think tank. Bonnie has been widely published at outlets including The New York Times, The Week, CNN, USA Today, Politico, The New Atlantis, Reason, The Daily Beast, and The American Conservative. She lives in Pittsburgh with her husband, daughter, and twin sons.
Previous The Lesser Kingdom Columns: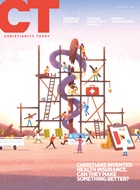 This article is from the November 2020 issue.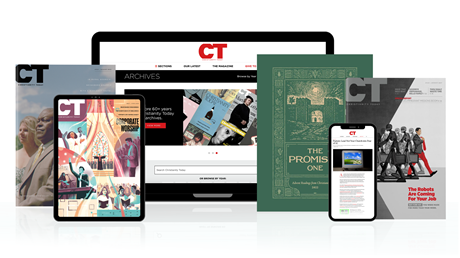 Annual & Monthly subscriptions available.
Print & Digital Issues of CT magazine
Complete access to every article on ChristianityToday.com
Unlimited access to 65+ years of CT's online archives
Member-only special issues
Subscribe
Say a Prayer for the President
Say a Prayer for the President