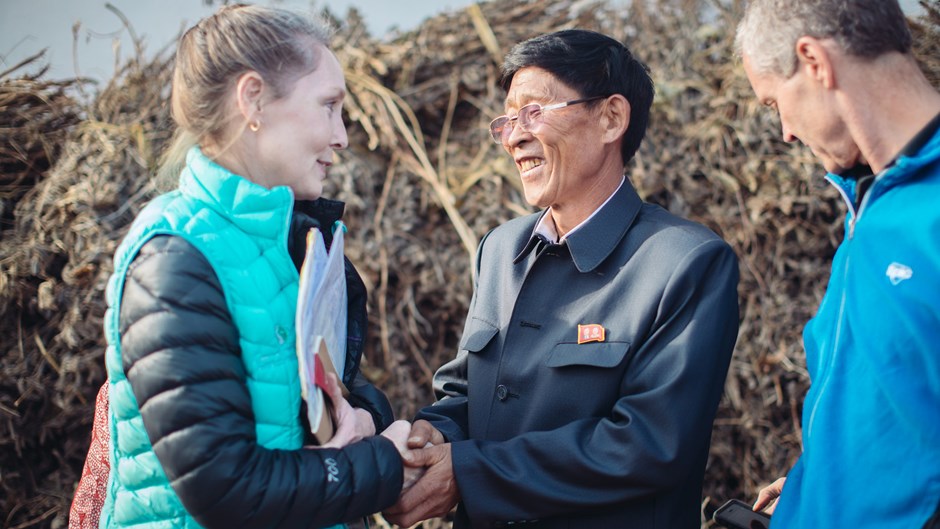 Image: Courtesy of Christian Friends of Korea
North Korea's recent decision to participate in the PyeongChang Winter Olympics comes at a time when the country has arguably never been more isolated from the West. Recent actions and counteractions between the United States and North Korea have led to unprecedented tensions in a long-strained relationship. The State Department issued a travel ban that forced about 200 Americans working there to leave before it went into effect, and more recently, the United Nations initiated new sanctions against the country.
Despite the risks and restrictions—some of which have been ongoing for decades—American Christians have found ways to minister to North Koreans in need. For some, it means teaching young people at the evangelical-founded Pyongyang University of Science and Technology. For Heidi Linton, who serves as the director of Christian Friends of Korea (CFK), it means serving gravely sick North Koreans.
CFK describes its mission as sharing "God's heart of love and grace to the North Korean people primarily within the context of tuberculosis and hepatitis." "These are both very serious diseases in North Korea that affect hundreds of thousands—probably millions," said Linton, who has been working in the country since the mid-1990s.
Linton, along with her American team members, must now secure special validation passports to continue working in North Korea. She spoke recently with CT about her family's long connection to North Korea, her personal relationships with citizens of the closed country, and the role Billy Graham played in catalyzing CFK's work.
To what extent has fear factored into your work?
How can you avoid fear when it comes to North Korea? That said, I cling to the verse in 1 John 4:18 that says, "There is no fear in love. Perfect love casts out fear." None of us in our own strength can ever love perfectly, but the Holy Spirit working through us can show God's perfect love to the North Korean people.
This last August [after North Korea ran new ballistic and nuclear tests] was a very intense time for CFK. We sat ourselves down and said, "Are we supposed to be going back in August?" We called our board of directors together for prayer and discussion over two days, and team members also talked with their families. We laid out several criteria—this needs to happen by this date, and that needs to happen by that date. If these things come together, then we will go. They did all come together, we had a productive trip, and God gave us peace while we were there. We ended up going back in October, as well.
This has been a walk of faith from the very beginning, and that's hard to define sometimes. You read Hebrews 11 [where it says "faith is confidence in what we hope for and assurance about what we do not see"], and there are many, many examples of how confusing and difficult that can be in the moment. Yet God is faithful.
What is your organization's connection to Billy Graham?
Billy Graham wanted to go to North Korea in the early '90s. My brother-in-law had made a visit to North Korea and maintained relationships with the North Koreans at the UN Mission in New York, so he made some introductions, and then he and others were involved in negotiating and helping to organize Dr. Graham's early visits.
My husband's uncle—he was a lifelong missionary to Korea who later served on the board of CFK for many years—interpreted for Dr. Graham when he spoke at churches and at Kim Il-sung University and other places. Graham and his team met then-president Kim Il Sung, who declared that they were "friends of Korea." After we realized there was a real need in North Korea for ongoing humanitarian assistance, my husband and his brother joined with three other board members and founded what became Christian Friends of Korea. We now have different partners and volunteers across the US and globally.
What initially catalyzed your work in North Korea?
We initially began working in 1995 during the famine years—from 1994 to 1998—and we started by sending food. Not long after, we got a request to send an ambulance, so we put one together. Part of the funding for this project came from an honor (including a monetary prize) my mother-in-law had been given for her work with tuberculosis in South Korea. When they found out about that, [our contacts in North Korea] said, "Oh, we have a tuberculosis problem. Could you help us with that?" It really was just sort of a door that God opened to us, and we walked through it.
Obviously, treating these types of diseases in North Korea is extremely challenging. How has the risk and complexity changed in recent years?
The past year has been particularly difficult. The travel ban, which took effect on September 1, has been part of that, although we've been able to navigate it. But there have been issues with new sanctions, which impact lots of different aspects of our work. Whenever you raise sanctions on a country, third parties that we have to do business with in order to deliver humanitarian aid in North Korea start to get very nervous. This work has always been difficult, but now we're at an unprecedented level of complexity. Humanitarian activities are being seriously jeopardized, and Christian organizations like ours face additional challenges.
What is your own family's relationship to Korea?
I married into my husband's family, and his parents, grandparents, and great-grandparents were all missionaries in Korea. His great-grandfather, Eugene Bell, went to Korea as a Presbyterian missionary in 1895, and the family has had a presence in Korea ever since then. So we're going on 123 years, now. Most of them speak the language very fluently, and they certainly have a deep understanding and appreciation for the culture and the people, the context and the history.
Are there other missionary connections for CFK?
In the Black Mountain/Montreat area of North Carolina, where CFK is headquartered, there were many retired missionaries to Korea who returned from the mission field and settled here. We ended up establishing our organization here in part because of all these wonderful people who really understood Korea and knew its language and culture. We used to bring the North Korean officials down here from New York to visit them. It was sort of their home away from home because they would have dinner in these people's homes and speak their own language and begin to understand how much these people really loved their country. Many of these retired Korea missionaries had known their country before it was a North and a South, before it was divided. That resonated on another level, as well.
When did you first sense God's call to North Korea?
I would have never dreamed of working in North Korea in my 20s. Although I had known many Koreans in college and high school, it wasn't really on my radar screen. But when I married, I began to learn a lot more about Korea. When I went to North Korea for the first time, it grabbed my heart. The needs were overwhelming. I had already been involved in the work for three years as a volunteer, helping with newsletters and communications with donors and that kind of thing. But it was transformative to actually visit the country, meet ordinary North Koreans, and follow God's lead in understanding how we could potentially help.
What has changed over the years that you've been in North Korea?
My early visits were during the famine years, and that was a time of incredible hardship and overwhelming need. It's hard to explain what we saw and experienced. Certainly, the country's come a long way since that time, at least in some respects. There is more food available now, although it's not enough. But there are small segments of the population that are doing significantly better than during those hard, hard years. I remember when bicycles came in. People were walking everywhere in the earliest years, and then all of a sudden bicycles came on the scene, and that was a huge transformation.
Many people have cell phones, too. There's color everywhere now—the buildings always used to be gray—and so to have things painted colors brightens everything. There's grass planted everywhere now; that was all barren when we first came. There are parks, and there are new buildings, especially in Pyongyang. So I have seen a lot of changes over the years. Certainly, there's been a lot of work done, and yet there's still a long, long way to go.
Is there a personal relationship with anyone in North Korea that is of particular importance to you?
One meaningful relationship was with a director of a tuberculosis sanitarium that we visited off and on for years. I'll never forget just how excruciating the difficulties were; he was trying to take care of TB patients and was sick himself.
When we visited one time, I went to shake his hand, and it was so hot because he had a fever. As we were leaving, he gave me a box of pheasant eggs. I said, "How did you get these eggs?" He said, "I knew you were coming. I wanted to welcome you. So I hiked around the hills for the last three days to collect these eggs out of the nests for you." I was amazed by this huge act of sacrifice and generosity. We went on to help this man rebuild his care center from the ground up. We helped him build a ward to care for multi-drug resistant (MDR) TB patients. We had a new well drilled for him, and then our team worked with his staff to put in a solar/gravity water system. We worked with him on a greenhouse. By the time we finished, his whole facility had been completely transformed.
He died about a year and a half ago from MDR-TB. He had been sick with TB five times. He was 59 years old, just a few years older than I am. But his life gives you an idea of the kind of people who are there—self-sacrificing, hardworking, and special people.
I'm sorry about his death.
Sadly, there are a lot of people who have died. We've worked in about 30 care centers, and so we get to know many different people. It's really a privilege to visit them. They're hospitable and welcoming and share ideas about how to improve the facility and help the patients.
On this last visit, one man that we talked with told us he's been in TB work for more than 20 years. He built the road to his own facility when he first got started, and then he built the buildings and planted fruit trees. His vision and determination are remarkable. He was planting fruit trees during some of the hardest years, and now they are starting to bear fruit. He and his staff—local doctors and nurses—are now rebuilding a main patient building by hand. The care center has improved so significantly, but he went through some really hard years to get there. These are very selfless people, and the people that they care for are generally very, very sick.
How do you see the church in South Korea interacting with North Korea?
It's been very difficult because of the legal constraints that the South Koreans are under. There's been almost no interaction between the South and the North in recent years. In many cases, their South Korean passports prevent them from being able to go to North Korea. I hope that can change, but for now, they don't have the opportunity.
What I will say for the South Korean church is that it's a praying church. I'm always amazed at the Koreans' early morning prayers and their calling out to God. We can learn from that.
What about the American church? How can it better love and support North Koreans?
First of all, we need to be aware that there are 25 million people there that need our prayers, love, and support—people who need us to understand their context. I hope we can be a praying church. What we get in the news is often a very scary picture, but underneath that, there are real people who need to know that God loves them and has not abandoned them.
So I would encourage the American church to find tangible ways to help. There are several very good organizations involved in North Korea, and they need a lot of help. They need volunteers. They need prayer support. They need financial support. People should get involved. We have an amazing opportunity to love people in the name of Jesus and to let them know that Christians will be at the forefront of caring for them.
What do you want our readers to know about North Korea?
North Koreans are real human beings who are trying to love their families well. They're trying to raise their kids. They're trying to be healthy. They suffer just like we do. They long for better relationships with the outside world, with us as "the enemy." They want to know who we are and why we think the way we do. They're limited in the amount of information they have, and that's important for us to understand, and it's also important for us to understand that they have very little say in what their government does.
It's a very complex situation, but I think the Bible is very clear: We are called to actively love our enemies. When we do, God enters into that space and brings healing, understanding, righteousness, and justice. So we're called to engage. We're called to reach out. We're called to remember that these are our brothers and sisters.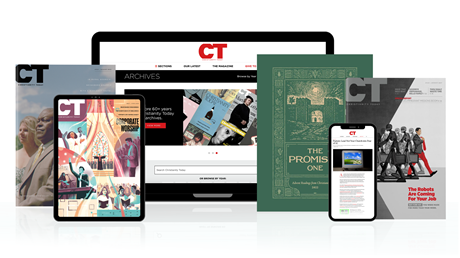 Annual & Monthly subscriptions available.
Print & Digital Issues of CT magazine
Complete access to every article on ChristianityToday.com
Unlimited access to 65+ years of CT's online archives
Member-only special issues
Subscribe
Why I've Spent Half My Life Helping North Korea
Why I've Spent Half My Life Helping North Korea