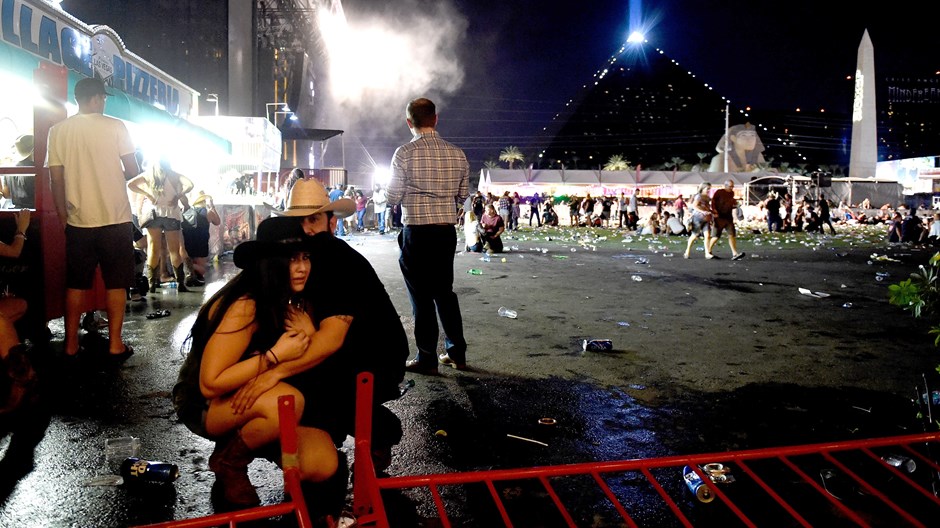 Image: David Becker / Getty Images
Sunday night, Jason Aldean was performing at an outdoor country music festival in Las Vegas when an assailant opened fire from a hotel window 32 stories above.
On Monday night, country legends like Alison Krauss, Vince Gill, and Keith Urban were singing at a vigil for the nearly 600 people who were wounded or killed in the attack. Rising country star Maren Morris had already released a song in honor of the victims.
"I never knew when would be the right time [to release it]" Morris wrote of "Dear Hate," which was recorded last year. "But I realized today that there's never a right time." Her lyrics seem painfully applicable:
You were there in the garden like a snake in the grass
I see you in the morning staring through the looking glass
You whisper down through history and echo through these halls
But I hate to tell you, love's gonna conquer all.
In the past few days, media pundits and others have tried to unpack the role of country music in the attack. As Hayley Geftman-Gold, a newly fired CBS executive, recently learned, jumping to conclusions about country musicians and fans isn't wise. Certainly the "Republican gun toters" that Geftman-Gold publically derided were in fact part of the scene on Sunday night, and yet the crowd and the performers were both more heroic and more diverse than she gave them credit for being.
At another level, we're still trying to understand why this community was involved in the first place. The people in the crowd were all country fans—but reportedly, so was the shooter. Was he the sinister outsider of many middle-American nightmares, or was he turning on his "own people"? If so, why?
These sociological and psychological quandaries will consume us for weeks and months to come. But as an avid country music fan, I'm inclined to think about the genre itself and how country music gives us a script for understanding grief, healing, and human sin.
As I've noted before, the past few years have seen significant change in country music. While the surface of modern country may look monochromatic, underneath are a thousand widening fissures. Ever since Loretta Lynn sang about "The Pill" (or even before), country has thrived on the tension between celebrating the precious heritage of rural (or small town) American life and turning a knowing gaze on the hardscrabble realities of that same life.
As Brandy Clark sang in a particularly world-weary song on her 2013 album 12 Stories,
There ain't but two ways
We can change tomorrow
And there ain't no genie
And there ain't no bottle
So we pray to Jesus and we play the lotto.
These lines hint at what lies beneath the world-weariness, the cynicism, and the tension: a deep spiritual bedrock. It's been there since country's earliest days, when musicians like Hank Williams wrote songs like "I Saw the Light" while repeatedly giving in to addiction and self-indulgence. Country recognizes that the saint and the sinner sit very close together—often in the same person.
The best country artists tend to be those who recognize the art form's spiritual foundation and engage with it consistently. It may chafe at them, they may long to leave it behind, but they wrestle with it as Jacob wrestled with the angel, unable to deny its power or persistence. At bottom, this is what gives country music (and the community around it) its stubbornness, its grit, its strength, and its resilience.
This week, the spiritual resilience of country music is on full display. Although many an artistic community could speak back to itself in the wake of a horrific tragedy like this one, I would argue that not all of them could have done it with soul-moving songs like "Go Rest High on That Mountain," which Vince Gill sang at Monday's vigil. Not all of them could have produced a Maren Morris, who sings cheekily about how church for her consists of listening to Johnny Cash and Hank Williams on the car radio, but who's also capable of writing this:
Dear Love
Just when I think you've given up
You were there in the garden when I ran from your voice
I hear you every morning through the chaos and the noise
You still whisper down through history and echo through these halls
And tell me love's gonna conquer all
Gonna conquer all.
As an art form steeped in Scripture and built on the Christian faith of generations, country music gives us a language of lament that its performers and fans—however far they may have wandered from that faith—readily recognize and understand.
In the midst of the darkness that fell over the nation on Sunday night, it offers a light to help us keep going.

Gina Dalfonzo is author of One by One: Welcoming the Singles in Your Church(Baker, 2017). She is also the editor of BreakPoint.org and Dickensblog and a columnist at Christ and Pop Culture.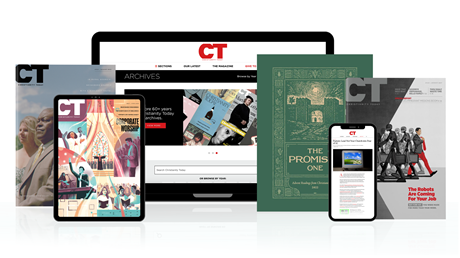 Subscribe to Christianity Today and get access to this article plus 65+ years of archives.
Home delivery of CT magazine
Complete access to articles on ChristianityToday.com
Over 120 years of magazine archives plus full access to all of CT's online archives
Subscribe Now
Lamenting Las Vegas: How Country Music Marks an American Tragedy
Lamenting Las Vegas: How Country Music Marks an American Tragedy