true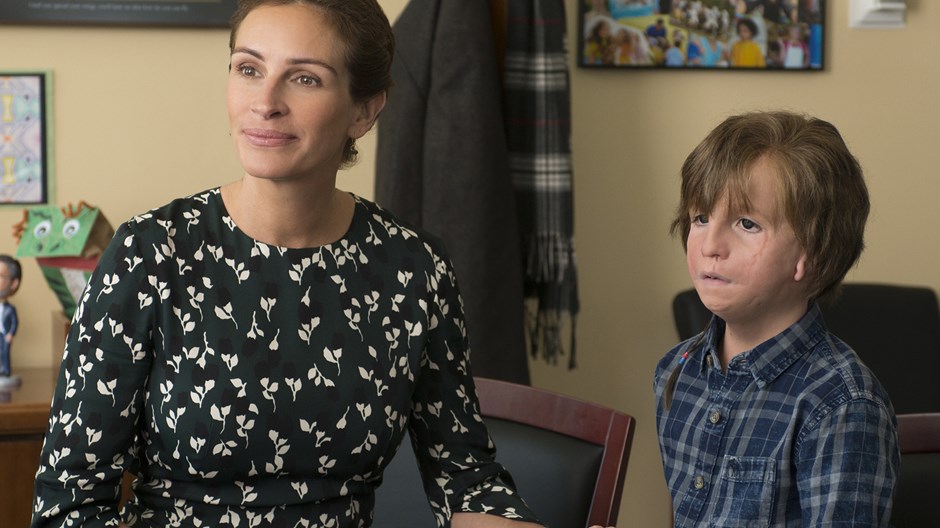 Image: Courtesy of Lionsgate
Wonder opens with a boy wearing a space helmet. August Pullman is a child who lives in his imagination—as evidenced by Chewbacca and Darth Sidious showing up from time to time in his classroom. He dreams of being normal and longs to be unnoticed.
In the opening scene, we see a montage of his ordinary life: August playing video games, riding on the merry-go-round at the park, jumping on the bed. In every shot, he wears the space helmet. When he finally takes it off in front of his window, we recognize in his reflection exactly why he longs to keep his face covered. The image that stares back at us is a face stretched and scarred, eyes that seem weighted downward, a nose that protrudes unnaturally, and a mouth that looks as though it's been built by surgical procedures. His bulletin board—covered entirely with hospital bracelets—gives evidence of a lifelong medical struggle.
Based on the best-selling novel by R. J. Palacio, the family flick Wonder stars Julia Roberts, Owen Wilson, and Jacob Tremblay as their son, the main character. The film netted $27 million at the box office on opening weekend alone and has been accompanied by a popular social media campaign led by the Twitter hashtag #choosekind.
Although it's never clearly stated in the movie nor in the book by the same name, Auggie likely has Treacher Collins syndrome. His older sister, Via, tells her boyfriend that both her parents carry the rare gene that, when combined, made his facial differences possible. "Auggie won the lottery," she says.
Every child with a disability has won some kind of lottery. "The lottery" is how my husband and I have always talked about our son with Down syndrome, whose condition is much less rare than fictional Auggie's but still remarkable (in both the positive and negative uses of the word).
Based on the biological and developmental conditions that might cause a human to emerge into this world both utterly unique and deeply challenged, one can't help but think there is a miracle in all of it, a secret we have to dig deep to discover. Every family of a child with a disability is simultaneously carrying this secret joy and also digging for it. We see this same dynamic manifest in Auggie's family and in the lives of others who love him.
"Your house is the earth," says Via, quoting a friend. "It revolves around the son, not the daughter."
Alone in her journey and trying to navigate a broken friendship and first love, Via is the classic sibling of a child with special needs. She learned early on to not rock the boat. She also learned that her challenges would never be comparable to her brother's, so she keeps quiet and figures them out on her own.
Auggie's mother, too, has her own struggles. A flashback (before the birth of her son) shows Isabel completely devoted to her daughter. However, as Via tells us, Isabel "stopped a lot of things when [Auggie] was born." She gave up her dreams of being a children's book illustrator, left her thesis half finished, and somewhere along the way, lost her ability to care for her daughter in the same way she cares for her son.
I was moved to tears during much of the movie, but most intensely in the story of Auggie's mom. She's deeply wise and trying her best—even in her relationship with Via—but has a blind spot when it comes to Auggie's need for her. We watch her drop everything, even Via, the moment August needs her. And we watch Via suffer because of her mom's inability to see beyond her son's needs.
I, too, know the intoxicating siren call to my child with Down syndrome, the urgent awareness that there is always more to do—more developmental milestones I can help him reach, more skills to work on, more services I can find for him. He needs me. And as my older, more typical children grow, they need me less (it can seem).
In Wonder, the beauty of the relationship between Isabel and Via is the insistence that Via does need her mother—a reminder that we are all hurting, we are all weak, and we all need one another, whether our needs are ordinary or extraordinary.
This might be the most significant theme in the movie. Every person orbiting around Auggie Pullman—from the bully to the new best friend at school—is flawed, in need, and struggling to navigate human community. His friend betrays him but then comes back to make things right with sincerity and humility. Other kids grow from repulsion of Auggie to love for him. A little girl takes a risk to sit with him at his table when no one else will (the sort of thing I pray my sons will be brave enough to do for someone else).
We also see the best side of educators, like Auggie's teacher, Mr. Brown, who instructs his classroom in the precept that we should all "be kind, for everyone is fighting a hard battle."
We see that hard battle in every character in this story, each of them—like Auggie— reflecting the image of God. The film is a reminder of the extraordinary gift of our humanity—both its brokenness and beauty. We are weak, caught up in our self-centered views of the world, often choosing our own comfort at the cost of those around us who long to be known and welcomed. And we are also beautiful, capable of great love and great acts of generosity. As Auggie reminds us, God's image in us is found not in our faces but in our ability to give and receive love. Like the characters in this film, we are all exquisitely ordinary, each of us "fighting a hard battle" and longing to cover our own vulnerability with a space helmet.
As I sat through Wonder with my six- and nine-year-old boys, I was reminded of how my child with Down syndrome reveals the depth of what it is to be human. Auggie's character does the same for us. After all, once that helmet comes off, it's not his vulnerability, but rather what the school principal describes as his "quiet strength" that instructs us in how no one is ordinary.
In the end, we all understand exactly what Auggie's dad means when he says to him, "I love it. It's my son's face. I wanna see it."
Micha (pronounced "MY-cah") Boyett is the author of Found: A Story Questions, Grace, and Everyday Prayer. She's passionate about ancient Christian spiritual practices and how they inform the contemporary life of faith. She writes about prayer, motherhood, and her journey with Down syndrome at michaboyett.com. Follow her on Twitter, Facebook, and Instagram.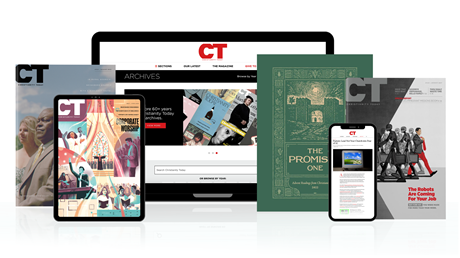 Annual & Monthly subscriptions available.
Print & Digital Issues of CT magazine
Complete access to every article on ChristianityToday.com
Unlimited access to 65+ years of CT's online archives
Member-only special issues
Subscribe
'Wonder' Reveals the Face of True Human Strength
'Wonder' Reveals the Face of True Human Strength