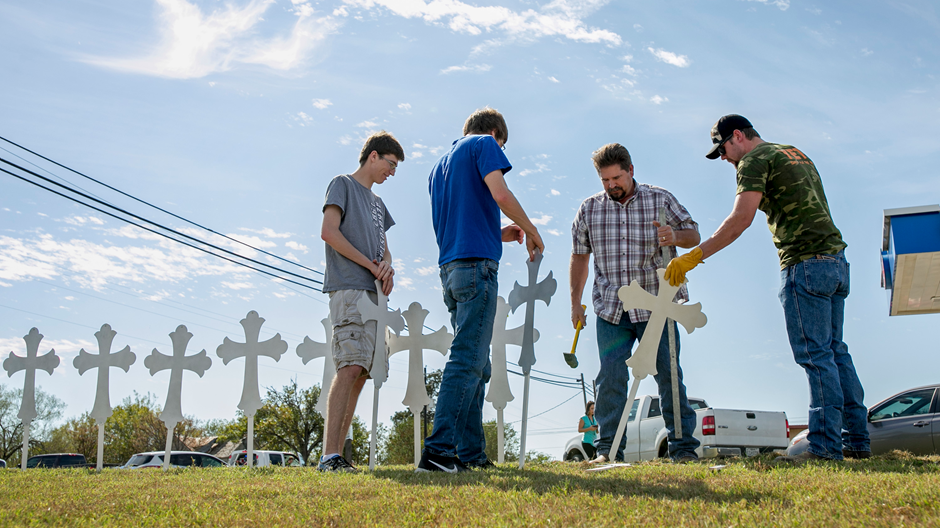 Image: Jay Janner/Austin American-Statesman via AP
By any measure, Sunday's mass shooting at the First Baptist Church of Sutherland Springs, Texas, breaks records we'd rather not see broken. Texas Gov. Greg Abbott characterized it as the worst mass shooting in the history of our state and among the worst in the country's recent history. It is the deadliest church shooting on record.
Superlatives abound as our society scrambles to understand what these things mean. Framed in an overarching narrative of the decline of American civility or debates over gun-politics or increasing hostility toward people of faith, the shooting serves as a data point for the more cerebral and an exclamation point for the more passionate.
When you remove the framework and look at the story of a small church in a rural town, this event defies ranking or evaluation.
For the First Baptist Church of Sutherland Springs, it is an extinction-level event. The church's lay leadership have all been murdered. The preponderance of the church's surviving membership lies in the hospital. Eight of the slain come from a single family.
The worship center lies smothered in the carnage and riddled with bullet holes. Who's going to clean it? Who's going to pay to have it cleaned? The people who have taken care of those needs in the past were carried out of the meeting house on stretchers and gurneys.
The death of 26 members would traumatize any church, but for a church this size, it threatens the church's very existence. It threatens that small church; it frightens every small church. Most of the pastors of small churches across the nation know someone whom they could imagine committing a similar crime.
The definition of the family and the nature of childhood in America is changing. Violence in television, movies, gaming, and pornography reaches more and more homes, in rural America just as much as urban contexts.
In a smaller church, the boundaries between family and church are thin and blurry, so family problems spill over. The small church pastor deals with divorce and domestic violence, custody disputes and molestation within families, bullying and ostracism, secularism and religious antipathy. He faces these challenges, just as pastors of larger and urban churches do, but with less help and, in some cases, less training. Working on the front lines of these sensitive issues, churches can become targets when things go wrong.
Like larger churches, smaller churches face security threats, but they do not have the same resources to address them. Large churches will meet this week to review security policies in the aftermath of this shooting. Some employ off-duty police officers. Some impanel security teams to roam their campuses and mitigate threats. Some will purchase surveillance or security technology and will equip their churches to respond to threats. Almost all of those approaches will be out of reach for smaller churches.
Money is not the only constraint. It's not even the most important. The spiritual atmosphere of a smaller church makes impossible some of the security measures larger churches take. Smaller churches feature a more intimate and accessible relationship with the church's leadership—that's not compatible with a team of bodyguards who escort the preacher in and out of the service.
Many of those who worship in a smaller church cherish the distinctively rural spirit of the church's meetings. What's more, a great many of the smaller rural churches in our nation worship in older facilities to which the congregation has developed an emotional attachment. Knocking out walls and windows to create multiple emergency egress pathways and to eliminate choke-points is both harder to do and harder to decide to do in a smaller church.
But don't count out smaller churches quite yet. Alongside these challenges that they face, smaller churches can generate a loyalty and a resiliency that make them hard to kill.
A single scandal involving a key personality can make an entire network of megachurches vanish without a trace in the span of a few months. I predict a better outcome for First Baptist Church of Sutherland Springs.
People are less likely to abandon the church they attended with their grandparents. I believe that members who have been on the sidelines will step up. Sister churches in that rural area will reach in and give a helping hand. The martyrdom of these believers will bring people to Christ.
I believe that the gates of hell remain the principal threat faced by smaller churches. I believe that the gates of hell will not prevail against Christ's church.
Bart Barber is pastor of First Baptist Church in Farmersville, Texas. He began preaching in a small-town church in his hometown of Lake City, Arkansas. Barber spoke at this year's Southern Baptist Convention Pastors' Conference, in a lineup especially curated to appeal to leaders of smaller congregations. He also writes for SBC Voices.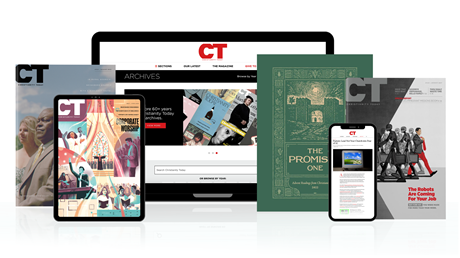 Annual & Monthly subscriptions available.
Print & Digital Issues of CT magazine
Complete access to every article on ChristianityToday.com
Unlimited access to 65+ years of CT's online archives
Member-only special issues
Subscribe
A Small Rural Church Is Hard to Kill
A Small Rural Church Is Hard to Kill