true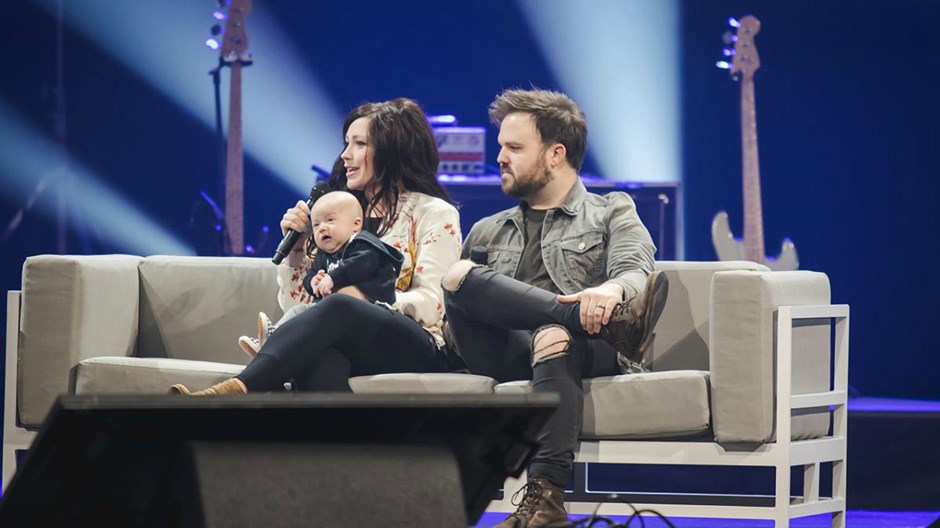 Image: Courtey of Daystar
What happens when you're in the middle of living the dream… and another dream comes along?
Jaci Velasquez had spent over half her life recording and performing Christian music by the time she gave birth to her first son a decade ago. "I remember thinking to myself, How can I ever go back? How can I ever make music again?" said Velasquez, whose No. 1 singles include "On My Knees" and "Llegar A Ti."
Many popular female artists spend their 20s focused on their careers in ministry, releasing albums, going on tour, and picking up Dove Awards and Grammy nominations. But around 30, these Christian singers confront the dilemma that women across industries face: deciding when to start a family and figuring out what their jobs look like after motherhood.
Amid her uncertainty, Velasquez—now a mother of two, releasing her first album in five years—remembered that "being faithful to God is being faithful to all the things God has placed in your life, that being my husband, my children, and my ministry."
Faith offers Christian artists a sense of assurance in the messy realm of balancing motherhood. For them, being a musician or a mother isn't merely their choice but a calling affirmed by prayer and counsel. Still, that God-given confidence doesn't eliminate the practical struggles of raising a family while writing, recording, and touring.
"While I was pregnant, I remember thinking to myself, 'Babies are so portable! It'll be a breeze in the first few months! He'll just absorb into my life!,'" said Audrey Assad, a Catholic singer and pianist, who gave birth to a son in 2014. "I couldn't have been more wrong about our own specific situation."
Image: Kari Jobe
For several months, baby Will would only sleep on Assad's chest, and she stayed up all night nursing him on the tour bus—forced to nap the next day to recover enough to perform. She now schedules shorter tours, flying back to see a happier toddler Will at home.
No amount of popularity, record sales, or sold-out arenas can compensate for the emotions and exhaustion that accompany the earliest months of motherhood. Multiple moms—including Assad and Kari Jobe—described the intense worry that swelled up the first time they returned to the stage.
"I remember just crying to [my husband] Cody and saying, 'I feel the weight of going back out to lead worship tonight, and I'm worried I won't remember what to do,'" said Jobe, who went on tour with Hillsong Worship, Jesus Culture, and Passion six weeks after her son, Canyon, was born last year. "I felt so different, being a mom today and a worship leader tonight. I told him, 'I don't know how to change these roles.'"

The 35-year-old new mom felt at ease when her husband, a fellow worship leader at Gateway Church, reassured her, "The pressure not on you. It's on him. God's got this." When the two tour together, they take along a sitter to care for Canyon during rehearsals and while they are on stage.
Meanwhile, male artists typically don't travel with their young kids. "You'd see them backstage before they'd go out, trying to tell their kids goodnight over the phone," said Jobe, who's known for her popular rendition of "Desert Song" as well as hits like "Forever." "You can tell they miss them, and their hearts are aching."
While singers like Jeremy Riddle and Matt Redman started their big families early (both have five kids each and welcomed their first by their mid-20s), the female singers on today's Christian music charts became moms a bit later. Women like Jobe, Kim Walker-Smith, Christy Nockels, and Laura Story had their first kids in their late 20s or 30s.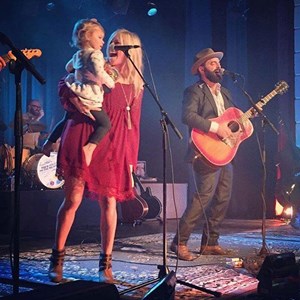 Image: Ellie Holcomb
Ellie Holcomb, who sang alongside her husband in Drew Holcomb and the Neighbors, assumed that once she started a family at 30, her performing days were over. "I really quit the band to be a stay-at-home mom," the Nashville-based mom of two said. "I was telling the Lord that's what I was going to do, and he had different plans for me."
Instead, she spent her pregnancy writing songs that ended up on her first solo album, As Sure As the Sun. Motherhood essentially launched her own career, and she earned the Dove Award for best new artist in 2014.
The Holcombs' lives with four-year-old Emmylou and one-and-a-half-year-old Huck can be unconventional as both parents tour—sometimes separately, sometimes together. Holcomb learned that to avoid ratcheting up the inevitable "mom guilt" she'd have to stop looking beside her for comparison and critique and instead focus on Jesus.
"I've been sent into serious shame storms by conversations with people at shows who don't intend to be critical at all, but they ask questions like, 'How do you do that? Are your kids okay?'" said Holcomb, who just released her second full-length album, Red Sea Road. "You're like, 'Well, if it's God's will for my life to be doing this; it's God's will for their lives too.'"
Working in the music industry has given their family the opportunity to talk about calling and obeying God with their kids at a young age. When Emmylou is sad at a goodbye, they explain God has "adventures and good works" for all his children to do. They tell her about how they have said yes to this calling just like she will one day grow up to hopefully say yes to an adventure of her own.
Even with less quiet time for contemplation and writing, parenthood brings its own kind of inspiration for making music, particularly worship music, and prompts a deeper recognition of God's love for his own children.
"Anything I sing that references Jesus coming as a baby (like "Humble," or "Winter Snow") has much more incarnate significance for me now," Assad told CT Women.
A couple of years ago singer Sara Groves—whose oldest kids are now teenagers—talked about how impossible it is to separate her family life, her work as an artist, and her faith. She told blogger Jerusalem Greer:
Faith, our gifts, our relationships are integrated, like it or not. We might try to compartmentalize our time, but I think the best and most true creative expression comes when we don't compartmentalize our lives, when we push back against definition/labels, and let some unedited stuff come out… To get somewhere, you have to let it all flow together.
Over the past year, Jobe has approached parenting as a challenging, exhausting gift. The birth of her son following her sister's miscarriage flowed into the themes in her new album, The Garden. "A garden is just significant in our life with the Lord. It's a place of life, it's a place of no sorrow, it's a place to watch things grow," she said. "Canyon's doing that for us as well."
Since different evangelical settings have different expectations for women in leadership, female worship leaders lack an established model for their role in the church and for navigating transitions like marriage and family, according to Tanya Riches, a Hillsong collaborator and researcher at the University of Birmingham's Cadbury Centre. (Hillsong's Darlene Zschech opened up to CT Women a year ago about how her gender was a particular hang-up when she performed in some US locales.)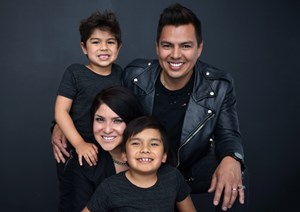 Image: Jaci Velasquez and family / Allen Clark Photography
Riches emphasizes the importance of connecting with fellow female worship leaders for solidarity and advice and going deeper with worship as a personal spiritual discipline. "And if all else fails," she said, "put on Brooke Ligertwood's 'Desert Song' and remind your heart by singing at the top of your voice: All of my life, in every season, you are still God, I have a reason to sing; I have a reason to worship."
Throughout seasons of motherhood, artists also find family demands shifting. Now that Velasquez's sons are in elementary school, she wants to be as present and as clear about her priorities as possible; her parents worked in ministry and at times neglected her older brother's activities, so she doesn't want the same to happen with her family.
She recounted a recent discussion with her son Soren, who turns eight this year, over her tracks for her new album, Trust, which releases next month.
"He goes, 'Mom, do you like your songs more or do you love me more?' I said, 'Baby are you kidding me? I love you more than everything! You are my heart! There's no question,' And he goes, 'Oh, okay. I was just checking,'" she said. "I have to make sure to continuously remind them they are much more important than anything."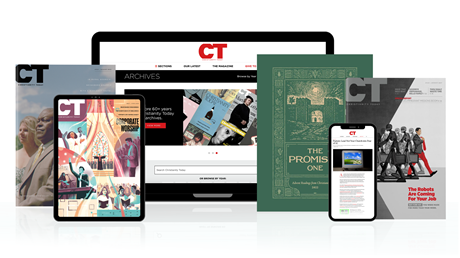 Annual & Monthly subscriptions available.
Print & Digital Issues of CT magazine
Complete access to every article on ChristianityToday.com
Unlimited access to 65+ years of CT's online archives
Member-only special issues
Subscribe
Making Music and Babies: Christian Singers Open Up About Motherhood
Making Music and Babies: Christian Singers Open Up ...