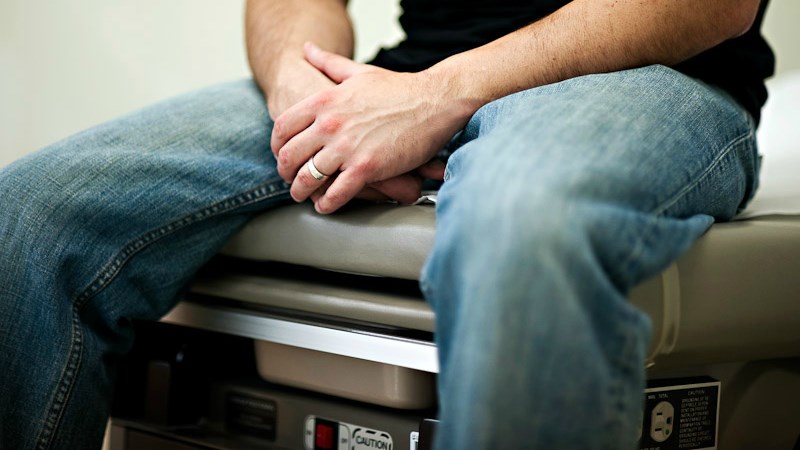 Despite President Donald Trump's executive order to begin dismantling Obamacare, a record number of Americans signed up for marketplace plans during the 2017 enrollment period, which ended Tuesday.
Meanwhile, the number of Christians taking advantage of religious exemptions to the Affordable Care Act (ACA) also reached an all-time high. As of January, well over 625,000 believers belong to health care sharing ministries—more than triple as many as when the Obama administration enacted the legislative overhaul of the health insurance market in 2010.
Nashville videographer Matt Horvath joined Medi-Share last month, after leaving his employer's plan when he started his own business. He and his wife settled on health care sharing—where fellow members pay a few hundred dollars a month to cover each other's major medical bills—after they struggled to find major insurance carriers in their state that offered individual plans or affordable options through the ACA marketplace.
Horvath and other members of such ministries (provided the organizations have been functioning since before the year 2000) are exempt from the ACA's individual mandate, which penalizes Americans without health insurance. Days after Trump took office, adviser Kellyanne Conway indicated that the President would not be enforcing the mandate any longer. The eventual end to the individual mandate will do away with the need for a religious exemption.
Between that announcement and Trump's executive order urging agencies to ease ACA requirements, "it's a pretty significant step," said Anthony Hopp, spokesman for Samaritan Ministries. "Things are definitely in motion. But we anticipated that with Trump."
Samaritan Ministries, Medi-Share, and Christian Healthcare Ministries are among the biggest heath care sharing groups, and they've watched their numbers climb under the ACA. When Hopp joined Samaritan in 1997, the organization served 1,000 households. By the time he spoke to CT in January, that number was up to 68,200—over 221,000 people total.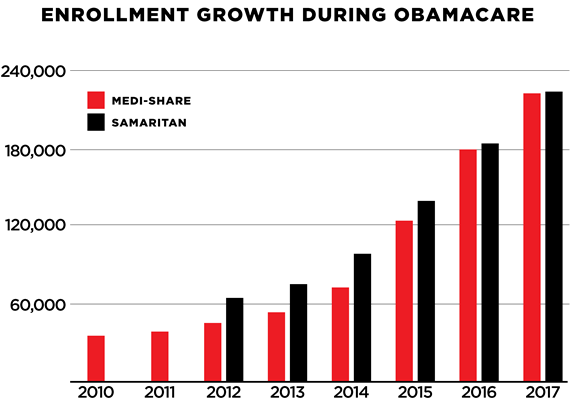 After a mostly unexpected boost over the past few years, these ministries are unsure how Trump will go about repealing and replacing Obamacare—particularly how his policies might impact the demand for insurance alternatives.
But given the satisfaction among their members—content to trust God and one another for their medical bills—they aren't worried about Christians fleeing back to the insurance side. As insurance costs keep rising, the cost-sharing movement is actually looking at the new landscape as a chance to expand beyond individual plans to organizational and corporate setups.
"Health care sharing ministries existed before the ACA, God willing, they thrived during the ACA, and they will survive after," Hopp said.
Health care sharing—inspired by the biblical call to "bear one another's burdens" and the example of the Acts 2 church that "had everything in common"—has been around for decades. But these nonprofits are gaining prominence in today's sharing economy, led by industry disrupters Uber and Airbnb.
What began as small-scale, relatively unknown operations in the late '80s and early '90s now flourish in a culture willing to rethink its relationship with institutions and each other. It doesn't seem as strange to count on the generosity of neighbors now that crowdfunding is on the rise; hundreds of thousands of Americans have turned to online campaigns to cover unexpected medical costs on sites like YouCaring.
"This is not insurance," said Hopp. "This is a whole different paradigm; a whole new way of thinking. These are like-minded believers voluntarily coming together."
Insurance commissioners in Washington, Kentucky, and Oklahoma have tried to shut down Samaritan and Medi-Share from operating in their states. But the legislatures passed laws in response that exempt such ministries from regulations, The New York Times reported in 2016. Currently, the only federal-level legal definition of a health care sharing ministry exists within the ACA.
Many health care sharers sign up to avoid the year-over-year price jumps. Obamacare premiums rose by about 25 percent for 2017, with certain states adopting hikes that amount to $1,000 to $2,000 increases for families who don't qualify for subsidies, according to Time.
"Last year we were able to find a high-deductible plan for our family that was in the $1,200-per-month range. This year our premium would have been over $1,500 per month," said North Carolina pastor Ben Marsh, who recently switched to Samaritan Ministries.
Marsh was already familiar with the cost-sharing alternative plans from signing off on membership for several of his congregants at Cary Alliance Church. Many of the Christian networks require that members belong to a church and meet certain moral standards, such as avoiding drug use and not having sex outside of marriage.
Beyond finances, some members opt for health care sharing to avoid paying into insurance that covers procedures they oppose on religious grounds, such as abortion or gender reassignment surgery. Others find it more convenient; Medi-Share and others, for example, offer a no-cost "telemedicine" program, where members can book quick appointments and get medical advice over the phone or by a video chat.
For Christians, health care sharing may take the place of insurance in their budget, but functions differently in their lives. The ministries send out prayer requests and match members with specific needs in the network, connecting them personally to wherever their $350 or $500 payment goes that month.
"People will hear about the low cost, and that may be what gets them to pick up their phone and call, but it's really their faith that motivates them," said Michael Gardner, Medi-Share spokesman. Its network has covered $1.4 billion in medical bills since it began in 1993.
Since the adoption of Obamacare, Medi-Share has added 5,000, 10,000, and even 50,000 members year-over-year, growing sixfold since 2010.
Several members told CT that even if they were no longer required to have insurance and even if a cheaper option emerged, they'd stick with health care sharing.
"Samaritan Ministries is more than an inexpensive way to provide for my health care," said Daniel Coughlin, who survived cancer at 25 and whose medical history has long prevented him from obtaining insurance. "Health care sharing is being part of a community and bearing the burdens of the other people."
Now cancer-free for a decade, Coughlin said belonging to Samaritan has taught him to trust the Christian community, which sends prayers, notes, and funds to cover any large medical expense that may come up. But he's also had to navigate a complicated medical system still centered on traditional insurance—asking providers about charges and learning to decode cryptic medical bills.
Going through these frustrations firsthand, those in the health care sharing realm join the chorus asking for more transparency and less cost inflation.
"With all the talk of healthcare reform and, 'What do we do? How do we fix this mess?,' the solution will not come from regulations and mandates," according to Samaritan Ministries' Hopp. "We're going to have to think biblically."
Though health care sharing ministries represent a sliver of the market (622,000 members compared to the 11.5 million people on Obamacare plans), their cost-saving is drawing attention.
"While originally targeting individuals, these plans have gained some momentum as a substitute to an employer-sponsored group medical plan," wrote one analysis, warning against the risks employers take on with such programs, which do not guarantee coverage.
Though health care sharing is more common among the self-employed, Sedera Health has expanded into the corporate sector. The company—which is Christian-led but not a ministry—offers employers the chance to supplement self-insured group health plans with health care sharing as a way to cut costs. Members' contributions come out of their monthly payroll and go towards covering medical bills across Sedera's network in 30 states.
"Sedera offers an alternative to insurance at a time when the entire industry is going through a disruption in part because of the status of the ACA," said Sedera's president Jamie Lagarde, who is Catholic. "By allowing more flexibility in the marketplace, innovative solutions … are allowed to compete."
Christian organizations and churches have also seen the weight of benefit costs on their tightening budgets. Marsh, the Cary Alliance pastor, said his church determined they could save $10,000 a year by moving church staff to independent plans and increasing their salary to offset health costs.
Medi-Share, which opened a branch office in Colorado Springs last year, is considering offering Christian organizations affordable health care sharing options for employees. "We hear from a lot of church organizations, religious nonprofits," Gardner said. "We want to meet their needs as well."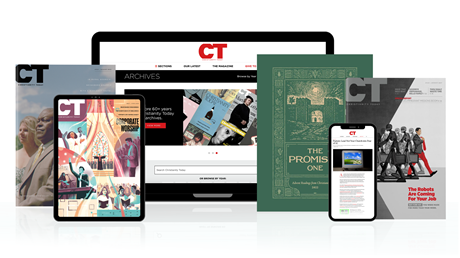 Annual & Monthly subscriptions available.
Print & Digital Issues of CT magazine
Complete access to every article on ChristianityToday.com
Unlimited access to 65+ years of CT's online archives
Member-only special issues
Subscribe
Bearing Burdens After Obamacare: The Future of Christian Healthcare Sharing
Bearing Burdens After Obamacare: The Future of ...