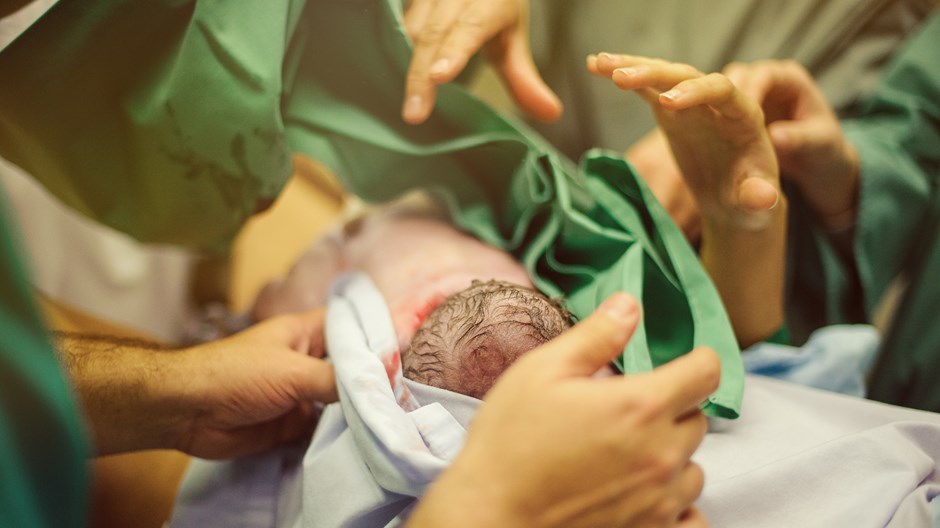 Image: PJB / Shutterstock
In the middle of the night, my water breaks. Just in time, we arrive at the hospital. This is it. This is really happening. None of us will leave this building the way we came. We will be entirely changed.
We arrive in a room called "the birthing room." Aptly named, because birthing is done here—paradoxically named, because this place has the exact opposite qualities of birth. It is clean, sanitized of every possible bacterium, designed to limit risk and maintain control.
At the most celebrated of birth stories, Mary's delivery room was not so hygienic. This sacred, holy day was crowded with noise, blood, animals, and chaos. The morning dawned with a man and a woman sleeping on the hard ground after days of traveling on foot. Can you imagine how she looked and felt? One hand supporting her bulging belly, each step jostling a painful elbow into her spine. God-made-man's head against her bladder. Nothing brings on contractions like walking, and she has walked so far.
By the time they reached Bethlehem, the contractions made this mother both exhausted and alert, her husband urgent and resolute. The fragrant, moldy hay and straw of the stable was itself crawling with life, but it was soft and warm. More than sufficient for a birthing bed. Among the warm bodies of sheep and donkeys, Mary labored and delivered. God was born among us. The Word became flesh and made his dwelling on earth—surrounded by all the flies and mites and animals and life. The sacred hour of Incarnation.
Embodied Hope
Incarnation means "embodied in the flesh." When Jesus was knit together in Mary's womb he was bodied. He took on flesh and blood and bone with all our complicated earthiness.
Central to Christianity is the conviction that our spirits and bodies are connected—that what happens to our bodies matters. We believe, proclaim, and practice that the God who made bodies took on a body and meets us still today in our bodies. We declare that the God who made the physical earth visited it in the flesh and is still entirely committed to nurturing his creation. Our good news is that, in the end, this Creator-God will not separate our souls from our bodies or his presence from the earth. For after his body was broken in death, he did not meet us in spirit but in resurrection. As the firstfruits of the new creation, Jesus is both our Savior and our future promise. God will not abandon but redeem our earth and bodies. He will make his permanent dwelling with us in the restored and recreated heavenly city on earth.
In other words, there is no escaping this good, physical world he made. He came here, and it is here he will return. Our God is incarnated. Our hope is embodied. And who has a front-row seat to our bodies—in their creation, incarnation, and nurture—if not mothers?
Skin-on-Skin Sacraments
My toddler raises my shirt as I pay for the groceries, peeking and groping: Is the milk still there? Shamelessly my preschoolers demand I wipe their noses and bottoms. Why else am I here, if not to serve their bodies with my body? It's as if we still share one self, are still connected by an unseen cord. Not a single hour passes without one of them unabashedly needing my physical self in some way. This is my backstage pass to their strong, beautiful, growing bodies.
Children are hungry for action. I sit down and they pile on me, each outdoing the other for the most bodily contact. They bury me in an avalanche of faces, mouths, heads, arms, legs, tummies, and bottoms, all pressed against mine, all wiggling. Each physical need beckons us to know, to taste and see, to make contact, to touch. These tiny creatures are designed to lull us into mingling our bodies with theirs, to getting our hands dirty with them each and every day. Because this is how we fall in love. Up to our elbows in childhood, we can know these enchanting, exasperating creatures.
As my children understand and teach me every day, a deep level of knowing is born from these daily rituals of touch, from knowing someone or something in a tactile, mundane sort of way. We wrap our newborns close to our chests, both of us unclothed, "skin on skin." My ten-year-old son grabs my hand and forgets to let go. On a chemical level we bond, weaving bodies, hearts, and minds together in deep communion as we follow the week's routine. These are intimate acts of knowing, the way we learn another human creature.
The Hands-On Gospel
The gospel, Jesus teaches, is in the yeast, as a woman kneads it with her bare hands into the cool, pungent dough. It is in the soil, so warm and moist when freshly turned by muscular arms and backs. It is in the tiny seeds of mustard and wheat, painstakingly saved and dried from last season's harvest. Each one is so easily dropped or lost as it floats through the sower's fingers, yet each one holds an entire promise of future life and sustenance.
Jesus places the gospel in these tactile things, with all the grit of life surrounding him, because it is through all this touching, tasting, and smelling that his own sheep—his beloved, hardworking, human flock—know. And it is through these most mundane, touchable, smellable, tasteable pieces of commonplace existence that he shows them, and us, to find God and know him.
Jesus delivered the good news in a rough, messy, hands-on package of donkeys and dusty roads, bleeding women and lepers, water from the well, and wine from the water. Holy work in the world has always been like this: messy, earthy, physical, touchable. God created these things, every one of them. Jesus joined us in the flesh, with all that entails—womb and breast, childhood and adulthood. Even death. Especially death. He left something of himself in the water and oil, in the bread and the wine. This is how he taught us to find him. There has never been any other way.
Even today, we know God best through our fingers and lips. The holy sacraments are tactile, elemental stuff. We are reborn in the waters of baptism and blessed with drops of holy water. Oil is set aside for anointing and blessing. The bread of his body crumbles in the upheld hands of the minister while the cup of his blood is poured out. These are the elements that bring us into the presence of God, that are sacred and hallowed, that draw our focus unto the very essence of the Lord's redemptive power. We declare that within these everyday words and ingredients resides a sacred grace, a consecrated moment touched by God. But they are also the most basic building blocks of life, the physical elements that sustain our creaturely selves—especially those ancient laborers in whose midst these rituals were born. Water. Oil. Bread. Wine.
After my children's bath, I have been more than sprinkled with water—doused is more like it. The food that feeds my family crumbles through my hands too, all day, every day. The milk that comes from my breasts is the nectar of life for my babies.
If Jesus taught fishermen and their wives about the kingdom using fish and bread—and if we have met him ever since in the water and the wine—could it be that the ingredients of my own ever-repeating chores hold a sacred grace?
A Beginning
My body will never forget the force of that final push—the pressure, the screaming, the release and relief as a newly minted person slipped from my womb and into the hands waiting to catch him. The way his arms and legs stiffened and eyes scrunched—his entire body shocked by the bright, cold, traumatic entrance into life.
What words are sufficient to describe those amazing moments? Exhausted, broken, and torn, I am delivered of a baby. It is over. But more so, it has just begun. He has begun, is here, on my chest. I look at him, touch him, hear his cry. Everything changes: the world, my heart, my life. Three times I have lived this day.
The cord will soon be severed. In my body, the two of us—my husband and I—became one. Now, in the cutting of this cord from my body, the one becomes three. Incarnated, embodied life begins all over again.
Catherine McNiel is the author of Long Days of Small Things: Motherhood as a Spiritual Discipline. She is a mother of three and serves alongside her husband in a community-based ministry. Taken from Long Days of Small Things by Catherine McNiel. Copyright © 2017. Used by permission of NavPress. All rights reserved. Represented by Tyndale House Publishers, Inc.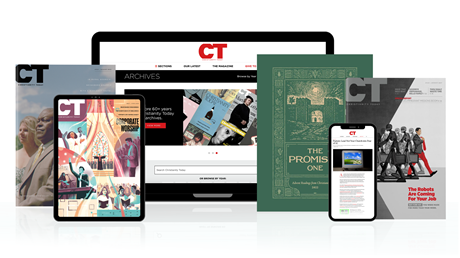 Annual & Monthly subscriptions available.
Print & Digital Issues of CT magazine
Complete access to every article on ChristianityToday.com
Unlimited access to 65+ years of CT's online archives
Member-only special issues
Subscribe
Motherhood Is Physical—and So Is the Gospel
Motherhood Is Physical—and So Is the Gospel