Image: Joe Raedle / Getty
If current projections hold true, Hurricane Harvey will be the strongest hurricane to strike the United States since Katrina, Rita, and Wilma hit in 2005.
A decade ago, maybe your church volunteered, planned a short-term mission trip, gave money, or helped rebuild Gulf Coast communities beaten down by one of America's most deadly and destructive disaster seasons.
Harvey, which hit the Texas coast as a Category 4 hurricane, offers Christians a chance to be even more helpful—to show God's grace and mercy to a disaster-filled world. But it means we have to be willing to learn from experiences like Katrina.
I've learned a lot myself, both personally and professionally. Katrina walloped my community six days after I moved to South Mississippi. Within weeks, I was on the ground researching how faith helps peoples' resilience and how the church can best respond. Today, I run the Humanitarian Disaster Institute at Wheaton College, the nation's first social science research center devoted to the study of faith and disasters.
For churches in the path of Hurricane Harvey, there are still some "just-in-time" preparedness strategies you can implement before the storm makes landfall. For Christians far away, there's a lot more you can do than wait and watch Twitter like it's an unfolding disaster movie.
Below are some of the most important research-based ways your church can prepare and care, as well as spiritual survival tips for locals and responders alike.
What Churches in Harvey's Crosshairs Should Do Right Now
You may have never thought about your church's role in preparing for a disaster in your own community. Even if you have, you still may not know how to prepare as you watch this unexpected hurricane rapidly approaching. Taking these small actions now can go a long way toward preventing harm and saving lives. Following these tips will better position your congregation to be able to help each other and others in your community after the storm passes.
1) Utilize Crisis Communication Strategies
Disasters often disrupt the ways we communicate. Power goes out and cell phone towers go down, making most modern forms of staying in touch with one another difficult. Thus, communicating during a disaster can be tough.
First things first: If you have time, grab the most up-to-date congregation contact list you have. If you don't have a contact list, you might send an invitation to your fellow church members to share via a Google Docs survey (or another service your congregation already uses) where they can fill in this information. If you go this route, you can also ask them if they plan to evacuate, where they're going, and for alternative contact information.
If you have time prior to the disaster, reach out to your congregation using your normal and most common means of communication to let them know how they might be able to stay in touch with the church, leadership, and each other.
Common crisis communication strategies include: using a call-down procedure (e.g., activate "prayer chain"), text messaging, text broadcasting, social media notifications, alternate call-in number (e.g., instruct members to call in to a "sister" church in another region who is willing to take messages), to name a few.
Don't just let your congregation know how you'll be communicating, but also let them know how to use the ways you'll be communicating.
2) Echo Evacuation Messaging
Encourage your congregation and community to follow evacuation notifications being issues by the authorities. Several states have already begun evacuation messaging. Though many people are heeding these notifications, not all are.
Are there members of your congregation who may not be reachable by local officials, or who may be hesitant to follow the direction of local officials? If your church is located in a community where a sense of mistrust of governmental officials or authorities exists, you sharing the same evacuation message can make a big difference. Research has shown that vulnerable communities, like minority ones, may be less likely to heed official warnings.
Sometimes who conveys the message is just as important as the message itself. Hearing the evacuation message from you as a church leader can make a big difference in calling people to action. Remember a trusted message comes from a trusted messenger.
As best as you can, try to facilitate transportation to those that need it. For example, maybe you can help connect those who need assistance with relatives or people in your congregation that might offer transportation. Or maybe you have a church bus that could transport people with limited mobility. If you are aware of local, state, or federal resources for evacuation transportation you can communicate these resources too.
3) Minimize Risk
Some disasters are so big that the following steps may be futile. However, if your church building largely survives the winds headed your way, these steps can help reduce some forms of property damage.
If you have time to take action to protect your church property, here's a few tips: board up windows, reinforce doors, secure heavy electronics (e.g., televisions and computers), anchor bookshelves and large cabinets, strap water heaters to walls, secure or remove items that could become projectiles in high winds, and consider raising water heaters and other appliances to avoid flood damage.
You may also think about retrieving important documents or possessions. Similarly, identify resources that may be helpful to retrieve so that you are more likely to have them available to facilitate worship or other key ministerial activities or rites once the disaster passes.
The window of time is closing in to be able to implement these "just-in-time" preparedness tips for a lot of communities, and has already passed for others. To be clear, don't attempt these preparedness steps if they go against the evacuation notices your community may have received or put you or others at risk. Still, it's my hope that these strategies may yet be helpful for those who have a window of opportunity.
How Churches Far from Harvey's Path Can Immediately Help
The Bible beckons us to use our time, talents, and treasure to help those in need (Acts 10:4), and where there is a disaster, there is need. Scripture is rich with examples, such as Nehemiah, of how God has brought about hope, redemption, and recovery through the people of God in times of disaster. Your church might feel compelled to help, yet may not know where to begin. Here are some specific ways your church can get ready to serve when the time comes.
1) Prepare to Mobilize Volunteers
Across almost every disaster I have responded to, I have heard church leaders say something like this: "The biggest blessing since the disaster has been the volunteers. And the biggest challenge since the disaster has been the volunteers."
Volunteers can be a wonderful resource in the recovery process if local leaders are prepared to manage them, and far from helpful if they are not.
Start by surveying or asking congregation members about their willingness to volunteer in response to Hurricane Harvey. Look for congregation members who are motivated to demonstrate God's love and not motivated by self-serving reasons (e.g., to be in on the action); are prepared to be flexible, adapt, and improvise to do the best with what is available; are humbly willing to listen and learn from survivors; and are capable of working as part of a team.
I also urge you not to self-deploy. Spontaneous unaffiliated volunteers can bring chaos to a disaster recovery site, and even hinder those authorized to offer special aid. I relate to wanting to pick up and "parachute" into a location where a disaster has occurred. As a result of studying numerous disasters, however, I have found that doing so frequently causes a great deal of stress to those in need of help. Rather than hopping in the car and driving off to where disaster has struck, restrain yourself until volunteer opportunities have been clearly identified.
Then, if you do go, prepare to be self-sufficient. Communities in the midst of recovery need to concentrate resources on survivors, not on meeting your needs. Give your volunteers detailed instructions about what to bring and what to expect before deploying. The most common needs of volunteers typically fall into the categories of housing, food, and transportation. You are likely to divert resources away from survivors and those who need aid the most if you aren't able arrange or care for your own needs.
Keep in mind that everyone in your church can play a role in helping, even if they lack disaster experience, resources, or ability to deploy.
Case in point: After Hurricane Katrina, there was a group of elderly women who belonged to a church sewing circle that I learned about. At first they felt discouraged, like they weren't able to help as much as others. But then they had the idea to have survivors send them belongings and materials that survived the storm. They then sewed these items into what came to be known as "Katrina Quilts." I know survivors, still to this day, who consider their quilts as a daily reminder of God's goodness in their lives.
2) Coordinate Responses
I have found that disaster response efforts are more likely to succeed if churches come together with one another and with other organizations. The needs left behind after a disaster (e.g., rebuilding, mental health, spiritual struggles) can be overwhelming, and in most cases are larger than any one church can handle.
Churches need to respond together as the fully body of Christ.
Start by looking for existing efforts already underway. Check out congregations and faith-based and community organizations already doing good work in communities, like an active ministerial association that might be helping to take the lead in preparing for Hurricane Harvey.
You might also consider joining a state chapter of the National Voluntary Organizations Active in Disaster (VOAD). This consists of major disaster relief organizations, including many Christian organizations. It is a formal network that works closely with FEMA in times of major disasters, and helps activate and mobilize local efforts through VOAD state chapters. Getting connected to a local VOAD chapter is great way to join a community's response to disastrous events.
In the event of a major disaster, it is common for Christian disaster relief organizations (e.g., Send Relief, Convoy of Hope, Samaritan's Purse, Mennonite Disaster Service) to deploy to communities significantly affected to provide aid and organizational support. Many of these service groups have identified community needs and have built the expertise to provide solutions. Thus, you might also consider working with or through one of these groups. The take-home message here is to help through the organized response already underway.
3) Provide for Survivors' Holistic Needs
Your church should strive to provide care to the "whole person," including physical, emotional, social, and spiritual needs, which are all interconnected. This means whenever you address any one of these groups of needs, you are actually attending to all four simultaneously.
Keep your assistance simple, direct, and practical.
Throughout the scriptures, we see numerous examples of times when Christ and his disciples attended to spiritual and practical needs, such as offering hope and food in tandem. Remember the miracle of the loaves and fishes?
Focus on the tangible and immediate to get through the crisis, like fostering safety, comfort, and belonging. This may mean helping survivors find a place to stay or getting something to eat when they are hungry. It may even mean offering a seemingly small gesture like offering something to drink. Though it may not feel as though you are doing much, experienced Christian disaster volunteers and professionals know this sort of "water bottle ministry" is integral.
It's okay to directly ask how you can help. Empower survivors to voice their needs and collaborate to prioritize which needs to focus on first. If survivors aren't sure how you can help, you might try approaches that were useful for them before Hurricane Harvey. As much as possible, try and connect survivors to sustainable and vetted resources. Lastly, consider giving financially to a reputable Christian relief organization that is providing aid.
Spiritual Truths to Keep in Mind
Disasters like this can be a great test of personal faith, pushing survivors beyond our usual limits. Here are some spiritual truths that are important to dealing with and recovering from disasters like this one.
1) Don't Try to Do This Alone
We all need community, and God gave us the gift of his church for a reason. In fact, the science bears this out: In a study I conducted with colleagues after the 2015 South Carolina floods, we found that people who had positive spiritual support were more likely to demonstrate disaster resilience. When we try to do it all on our own, and give the impression that everything is fine, we are closing ourselves off to the gifts God wants to give us through others. When we seek spiritual community, we can experience God's presence, provision, and love in tangible ways. We can choose to allow pain to isolate from others, or to bring us together.
2) Accept What You Have Control Over, and What You Don't
In another study I led after Hurricane Katrina, we found that people who demonstrated high levels of "spiritual surrender" tended to recover better. This didn't make sense to me at the time—the idea of "surrender" seemed too passive to be an effective response. But now my own experiences of disaster have showed me just how powerful this idea is. When we truly understand and accept what we have control over and what we don't, we are demonstrating willful obedience to God.
3) Seek Positive Meaning in Your Loss
Disasters like this one lead us to ask the hard questions, like why bad things happen. In interviews with disaster survivors, my colleagues and I have found that two people going through the same type of loss can interpret their experiences very differently. One may believe that God is punishing them, while the other believes God saved them. Our research found that the person who attributes negative meaning is likely to struggle more than the person who attributes positive meaning to their loss. Finding meaning in our loss allows us to move forward.
4) Trust That God Can Redeem Your Pain
When you're in the midst of something hard, it can feel like nothing good could ever possibly come out of the pain you're experiencing. But the foundation of our faith is God's promise to ultimately redeem all things, and he often offers us glimpses of that here on earth. When I was helping gender-based violence survivors in the Democratic Republic of the Congo, I learned of a group of people whose homes had been destroyed by a volcano. They returned to the area and built new homes out of the ash and lava rock left behind. This was a poignant picture of how God can even use our brokenness to help us put the pieces of our lives back together again.
For those staring down Hurricane Harvey, know that the rest of us are praying for you now. And if the storm makes landfall, we will be with you through the disaster recovery process too.
Dr. Jamie D. Aten is founder and executive director of the Humanitarian Disaster Institute at Wheaton College, Illinois, and author of the Disaster Ministry Handbook. In 2016, he received the FEMA Community Preparedness Champion award at the White House. Follow him on Twitter @drjamieaten and jamieaten.com.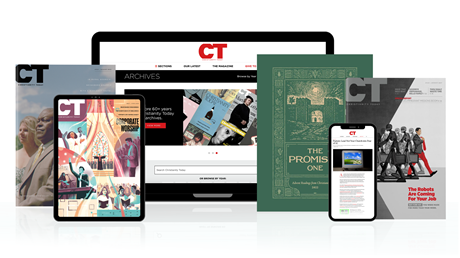 Annual & Monthly subscriptions available.
Print & Digital Issues of CT magazine
Complete access to every article on ChristianityToday.com
Unlimited access to 65+ years of CT's online archives
Member-only special issues
Subscribe
Hurricane Harvey Is Here. Time for Christians to Show What We've Learned Since Katrina.
Hurricane Harvey Is Here. Time for Christians to ...