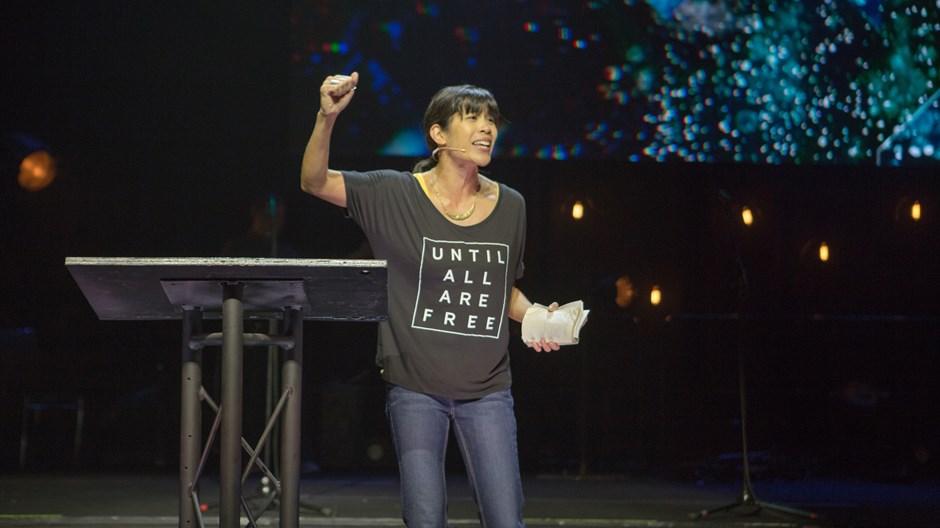 Image: Courtesy of International Justice Mission
Today, forced labor and sexual servitude traps 45 million people—more than at any time in history. To respond to the modern slavery crisis, Jocelyn White, a mother and classically trained ballerina, retired from her thriving dance career and started volunteering with International Justice Mission (IJM). She now serves as a director of church mobilization for IJM and connects congregations and church leaders with the organization's efforts to free victims of injustice. She and her husband, Peter, also started a nonprofit organization in the Los Angeles area, Slavery No More, which helps resource local agencies fighting human trafficking.
White spoke recently with CT about her journey from professional dancing to anti-slavery advocacy and how she sees God's hand in her work with IJM.
You achieved your dream of having a successful dancing career. Why did you retire?
I worked for Disney in Los Angeles, and the Holy Spirit prodded me through the story of Abraham to sacrifice my Isaac. I felt like my identity as a dancer was my Isaac. It sounds insane, but I took a step of faith and retired from dancing with no real option lined up. I spent eight months working temp jobs and eating oatmeal for every meal. All the while I enjoyed full days sitting with Jesus and asking trusted friends to pray for me as I waited for God to show me what was next.
Then one of the pastors at my church asked me to be his assistant. He took a risk on me. I had never sat behind a computer or done office things, but God used my creativity, collaboration, and organization skills from dancing, choreographing, and producing in a new way for ministry.
How did you first hear about justice ministry, and how did it affect you?
I heard Gary Haugen, the founder of IJM, speak about God's heart for justice and modern-day slavery at a conference. He showed a short clip of young children being rescued, and I saw those children as my children. I started to wrestle with the fact that I was on staff at a church, yet I'd never heard a message on modern-day slavery—the number one human rights issue in our world today. There are more than 45 million slaves. Why was I spending more time thinking about what the weekend church service should be like rather than slavery? The balance seemed off to me. God moved in my husband Peter's heart, too. After praying together, we made a commitment to do whatever God asked to end slavery.
Where did you start?
Peter and I attended IJM's benefit dinner in Washington, DC. The day after the benefit, we were invited to join IJM's regular prayer time and met with some staff. We had a bunch of ideas about how to connect our church with IJM, and then one of their leaders asked, "Do you feel you have a clear understanding of God's heart for justice? A biblical conviction will help sustain you throughout difficulties and distractions." That was his first question. Not, "How many people can you get? How much money can you raise?" We were ready to answer those questions, but not the one he asked.
During the next year, we committed to volunteering for IJM, researching the issue of slavery, and studying the Scriptures. One of the several verses that stuck out is Matthew 23:23, where Jesus critiqued the spiritual leaders for failing at justice, mercy, and faithfulness. We saw that justice is important to God.
How did you transition from volunteering to full-time work with IJM?
I just kept serving in the opportunities God presented. Then one day when I was working on Easter service preparation, IJM called and invited me to apply for a position. It's been a wild journey of simply responding to the invitations that come my way, doing what's helpful, and not what I think I should do. The opportunities to end slavery are endless.
And what prompted you to start your own non-profit, as well?
At the same time we started our journey with IJM, we started volunteering with the LA Metro Task Force Against Human Trafficking, which consists of federal and local law enforcement and service providers. After my first meeting, an FBI agent approached me and said, "So, you're with the church? I've been trying to get into churches for the last ten years, but they won't let me in. Will you help?" I said yes. Through this invitation, Peter and I found our ministry purpose: invite the church to end slavery, serve survivors, and protect the vulnerable.
When I first approached our church about ending slavery, it took time for the information to sink in. So, I just started telling everyone I knew about slavery, regardless of whether or not they believed in Jesus, and you know what? They began to join me. Christians and non-Christians working together to end slavery began to happen. As we got more involved in mobilizing, people wanted to know what organization we served with and if they could get a tax deduction. We felt God leading us to start Slavery No More so we could better serve both the agencies and the volunteers and donors.
How do you see God at work in IJM church mobilization?
A church in Washington State recently hosted an IJM Freedom Sunday. The kids were so inspired, they wanted to do something to help end slavery. So they organized a community swing dance. Hundreds of people showed up, the kids shared stories of freedom throughout the event, and they raised more than $2,000. Success is not about how much they raised, though. I see God at work in the hearts of these young people who used their time, creativity, and resources to do something tangible to help end slavery in our lifetime.
There's also a pastor that just quit his job to move his family to Ghana to become a fellow with IJM. He's my counterpart in Ghana, inviting the local church there to end slavery. Just like slavery won't end without awareness, it also won't end without God and his church.
Your job involves connecting churches with IJM, fundraising, raising awareness, and even recruiting. What does a typical workday for you look like?
Every day is different. Some days I work on a prayer event or write a sermon for a church I've been invited to. Today I did our family morning routine and sent [my son] Simeon off to school, called in for IJM's staff prayer time while walking the dogs, and went to the gym. Then I came home to read my devotion and journal, sent emails for IJM, helped Peter select roof tiles because we're having our leaky roof replaced, and had a Skype meeting with a church. Afterwards I ran to Costco to get food for a baby shower, packed my luggage, conducted work calls as I drove to host a baby shower for young trafficking survivors, drove to the airport, Facetimed with my boys to say good night, and headed to Seattle for two full days of meetings with pastors and volunteers.
What do you enjoy most about your work with IJM?
First, my colleagues inspire me, teach me, and always turn me toward God. Secondly, all the miracles: successful rescue operations, convictions after years of waiting, donors giving generously, meetings coming together, pastors leading their churches to end slavery, and children creatively making an impact. Most of the time our work feels impossible. But God invites us to the mission, is with us in the mission, and transforms us to be more like him through the mission. I've seen God transform individual lives, whole communities, and even nations. Miracles. Countless miracles.
How has your work at IJM shaped your family life?
I always felt like children shouldn't hinder ministry, but help be a springboard for it. When my son, Simeon, was young, we took IJM work trips as a family. When I traveled without them, we intentionally prepared Simeon for my leaving, stayed connected when we were apart, and celebrated when we came back together.
Now that Simeon is in school, we make our unique life work. I bring him home a flag from every country I visit, and he asks me to say "hi" to the president when I go to Washington, DC. I'm committed to attending all of Simeon's big events and sports games—even if that means racing to a game from the airport. Peter and Simeon are committed to sending Mommy off to do the work God has called me to do.
Simeon wrote me a letter that goes with me on every trip. It says, "Mommy, IJM is the most important thing you can do." Although I often call my own mom in tears on the way to the airport, it gives me comfort that whether we're apart or together, in our own way, our family is ending slavery together. When I leave Peter always tells me, "Soar."
What do you want to share with other female leaders?
Can women really have and do it all—a successful career, a thriving marriage, well-behaved children, physical and emotional health? Can we clean the house, cook dinner, wash laundry, volunteer at church, join a small group, have a daily quiet time, connect with friends, read books, and have a hobby? (Sigh.) The answer is no—definitely not. In fact, my hair is long, and I no longer have bangs because I missed my haircut appointment four months ago, which reminds me I need to make one, one sec—let me write that down.
We may not be able to have and do it all, but we can have all that God has for us—and that's a much richer and more abundant life than supposed-tos, shouldas, and couldas. We need to give ourselves grace, just like Jesus does.
Seana Scott is a freelance writer, speaker, seminary student, and blogger at SeanaScott.org. She works from home while raising three kids and serving in ministry with her pastor husband, Jason.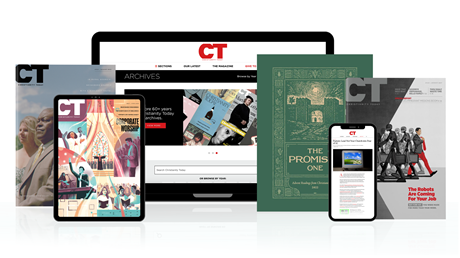 Annual & Monthly subscriptions available.
Print & Digital Issues of CT magazine
Complete access to every article on ChristianityToday.com
Unlimited access to 65+ years of CT's online archives
Member-only special issues
Subscribe
How a Disney Ballerina Ended Up Fighting Modern Slavery
How a Disney Ballerina Ended Up Fighting Modern Slavery