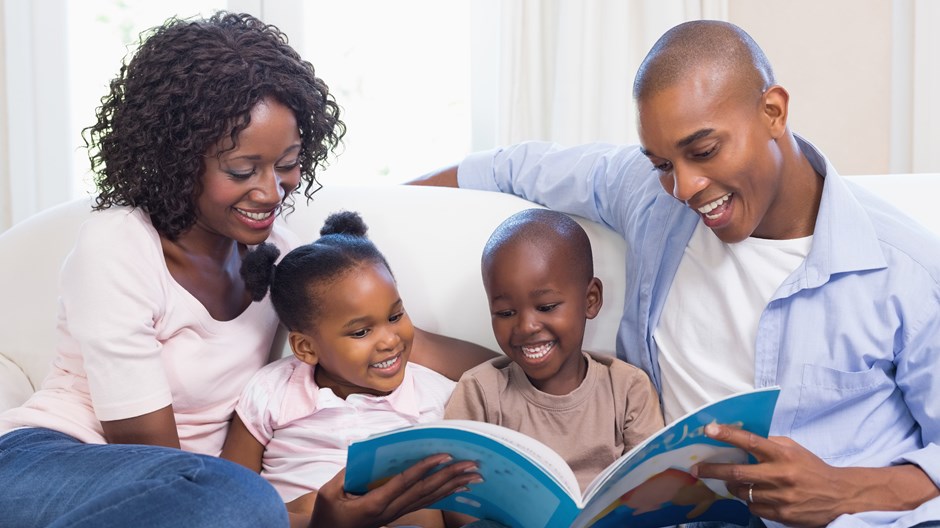 Image: ESB Professional / Shutterstock
In the world of kids, "Easter" often translates into candy. Cadbury eggs and Peeps make their much-awaited annual appearance, along with plastic Easter eggs and baskets filled with fake grass. As adults, we know that Easter is about so much more. It is the apex of the Christian year—the holy day when celebrate the triumph of the empty tomb and Jesus' victory over sin and death. Yet it can be difficult to bridge the gap for our kids between the pop-culture version of Easter (springtime, bunnies, chicks, and chocolates) and the true spiritual significance of the holiday.
Sharing stories is a powerful way to do just that. For parents, grandparents, godparents, and other grown-ups, giving a child a picture book (or, even better, reading it together) is a significant way to share the gift of faith.
We've reviewed some of the newest releases from Christian publishers to identify top-notch picture books that will engage children's souls and aid in their spiritual formation. Because art can communicate just as much as the written text, we've identified books with high-quality illustrations that beautifully enrich the experience of reading. If you're on the lookout for a faith-building book to give and read with a child for Easter—or any time of year—here are 10 recent releases to consider: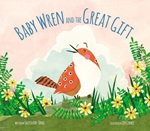 By Sally Lloyd-Jones, illustrated by Jen Corace
Illustrated with stunning watercolor depictions of animals and nature, this touching and poetic tale from The Jesus Storybook Bible author Sally Lloyd-Jones introduces children to a baby wren who seeks to find her place in the world. Amazed by the abilities and qualities of other creatures she observes in her canyon, the tiny wren wonders, "What can I do that's wonderful?" This story will help children consider their God-given value as they seek to worship him in their own unique way.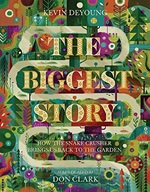 By Kevin DeYoung, illustrated by Don Clark
The dazzling visuals in The Biggest Story fill every page with color as DeYoung leads readers on a dynamic journey through the biblical plotline. The Biggest Story weaves together key scriptural events, important theological ideas, and messianic prophecies to draw kids into the ultimate battle between evil ("the Snake") and good ("the Snake Crusher"). Arranged in ten short chapters, The Biggest Story could be read over the course of several nights, but many kids will be so drawn in that they'll prefer reading it in one longer sitting.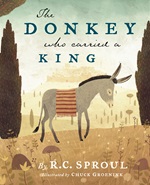 By R.C. Sproul, illustrated by Chuck Groenink
This book isn't quite as new as the others on this list (it's from 2012), but it stands out as a touching depiction of the Easter story. When a young boy struggles with hurt feelings, his grandfather tells him a story about humility, serving others, and love: the story of the young donkey chosen to carry Jesus on Palm Sunday. This book is a gentle exploration of some of the hard questions of Holy Week: Why was Jesus beaten? Why did he die? To help parents dive deeper, The Donkey Who Carried a King includes discussion questions and Scripture passages families can talk about together.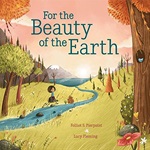 By Folliot S. Pierpoint, illustrated by Lucy Fleming
For the Beauty of the Earth brings the words of the beloved 1864 hymn to life with vivid and captivating illustrations. Each verse is a declaration of praise and gratitude to God; as kids listen (or sing) along, they'll participate in thanking God for the grandeur of the cosmos, the amazing gift of human senses, the work of the global church, and, most importantly, the "best Gift Divine"—God himself. All of creation declares God's glory (Ps. 19:1); this book joyfully invites children to join in.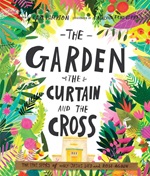 By Carl Lafterton, illustrated by Catalina Echeverri
Using funky visuals and a playful, kid-friendly voice, this book is essentially a creative telling of the gospel message. The Garden, the Curtain and the Cross gives kids a big-picture look at God's story of redemption, presenting the consequences of sin in a way kids can understand, helping them to reflect sorrowfully on Jesus' crucifixion, and inviting them to celebrate and take part in the joyful gift of eternal life.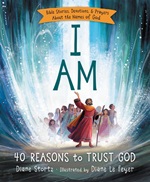 By Diane Stortz, illustrated by Diane Le Feyer
A hybrid between a storybook Bible, a devotional, and a picture book, what sets I Am apart is its unique emphasis on the names of God. Children will discover what it means to love and trust the God who is Creator, I Am, Immanuel, Lord, the Resurrection and the Life. Longer than the other picture books on this list, parents or grandparents can use I Am to read, discuss, and pray together over the course of 40 short biblical narratives.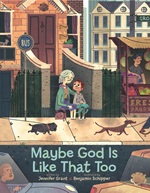 By Jennifer Grant, illustrated by Benjamin Schipper
"I've never seen God before," the young protagonist tells readers. "God is here," his grandmother assures him, urging him to be on the lookout for ways he can see God throughout his day. Soon the boy spots example after example of the fruit of the Spirit all around him. Depicted in lively, colorful art, this lovely book accomplishes three important spiritual goals: It points children to the reality of God's faithful presence all around us; it gives kids a sense of God's character; and it inspires children to bear the fruit of the Spirit in their own lives.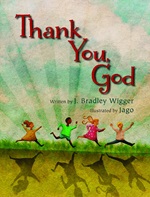 By J. Bradley Wigger, illustrated by Jago
With brilliant art from Jago (best known for illustrating The Jesus Storybook Bible), each page of Thank You, God expresses gratitude to God in language that is at once simple and profound—thanking God for the world, for animals, for family and friends, for shelter and provision, for education, for peace, and for life itself. Reading this book with a child is more than simply reading—it is offering a verbal and visual prayer of deep thankfulness to God together.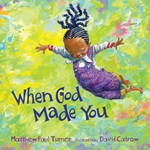 By Matthew Paul Turner, illustrated by David Catrow
This delightful rhyme is rich with biblical allusions, aiming to ground children in the truth that they are fearfully and wonderfully made—each one God's masterpiece, made in his image and created with a unique purpose. Kids will be inspired to creatively express themselves and to live lives of virtue and love. Like the vibrant colors and read-aloud rhythms on each page of this book, When God Made You declares to its kid-readers, "You ... bring color and rhythm and rhyme to God's story."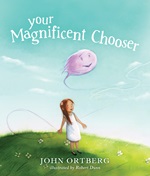 By John Ortberg, illustrated by Robert Dunn
With a Dr. Suess-like cadence, John Ortberg leads children through a whimsical look at the will. Ortberg sums up the heart of the book in an introductory note to parents: "The deepest part of God's will for us is not the situations we inhabit but the people we become." Your Magnificent Chooser provides kids with a framework for understanding their own agency—to live virtuously, to resist temptation, and to seek God's guidance in making wise decisions.
Others to consider:
• For toddlers and young children, consider the board books Found: Psalm 23 by Sally Lloyd-Jones and The Plans I Have for You by Amy Parker.
• A bestseller published in 2013, God Gave Us Easter by Lisa Tawn Bergren depicts a conversation between a polar bear and his son in which Papa explains the difference between cultural symbols of Easter and the true meaning of the holiday.
• For Christian history buffs, The Reformation ABCs and The Church History ABCs by Stephen J. Nichols provide an entertaining launching pad for discussion.
• There are several new storybook Bibles for children, including The Big Picture Story Bible by David R. Helm and the I Will Follow Jesus Bible Storybook by Judah and Chelsea Smith. Along with these new resources, the best-selling The Jesus Storybook Bible by Sally Lloyd-Jones (first published in 2007) is still a favorite.
• The books in the Tales that Tell the Truth series by Alison Mitchell are spirited renditions of key events from the life of Jesus, including The One O'clock Miracle and The Storm that Stopped.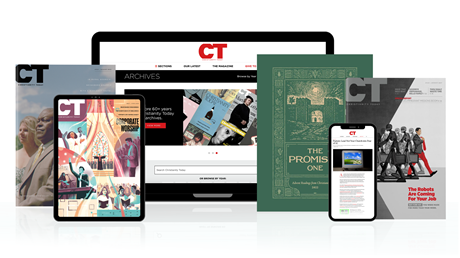 Annual & Monthly subscriptions available.
Print & Digital Issues of CT magazine
Complete access to every article on ChristianityToday.com
Unlimited access to 65+ years of CT's online archives
Member-only special issues
Subscribe
Book List: Our Favorite Easter Resources for Kids
Book List: Our Favorite Easter Resources for Kids