CT Makers: 20 of the Most Creative Christians We Know
Meet the artists, entrepreneurs, and philanthropists using fresh ideas for common good.
"The Christian shoemaker does his Christian duty not by putting little crosses on the shoes, but by making good shoes."
This pithy quote is usually attributed to Martin Luther, but in fact, scholars say he never said it.
First, no Christian of Luther's time would have thought to display his faith by "branding" his shoes. Second, Luther's writings emphasized work done in service of others, not as an end unto itself. Still, as the first theologian to describe non-priestly work as a vocation, Luther directly affirmed the honorable calling of the scribe, the brewer, the tailor, and, yes, the shoemaker.
About the list
The CT Makers list was compiled through nominations from leaders in the faith-work sphere, writers, and entrepreneurs.
The list aims to highlight creativity and innovation among Christians, so CT editors sought candidates who introduced new, unique, and groundbreaking approaches to their industry; were able to achieve impact and demonstrate effectiveness in their ventures; and related their work to their faith in meaningful ways.
We also wanted to feature a range of ways to think and create, so the list showcases leaders from various areas of life: business, technology, media, arts, entertainment, clothing, food, philanthropy, and more.
Online exclusive: Read the full interview with Adam Grant
Centuries later, Western Christians continue to serve their neighbors by making shoes. Most famously, TOMS popularized the one-for-one business model by giving away a pair of shoes to a child in need for each pair purchased. In the past decade, TOMS has distributed more than 60 million pairs of shoes in 70 countries, with founder Blake Mycoskie and his company ranking on lists of top innovators and effective social enterprises. Other "social good" companies such as Uganda-based sandal manufacturer Sseko Designs ensure fair wages for employees and ethical sourcing. Whatever the task or product, when Christians view their work as service to others, they tend to find themselves more aware of problems big and small—and to think creatively to solve them.
"When you take concern for helping others and add that to intrinsic motivation, people actually become more creative," said organizational psychologist Adam Grant, author of the best-selling Originals: How Non-Conformists Move the World, in an interview with Christianity Today. "If people are curious in the work, they follow what's interesting to them, and that leads them to over-invest in the ideas that are novel and fun, as opposed to the ones that are actually useful and beneficial."
The 20 business leaders, artists, and nonprofit founders on the following pages are doing both—investing in novel and fun ideas while also pioneering important changes—in their respective industries and fields of experience. By casting a vision, naming their creation, and releasing it out into the world, CT Makers remind us of the joy of bearing the Maker's image. Their stories reveal the myriad ways the body of Christ goes into the world as kingdom-minded change agents.
The Creative Spark
One definition of creativity is the ability to think up unique ideas and to bring them into existence. Creative people brainstorm, share a vision, and imagine solutions; they also make art, manufacture products, arrange systems, and form organizations.
Lately, companies and organizations have sought creativity like a fading virtue. How can educators return creativity to the classroom? How can companies free employees to be creative in the workplace? How can the church, the government, and other institutions generate creative solutions to 21st-century problems? In a survey by IBM, global CEOs ranked creativity as the most-desired leadership trait in today's business landscape.
In their personal lives, people reorganize their offices and try to develop new habits in hopes of fostering a creative mindset. Even the adult coloring book trend picks up on a longing to express a creative side. The back cover of one Christian coloring book reads, "When we create, we echo the heart of our Creative God who designed everything and gave us the capacity to recognize beauty."
Yet as much as we champion creativity, we also tend to think of creative leaders­­—from Leonardo da Vinci to Steve Jobs—as solo geniuses unlike the rest of us. Instead, Grant argues, these innovators are a lot like you and me. They look before they leap; they procrastinate; they fail again and again. (As many of the Makers admit, identity in Christ is pretty helpful during the failure part of the process.)
Creativity, Grant posits, isn't a trait that a select few are born with. Nor is creative success a fluke of circumstance. "If you recognize a lot of these great innovators and change-makers in the world are no different from the rest of us, you no longer have any excuse not to try," Grant told CT.
These findings back up what many modern Christians believe to be true: From accountants to worship arts pastors to parents, we can't help creating because we all bear the image of the Creator. "The Bible begins with Creation and ends with a New Creation," says renowned painter Makoto Fujimura. "Everywhere in between God has chosen broken vessels, his creative creatures, to create in love."
A Broader Vocation
Christians look to theologians like Luther, and to Scripture itself, to see how God uses ordinary work for his purposes. Reformed theologian Abraham Kuyper famously proclaimed God's reign over all areas of life: "There is not a square inch in the whole domain of our human existence over which Christ, who is Sovereign over all, does not cry, 'Mine!' " US churches today are more likely than churches 20 or 30 years ago to prepare believers to bring faith to bear on every "square inch" of professional life. Church-based nonprofits like Redeemer Presbyterian's Center for Faith and Work; pastor-focused networks like Made to Flourish; and individual groups like the Institute for Faith, Work, and Economics push back on the temptation to see ministry as a higher calling than other vocations.
According to Dave Blanchard, CEO and co-founder of Praxis, an accelerator program for Christian entrepreneurs, "More and more people have a stronger theology of work… But now that we have the right theology of work, what does it look like [as it's] worked out in the world?"
Imbuing creative work with a sense of calling can be a double-edged sword, says Grant. When Christians feel called to a creative challenge, "they are often willing to work harder, smarter, longer than they would have otherwise," he says. "We know that persistence is so important to creative breakthroughs."
At the same time, calling can also breed a sense of duty rather than delight. And duty "often leads to a sense of pressure that interferes with creative sparks," says Grant. In other words, if you're afraid of disappointing your family, your community, or God if you don't come through on a particular venture, you're more likely to stick with something secure than to try new ideas.
Blanchard believes entrepreneurs in the privileged West are prone to exaggerate risks. They fail to recognize how much they have to fall back on in terms of opportunity, education, and wealth. "If we have a right assessment of where we are in the world, and if we have an identity that's full in Christ, we should be able to have a risk tolerance that's almost incomprehensible," he said.
Even when Christians work in spaces where they are seen as cultural outsiders—be it Silicon Valley or the NYC fashion industry—they still hold tremendous creative opportunity and cultural power. Blanchard says to not act on that potential could mean squandering kingdom opportunity.
"If you're a high-capacity, high-talent entrepreneur, to say, 'It's kind of risky to do something in the area of cultural impact…' is a missed opportunity," said Blanchard. "In some versions, that is analogous to the Parable of the Talents. It's easy to bury the talent and work with what we've got versus going for it."
Not all of us have the talents and training or position and privilege to develop careers, companies, and organizations like the CT Makers have. Even still, creativity for the sake of loving our neighbor is something all Christians can practice daily. The neighborhood block party, the rooftop garden, and the cubicle are all places where creativity can be wielded to reflect the good, true, and beautiful.
"When God created, he made space for life," said Ken Wytsma, pastor and author of Create vs. Copy. The ultimate aim of creativity is to make space for life. "Justice, which aims at the reconciliation of all things, is actually the aim of spiritual creativity—that we're going to restore things to the way they ought to be."
Kate Shellnutt is online associate editor of CT.
Have something to add about this? See something we missed? Share your feedback here.
Tags:
More From:
Kate Shellnutt
@KateShellnutt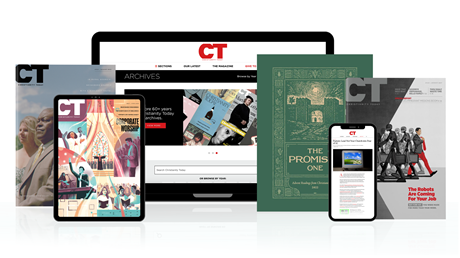 Annual & Monthly subscriptions available.
Print & Digital Issues of CT magazine
Complete access to every article on ChristianityToday.com
Unlimited access to 65+ years of CT's online archives
Member-only special issues
Subscribe
CT Makers: 20 of the Most Creative Christians We Know
CT Makers: 20 of the Most Creative Christians We Know