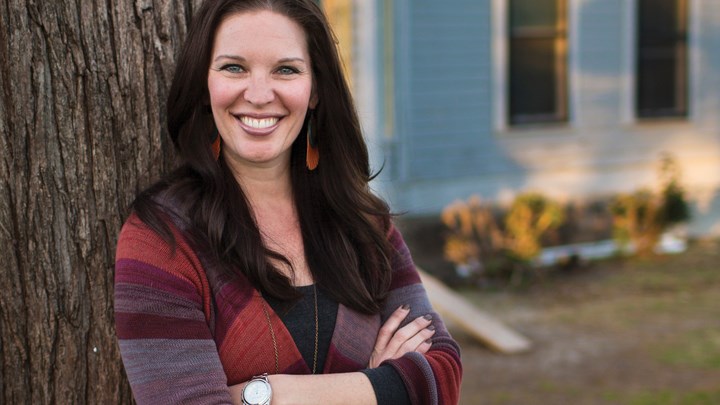 Image: Dennis Burnett
Religion News Service writer Jonathan Merritt recently noted an apparent "shift" in stance from popular writer and speaker Jen Hatmaker. Hatmaker is best known for her wildly popular books and her and her family's home-renovation reality TV show. After a speaking event in Raleigh this weekend, she wrote the following post on Facebook:
. . . So whatever the cost and loss, this is where I am: gay teens? Gay adults? Mamas and daddies of precious gaybees? Friends and beloved neighbors of very dear LGBT folks?

Here are my arms open wide. So wide that every last one of you can jump inside. You are so dear, so beloved, so precious and important. You matter so desperately and your life is worthy and beautiful. There is nothing "wrong with you," or in any case, nothing more right or wrong than any of us, which is to say we are all hopelessly screwed up but Jesus still loves us beyond all reason and lives to make us all new, restored, whole. Yay for Jesus! Thank God he loves us. He is not embarrassed of any of us. I am not a scandal, you are not a scandal. We are not "bringing down his brand."

Anyhow, my message to you today is simple, LGBT gang and all those who love you: You are loved and special and wanted and needed.

The end.
The post quickly generated more 35,000 likes, but it also somewhat predictably drew consternation from both the traditionalist and progressive ends of the broader LGBT debate. One commenter, representing the progressive side, asked if the post meant that Hatmaker had come around to an affirming position since 2014, when Hatmaker stated her traditionalist position amid the World Vision story. In that post, Hatmaker wrote:
I want you to know that I land on the side of traditional marriage as God's first and clear design. I believe God's original creation is how we were crafted to thrive: in marriage, in family, and in community, which has borne out for millennia in Scripture, interpretation, practice, and society (within and without the church).
The commenter asked, "I will always champion your words and welcome of love, and I'm ok with us not agreeing. But I do feel like our LGBTQ folks deserve clarity," assumedly on whether Hatmaker or other Christians would still ask LGBT people to change their orientation or commit to celibacy. In other words, love is good, BUT…
On the traditionalist side, many commenters likewise wanted to know if Hatmaker's post meant that she had abandoned her previously stated position and, thus, the consistent Christian teaching on same-sex relations. As one commenter wrote, "Jen, are you saying that to be gay/lesbian is not a sin? That it is perfectly okay, according to Scripture, to be proudly that way? . . . We are all loved by Christ, but our sins grieve Him because our sins hurt us."
In other words, love is good, BUT …
Given Hatmaker's large public platform, constituents might understandably wish for more clarity from her on an issue around which confusion and conflict swarm like flies. But the response from both sides of the spectrum also highlights how confused we Christians are about the nature of love—the love that God has for us, and the love we are to have for those who don't know him.
The First and Last Word
When I was 13, I began attending Sunday school for teens at the Methodist church where I would later encounter Jesus and commit my life to him. One evening, our group sat in a dingy rental trailer behind the church building to watch a televised rendition of the Parable of the Prodigal Son. The quality was grainy, the actors' skin tone way too light to be historically accurate. Yet still the plot gripped me. In my young mind, I understood that the son was a scoundrel, that he had broken the heart of his father, and that he deserved the muck and poverty he eventually sank into.
At the story's climax, we watched the son walk along the path toward his father's house. The TV narrator intoned, "And he arose and came to his father." And, in a moment I'll never forget, I predicted the next plot point: The father is going to reject him. Probably beat him. The son will finally get what he deserves.
Instead, what we impressionable teenagers watched was the father run toward his son, hugging and kissing him, calling for the best robe to be brought out, for the fattened calf to be killed. The narrator explained, "But while he was still a long way off, his father saw him and felt compassion, and ran and embraced and kissed him." And I was stunned. The logic at the heart of this story was unlike any logic I had seen or could have foreseen. And I thought, What kind of God is this?
Of course, what we see in the Parable of the Prodigal Son, and in countless other passages of Scripture, and in the whole arch of the Christian story, is that the first and last word God speaks to us, wretched as we are, is love. Love when it's the last thing we want or are seeking. Love when we have squandered his good gifts and turned away from him. Love when we don't love him back, when we are hell-bent, in a literal sense, in having our way, even if it means our own ultimate muck and poverty.
The reason we can declare this boldly—without adding a but at the end—is not because of a flimsy politically correctness that asserts that the "real" Christian God is on the right side of history, and that it's only time before more Christians follow him in the way of justice, fairness, and tolerance (as we define these terms, of course). Rather, we can declare and keep declaring the love of God, without adding a but, because of what he has declared to us and to the world on the Cross and through the Cross.
The out-of-this-world nature of this love doesn't end with the word but. Instead, it actually starts with the word but. As an example, go back to this verse from the story of the Prodigal Son:
So he got up and went to his father. But while he was still a long way off, his father saw him and felt compassion, and ran and embraced and kissed him. (v. 20)
Before the son even had a chance to repent, to ask for forgiveness, to declare that he would change his lifestyle or voting patterns or sexual behavior (and let's not forget the prostitutes), his father runs toward him. But—as in "although," or "even while"—the son was far away, still the father embraced him.
It's the same kind of but that we see in Romans 5, where Paul makes one of his earth-shattering declarations of the implications of the Cross, whose meaning defies all human logic:
You see, at just the right time, when we were still powerless, Christ died for the ungodly. Very rarely will anyone die for a righteous person, though for a good person someone might possibly dare to die. But God demonstrates his own love for us in this: While we were still sinners, Christ died for us. (vv. 6–8, emphasis mine)
This radical love of God in Christ is precisely what compels us to love God in return and to repent accordingly—not the other way around. And oh, do we so often confuse the order of love and repentance. Driven by mere human logic, we want to make ourselves right with God before he can declare it. We still want to do something to earn his love, and we want others to do the same—to repent first and really mean it, lest love be used as a license to sin. As theologian Fleming Rutledge told CT in a recent interview, "The temptation is to say that repentance is necessary before God can forgive us." Yet, "The truth is the other way around. Repentance is something that God works in us as a consequence of his prevenient grace."
Prevenient grace is the kind of grace that runs out toward us when we have barely managed to walk down the path toward our father's house. It's a kind of grace that wipes off the slop, enables us to stand up straighter, to return the father's embrace, and prepare to feast with him.
Love, And
In a time of enormous cultural upheaval—during which an orthodox Christian vision of human sexuality looks ever and ever odd to a watching world—Christians of both conservative and progressive stripes will be tempted to add a but to their articulation of love. Instead, what if the church chose to consistently speak a message of "Love, and…"?
You are loved, and you are welcome in this church, no matter your past or present.
You are loved, and you are joining a community of nothing more or less than saved sinners.
You are loved, and that love is so total and complete that it changes all of us from the inside out.
You are loved, and it might take time for you to recognize and live fully into that love, as it does for all of us.
You are loved, and that love leads us to repentance, over and over, for God is exceedingly patient and wants no one to perish.
You are loved, and nothing is going to change that.
Despite all that she doesn't say and that some understandably wish she said, Hatmaker is surely right to say the gospel begins with an unconditional announcement of God's love. God's love may not end there, but it surely begins there. Especially in a time of fear, hand-wringing, and division, may we not make our love more dependent on preconditions than does God himself.
The end.
Katelyn Beaty is print managing editor of Christianity Today.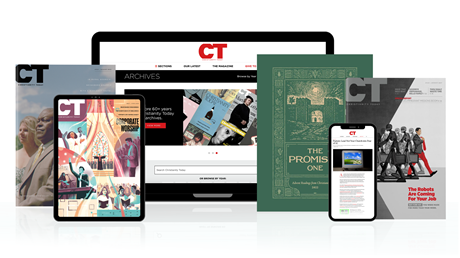 Annual & Monthly subscriptions available.
Print & Digital Issues of CT magazine
Complete access to every article on ChristianityToday.com
Unlimited access to 65+ years of CT's online archives
Member-only special issues
Subscribe
What Jen Hatmaker Gets Right about Christian Love
What Jen Hatmaker Gets Right about Christian Love