I'm told that in the moments following my birth, my parents laid me in a little bundle on my mother's chest, placed their hands on my tiny body, and prayed for me. They prayed over my life's direction and purpose and for the formation of my faith. They prayed for God's provision and protection. It's a wonderful, comforting piece of my history I've carried with me all these years. At times, though, it can also make me feel uneasy.
I am not the most consistent praying parent. I meet with God and hear from him most often through quiet study and reading. Prayer, however, is a discipline I'm still trying to master. I identify with the words of Barbara Brown Taylor who wrote this about prayer in her book on spiritual practices: "I would rather show someone my checkbook stubs than talk about my prayer life. I would rather confess that I am a rotten godmother, that I struggle with my weight, that I fear I am overly fond of gin martinis than confess that I am a prayer weakling."
Of course even those of us who feel like prayer weaklings eventually fall to our knees, either metaphorically or literally, when the intensity of our pain, need, or want rises to a certain degree, especially when it comes to our kids.
Through much of my own knee-collapsing over the years, I've come to see prayer less as a duty and more as an exercise in submission that fosters intimacy with God like nothing else. The gift of prayer is the reminder that I belong to the Lord, who gently waits for me to bring my deepest fears, shame, or longings to him.
I've prayed the same reality would be true for my children—that the grace found in God's presence would draw them in like no other; that they would come to know God and seek him wholeheartedly, even as they discover he is the one who has been lovingly seeking them all along. Additionally, as my children grow, I've begun specifically praying for them in these four ways.
1. Spiritual Hunger
I am praying fervently for God to create within my children an abiding hunger for himself. My kids fall into the new cultural grouping many trend observers label Generation Z or iGen—children and adolescents today between age 5 and 19. This is the first generation to be raised entirely in the era of smartphones and social media.
This means my kids take in information constantly and may lose interest just as fast. Their appetites for anything—entertainment, knowledge, online connection with other people—are easily satiated. They have so much. How can they remain hungry and see themselves as they truly are: beggars in need of a spiritual feast? How can they experience the relief and grounding that come when they shift their focus from themselves to our eternal, unchanging God?
My husband and I end most days, after the nightly rollercoaster ride of homework, chores, and dinner, with sleepy, simple and yet profound words whispered to God about who he is—our healer, protector, shelter, and shield. The one true God. The Alpha and Omega. The beginning and the end. Always good, always kind, perfect in his ways. All-knowing, all-seeing, present in our pain. The lifter of our head. Immanuel, the one who came to be with us. The lion and the lamb. Our rest, haven, and hope. Perfectly just and merciful. Our great consolation. He is enough. And we pray our children will see God just as he is—and long for him.
2. A Sense of Intimate Belonging
Our prayer for our children is that the more they come to learn who God is the more they will trust him and find their rest and delight in him.
I recently read a memoir about the life of a modern-day shepherd in the picturesque Lake District of Northern England. The words author James Rebanks used to describe the habits of his sheep pierced my heart: "Beyond our common [grazing space] lies unfenced areas of mountain land farmed by other commoners, so in theory our sheep could wander right across the Lake District. But they don't because they know their place on the mountains. They are 'hefted,' taught their sense of belonging by their mothers as lambs—an unbroken chain of learning that goes back thousands of years."
It struck me how much I desire for my children to inhabit a similar sense of belonging to God. This is the work of the Holy Spirit as he takes their knowledge about who God is and uses it to awaken their heart to the truth that they can entrust themselves to the God who sees, knows, cares for, and loves them.
I pray they will become hemmed in by their faith, grateful for their standing as one individual in a long line of believers who know their place and purpose as children of the living God.
3. Their Deepest Struggle to be Redeemed
I realize the sheep analogy only goes so far. Sheep do occasionally wander and lose their way, and as parents we know our children can stray or suffer. Often, it's our child's pain that causes us the worst heartache.
I've often endured long seasons of despair and handwringing over a hurting child before realizing I had yet to surrender the situation to God. That is the power of shame, I think. It keeps us frozen.
Bring to God the things causing you fear, shame, or worry when you think about your child's heart or whatever troubling path she is choosing to walk. Write it down or say it out loud, even if it's only in a whisper. The powerful mystery of prayer is what happens when we finally acknowledge before God the things we've spent months or years exhaustingly trying to manage, control, or fix.
Entrusting these painful realities to God and asking him to redeem the parts of our child's life that feel the most hopeless or broken likely won't produce a change overnight. We know that. What we're really desperate for is daily bread, relief, and hope, and that is surely what God gives.
We may not know how or when God will answer our prayers in the long term, but praying enables us to trust a little more in the Lord's goodness along the way. We begin to more heavily rely on his power. We believe (and sometimes ask God to help our unbelief) that he can take something completely twisted and futile and make it new. And we take heart in the truth that God's redemptive plan for our children was put in place before time began.
In the meantime, we allow God to have more of his way, soften more of our heart, and show us more of himself. This may have been part of his higher purpose in the crisis all along.
4. A Compassionate Worldview
The rising tone of divisiveness, fear, and unrest in our world has led me to pray that my children will understand that the heart of the gospel begins with a spirit of civility—putting people before political preferences, social circles, ethnic ties, or economic similarities.
I am asking God to help my children see the people around them as image bearers of Christ. Among those they find hardest to love, I am praying for God to give them the capacity to first affirm their enemy's dignity before feeling the need to set them straight. I desire that the Lord would enable them to offer a seat at the proverbial table to the seemingly most inhospitable kid they know because Christ offered them a seat when they were at their worst. Jesus' welcoming acceptance is a truth our pastor has reminded us of again and again.
Loving others when they are at their worst can happen only when the Holy Spirit illuminates their minds, eyes, and hearts to his ways, which often are completely counter to their own. And this is why I've also begun praying with my children the words Corrie ten Boom prayed throughout her lifetime: "Lord, keep us so close to your heart that we see things as it were more and more from your point of view."
To those profound words I've added these: "Give us eyes, God, to see past someone's anger or pain toward their need. Show us how to be like you, as strange, dangerous, or extraordinary as it seems. Thank you that you always see us as we truly are and love us still. Allow us to do the same with others. Amen."
Prayer, whether it's snuck in between yawns or whispered during a carpool route, is one eternally significant way that we can love and serve our kids. As parents, while we can't pray for everything, we can pray for some things. And we can trust that the God who receives our imperfect prayers is also the one who is faithful to hear us, meet the needs of our children, and guide and restore them as only he can.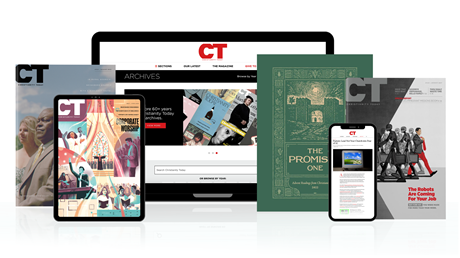 Annual & Monthly subscriptions available.
Print & Digital Issues of CT magazine
Complete access to every article on ChristianityToday.com
Unlimited access to 65+ years of CT's online archives
Member-only special issues
Subscribe
The 4 Most Important Prayers for Your Kids
The 4 Most Important Prayers for Your Kids