true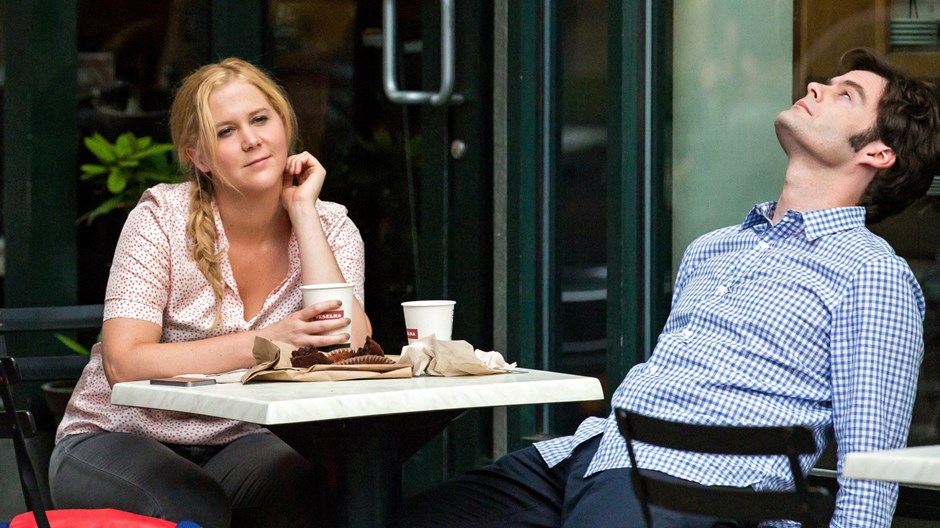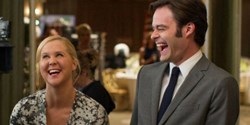 If you wanted to see a romantic comedy this year, you were in luck—especially if you wanted to see the old formula flipped on its head. A new wave of "feminist" romantic comedies attempted to empower women within the traditional meet-cute to happily-ever-after relationship story arc.
Trainwreck, starring comedian Amy Schumer, is perhaps the most talked-about example, but others include 50 Shades of Grey—lauded by some for its female-centric portrayal of sex, though not for its gender dynamics—and the Alison Brie-led Sleeping With Other People, about a woman who can only develop a healthy, balanced relationship with a man once the pair agrees to not have sex.
Those who argue that these films are empowering say something like this: The women in these movies are fully in touch with their own sexuality and unabashed about asking for what they want. They are not princesses waiting to be rescued nor incomplete without a man. These women are fully capable of walking away, no matter the man's charm or wealth or persuasive ways.
You could dismiss these movies as superficial illustrations that "modern women like sex and that's okay," but they actually illustrate something that frustrates a lot of women—both Christian and not—about relationships: it seems like there's no middle ground. You can choose sex without emotional involvement, or you can choose emotional involvement without sex.
But I'd argue that these movies do not empower women. Instead, they obfuscate the reality: sexual liberty doesn't reduce emotional vulnerability.
Sexual empowerment is not the same thing as power in a relationship—something many Christians readily acknowledge. But when we also deny that we even have a human appetite for sex (a much more common attitude within the church), or suggest it's an entirely negative desire, we fail to provide a practical approach to real relationships, with all the uncertainty, negotiation of wants and needs, and vulnerability they involve. Neither stance addresses the reality that relational vulnerability is hell when it's lopsided.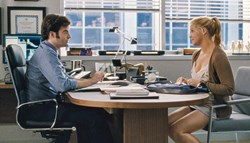 In the traditional rom-com formula, the woman usually takes the first step of vulnerability by acknowledging her feelings for the other person. Then eventually, the man must make up for lagging behind through some grand public gesture. In this scenario, success for the woman is to become the object of desire, but at least this (arguably) elevates her value.
Trainwreck flips the gender roles by making love interest Aaron (Bill Hader) the emotional one and Amy (Schumer) the one who makes the grand romantic gesture in the end. The lesson of Trainwreck is that the modern, sexually liberated woman doesn't need emotional support from a man—until he makes the first emotional move, and then it's okay to lean in.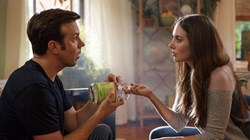 In Sleeping With Other People, Lainey is so emotionally incompetent she constantly seeks out sex that leaves her feeling used in the aftermath. She repeats this cycle over and over until a man, Jake (Jason Sudeikis), becomes a safe emotional attachment figure by agreeing to a no-sex rule. In this case, while both Lainey and Jake embrace the freedom of sexual activity and had sex earlier in their relationship, not having sex seems to be the real equalizer. (It's so old-fashioned it's dysfunctional.)
When we see these women as examples of female empowerment, though, we preach that denying our vulnerability is a form of safety. Amy and Lainey "protect" their hearts with a barrier carefully built of narcissistic confidence and the idea that it's ok to sleep around, without regard for or fear of potential emotional complications.
This mask has been around since at least the Rock Hudson/Doris Day sex comedies of the late 1950s; back then, it was the "unreformed bachelor" stereotype. In order to project the visage of an aloof "single and loving it" character, one must have a rampant and well documented sex drive, fear of commitment and repressed emotional life. Assigning these characteristics to the female protagonist, as in Trainwreck, does nothing to reform the rom-com formula or empower women, since the male love interest in these examples still swoops in to rescue or reform by allowing the female to admit how she feels.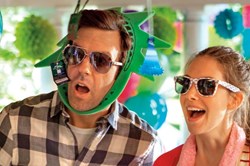 While this new wave of rom-coms puts the emphasis on the female sex drive—the female leads are very proactive in the sexual aspect of their relationship—the women in these examples are still waiting for the man to lead emotionally. He has control over her ability to accept what she feels and the safety to express it—and in my opinion, that's a step back for women. This is a passive role, not an empowered one.
I would never hold 50 Shades up as a good example of a functional relationship, but Anastasia (Dakota Johnson) is actually the most honest of these three examples regarding her vulnerability in relationship with Christian (Jamie Dornan). She submits to his sexual wishes despite reservations, but draws a line at denying her heart or accepting his dismissal of her feelings. Equality it's not—using sex as a power play is never healthy and the relationship portrayed is full of red flags for abuse—but in owning her vulnerability, Ana is actually more courageous than the supposed empowered examples elsewhere. She walks away at the end of the movie not because she's denying her feelings, but because she's owning them.
Many storytellers concede that healthy, happy relationships are too peaceful to provide great stories: feelings are acknowledged and resolution happens quickly. This is called the Moonlighting effect, because of a wildly successful 1980s show that quickly went downhill once the two leads got together.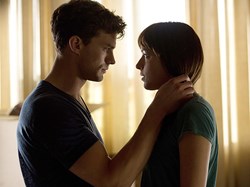 My go-to cinematic example of a working romantic relationship is Coach and Tami Taylor in Friday Night Lights. But their marriage is already well established during both movie and TV show, and the audience never sees the negotiations involved in beginning to build their mutually supportive relationship.
Fortunately for storytellers, many people haven't experienced mutual consideration and healthy resolution in their relationships—particularly in the early days. Many of us have never experienced a relationship healthy enough to eclipse the messy ones. In poor combinations, two mostly mature and well-adjusted people can bring out the worst in each other.
This unavoidable drama can make women long for the wild mutual desire that, in rom-coms, is the only necessary ingredient for a "happily ever after" (especially the kind of wild desire that makes one run through the airport or chase a cab). Many of us rail against the formula and welcome stories that have some fun with it, but still look for the signs of happiness we're taught on screen.
The essence of the romantic narrative is a journey from unequal power dynamics (the uncertainty of dating and the early stages of testing your fit with another person) to equality motivated by love. But in real life, romance still plays a role—that improbable, grand, mysterious ingredient—but so does intentional alignment with the other person's needs. Love interwoven with a desire to know and serve the other is also God's kind of love. "This is because I want faithful love, not sacrifice/I want people to know God, not to bring burnt offerings," reads Hosea 6:6.
Where is the alternative model for the woman who doesn't want to wait around to be the object of some man's quest but also cannot accept the sexual without compromising the emotional? Not in pop culture. But also, unfortunately, not in the church. Christians' relationship solutions often involve denying the messiness of emotional negotiation and human interaction. Plenty of youth groups (some influenced heavily by Joshua Harris' I Kissed Dating Goodbye) push the message that romantic relationships are dangerous, perhaps unintentionally promoting the idea that the confusion of feeling something about another person should be hidden or denied. Messy relationships are unavoidable. Navigating them requires grace for people and faith in something better.
Ultimately, a healthy relationship is not about power, because power assumes that one is greater than the other. Power, when looked at in a relationship, comes from both acknowledging vulnerability and granting that power to the other out of trust. To gain power, you've got to lose it, in other words—a lesson the church ought to be able to teach.
But until we come up with better examples, women will keep looking to rom-coms and learning through painful trial and error.
Alicia Cohn is a regular contributor to Christianity Today's Her.meneuticsand freelance writer based in Denver. She tweets @aliciacohn.
Watch This Way
How we watch matters at least as much as what we watch. TV and movies are more than entertainment: they teach us how to live and how to love one another, for better or worse. And they both mirror and shape our culture.
Alissa Wilkinson is Christianity Today's chief film critic and assistant professor of English and humanities at The King's College in New York City. She lives in Brooklyn.
Previous Watch This Way Columns: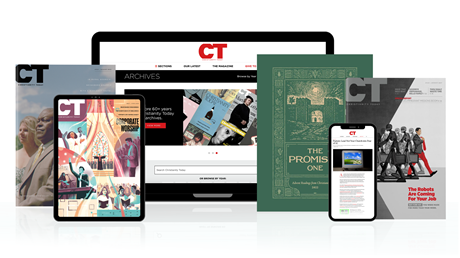 Annual & Monthly subscriptions available.
Print & Digital Issues of CT magazine
Complete access to every article on ChristianityToday.com
Unlimited access to 65+ years of CT's online archives
Member-only special issues
Subscribe
Why The New 'Feminist' Rom-Com Is a Lie
Why The New 'Feminist' Rom-Com Is a Lie