Image: Ethan Hickerson / Flickr
In many ways, anxiety has served me well. It's the energetic fuel in my tank. In my professional life, anxious energy drove me to do research for my undergrad thesis, complete my doctorate, and write a few books. At home, it keeps my house clean and gets my kids' parties planned.
But as anyone who has felt the weight of anxiety knows, it has a dark side. Even at its best, it's a bit like an annoying gnat—irritating and noticeable even if it doesn't affect my life too much. At its worst, anxiety feels like being swarmed by locusts in one of the Old Testament plagues. It gets heavy and scary and overwhelming.
Several months ago I crashed. Everything about the day seemed typical. With a few final words of instruction to the babysitter, I jumped in the car, glanced at my phone to check the time, then let out a frustrated sigh because I was running behind. I turned on some quiet hymns and took a deep breath, waiting for my racing heart to slow down. But instead of calm, I felt my anxiety grow with underlying stress.
I realized that this was my life, going from one crisis of anxious discomfort to the next and trying to keep above the stress and exhaustion. And here's the hardest part: I'm a psychologist and a counselor. I know better than most that there's a better way to deal with anxiety. I spend my days helping clients with everything from basic worries to obsessive-compulvise disorder to disabling panic disorder...but often wasn't listening to my own advice.
At the worst of my anxiety, I asked the obvious question: What if I actually did what I suggested to my clients? I had the theory down, but needed a radical revolution in praxis, my embodiment of that knowledge.
Based on evidenced-based therapy and spiritual disciplines, I put together a six-month experiment in centered-living. Each month has a theme, such as cultivating awareness, courage, rhythm, engaging the body, or finding joy, along with daily therapeutic and spiritual practices. Like my patients, I'm committing to regular relaxation and cognitive-behavioral therapy (a type of psychotherapy that addresses thinking patterns and habits), exercise, nutrition, sleep, prayer, and spiritual disciplines.
Our always-connected, hyper-productive culture creates a perfect breeding ground for anxiety as a way of life, so it can be hard and humbling for us to simply take the time to pause. One of the most powerful lessons so far has been learning to admit my own struggles and sit quietly with myself, just as I am, in the presence of the Lord.
I go through a meditative prayer exercise that integrates the awareness of mindfulness and the quiet intentionality of contemplative prayer. It's simple, but it takes practice to slow your mind and body. This is not about asking, fixing, interceding, talking, or feeling better. Rather, it is simply a way to open yourself up to God and take refuge in him. Here are the three focuses:
Acknowledge what is. Get in a comfortable position and acknowledge your desire to be present to God. Then quietly notice what is happening in your body, your thoughts, your feelings. You don't need to do anything; just present yourself as you are to God.
Breathe deeply. Next, take a minute to allow your breath to anchor you. Remember that each breath is a gift from God. Focus on breathing in the Holy Spirit and breathing out self.
Center yourself in Christ. Remember who and whose you are. Ask God to center and root you in Christ. Meditate on the person of Jesus and imagine him holding you in his arms, as the Good Shepherd holding his lamb.
That's it. Acknowledge what is. Breathe deeply. Center yourself in Christ.
I started this project to find a more effective strategy for managing anxiety. Basically, I wanted to feel more peaceful. I wanted to feel better because I wanted to do better and be better—as a mom, wife, friend, therapist, and follower of Jesus. And the desire to feel better isn't bad; it's human. But I am learning that peace isn't something we feel; it's where we are meant to live, in union with Christ.
This is my prayer for all of us: When we seek after peace, may we find it in the One who is himself our peace (Eph. 2:14).
Kim Gaines Eckert is a psychologist and author of Things Your Mother Never Told You: A Woman's Guide to Sexuality (InterVarsity, 2014) and Stronger Than You Think: Becoming Whole Without Having to Be Perfect(InterVarsity, 2007). She is learning to delight in ordinary adventures with her husband and four little ones in Chattanooga, Tennessee. If you'd like to learn more about Eckert's experiment in Centered Living or try some of the exercises out in your own life, you can follow along at drkimeckert.com.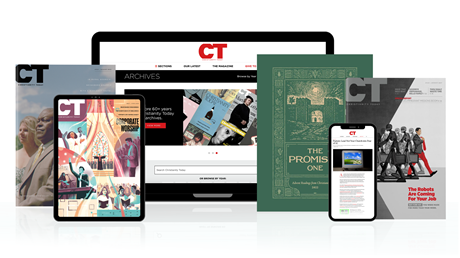 Annual & Monthly subscriptions available.
Print & Digital Issues of CT magazine
Complete access to every article on ChristianityToday.com
Unlimited access to 65+ years of CT's online archives
Member-only special issues
Subscribe
A Psychologist Faces Her Own Anxiety
A Psychologist Faces Her Own Anxiety