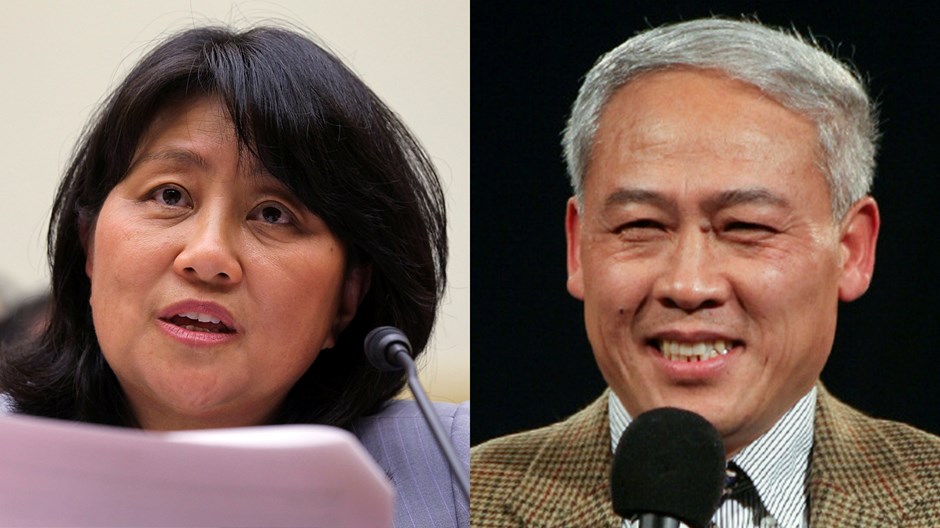 Image: Alex Wong / Getty and Yuan Zhiming / Weibo
"For the extramarital sexual iniquity that I once committed in 1990 before I became a born-again Christian, I once again confess my sins to God and seek his forgiveness, and offer my apologies to the party that [was] involved in that relationship."
With that March 2 statement, Yuan Zhiming, founder of China Soul for Christ Foundation, "temporarily resigned from all pastoral duties and ministries, so as to retreat in the Lord and seek renewal." The statement concerns accusations against Yuan from Chai Ling, founder of All Girls Allowed (AGA). Chai says Yuan raped her in 1990, and that it was not simply a matter of extramarital sexual sin.
Yuan and Chai are two of the highest-profile Christian leaders among the world's 50 million overseas Chinese, including some 3.7 million residing in the United States. Both of them were dissidents during the 1989 Tiananmen Square democracy protests and later converted to Christianity after fleeing to the United States. Yuan's foundation focuses on church growth, Christian discipleship, and video production. His evangelism conference in Hong Kong this past November was deemed China's No. 3 Christian news story of 2014 by the China Times. In 2011, Chai formed AGA to fight China's coercive one-child policy. Her leadership at Tinanmen has earned her two Nobel Peace Prize nominations.
"Most Chinese churches in North America are independent local churches without denominational affiliation. There is no proper 'magisterium' that can handle disputes among 'celebrity' Christians, who live and work on the other side of the coast, for a case that happened 24 years ago," said Zhiqiu Xu, a pastor and professor of theology at Columbia International Seminary in South Carolina. As executive director of the International Fellowship of Chinese Pastors, Xu was one of two witnesses to an attempt by Chai to reconcile with Yuan this past year. The witnesses released open letters about the attempted reconciliation. But supporters of Chai released a follow up letter, saying, "We believe that the open letters... were inappropriate, unbiblical, unlawful and incorrect, and they undermined [Chai's] account of what happened."
Yuan denied in his statement that he had broken any laws. "To God and to the public, although I could quietly endure the false accusations, I . . . could not and would not admit those sins which I have not committed. I deny all of the defamatory accusations involving 'rape,' 'attempted seduction,' and 'sexual assault.'"
A senior staff member at China Soul told CT via email, "Pastor Yuan resigned from his pastoral duties and ministries, but not his title and position in order to rest in our Lord and renew himself during this trial. The resignation is not a punishment in any way. " (Yuan is vice president and secretary of China Soul, a tax-exempt religious organization that had revenue of $707,000 in 2013 and is based in Rohnert Park, California.)
Following the rape accusation, additional individuals came forward alleging improper conduct with three other women, according to a group of 18 Chinese pastors. They began their own inquiry into the accusations of misconduct against Yuan and sought input from him. He declined to respond to their questions. Their report was published online in a Chinese Christian magazine.
In a written statement, All Girls Allowed said, "It takes great courage and strength for victims of sexual assault to go public so they deserve to be respected, heard, trusted, and honored, rather than being harassed and intimidated."
China Soul said it would "initiate legal action" against those making false accusations.
Boz Tchividjian, executive director of GRACE (Godly Response to Abuse in the Christian Environment), praised the 18-pastor panel's report. "Our Christian communities would be much safer places for the victimized and the vulnerable if more church leaders followed the example of these 18 pastors by taking proactive steps to address abuse allegations in such a serious and substantive manner," he said. As many as 12 persons have come forward to share about alleged misconduct by Yuan.
China Soul said it "denies the committee's validity, fairness, and legitimacy," and has started its own inquiry to determine the truth. It criticized the self-appointed panel of pastors, saying the group's report "unlawfully convicts the accused and spreads rumors against Yuan Zhiming on the Internet," as well as "[goes] far beyond the church system and has damaged the reputation and integrity of God's church."
Ling said she did not report the rape 25 years ago due to her concern about injury to the reputation of the Tiananmen democracy movement. But she now knows that was a mistake in part because credible research shows that many abusers commit multiple offenses across many years.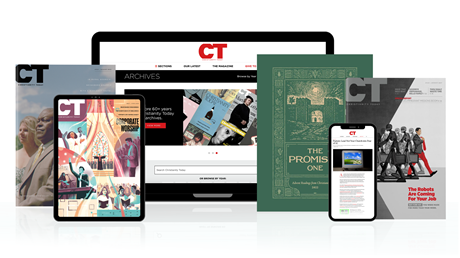 Annual & Monthly subscriptions available.
Print & Digital Issues of CT magazine
Complete access to every article on ChristianityToday.com
Unlimited access to 65+ years of CT's online archives
Member-only special issues
Subscribe
China Soul's Yuan Denies Rape Accusation, Resigns from Preaching
China Soul's Yuan Denies Rape Accusation, Resigns from Preaching