true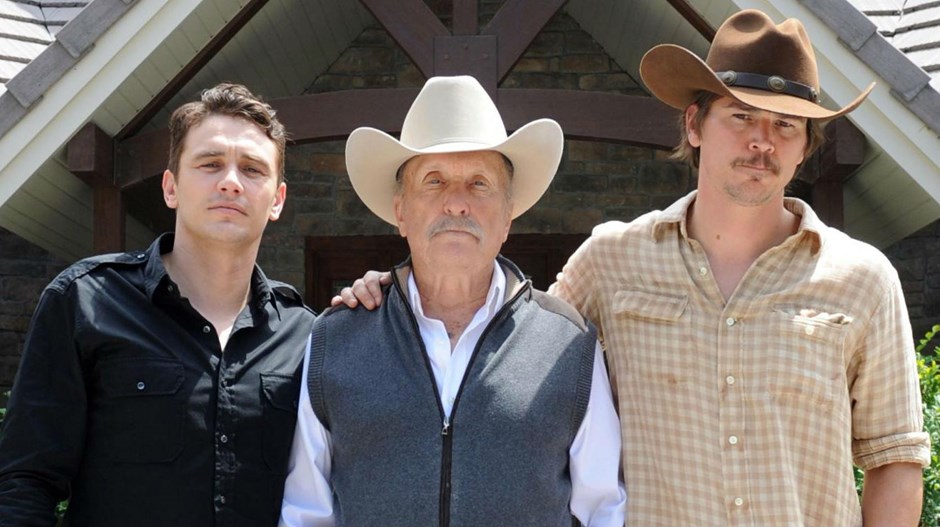 Alissa's note: The 2015 South by Southwest (SXSW) is running in Austin, Texas, and Ken Morefield has been writing about it for us. You can read his previous updates here and here.
It turns out that Robert Duvall is an actor's director. The cinema icon—and longtime friend of the SXSW Film Festival—spent a while of the time allotted to introducing and answering questions about Wild Horses in praising his cast, particularly the non-professional actors whom he deliberately integrated into his work.
Duvall said that the process of realizing a film mostly involves translating situations or ideas into behavior. He praised the Polish film Ida as his favorite of the last year and cited Ken Loach's Kes as an example of a narrative film that has a documentary feel or style, which he tries to emulate in his own films.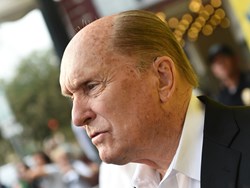 In Wild Horses, Duvall plays an aging rancher who may or may not be hiding a secret about a missing person's case that originated on his ranch the same night he banished his youngest son (James Franco) from the homestead for being gay. Duvall told audiences at SXSW that there were two elements of the story that interested him: the banishing of the gay son and the presence of a female Texas Ranger who reopens the cold case. (The latter is played by Duvall's wife Luciana Pedraza, credited for the film as Luciana Duvall.)
Yet for all the Texas style testosterone on display, it is ultimately Luciana Duvall who shines the brightest. Her character, perhaps because she is the least archetypal, is most revealed through action. A scene in which she is threatened by Hartnett's blustering police officer is a masterpiece of emotional Jujutsu; she shows no fear but also refuses to be drawn into a manufactured confrontation before her case is made.
Perhaps because of the banishment and the family machinations surrounding the character's other two sons, Wild Horses appears to rather deliberately invoke King Lear. It is somewhat exhilarating to see Franco and Duvall share the same screen, and the ways in which they use speech sparingly creates a much more complex father-son dynamic than what we got in more flashy but ultimately unsatisfying interactions between Duvall and Robert Downey, Jr. in The Judge. Josh Hartnett, too, is a revelation, as a son more willing to do his father's dirty work but who, we sense, knows his father still despises him.
If Wild Horses has a weakness, it's that Duvall may rely a little too heavily on his actors. The scenario he outlines is full of dramatic possibilities, and individual scenes sparkle. Most are self-contained, though, never quite pushing the narrative forward or gathering momentum from what has already transpired.
That said, Duvall has reached the point in his career where he can, quite frankly, do anything and it will be cheered and admired. That he continues to push himself in new directions and to work collaboratively with other artists is a testament to the seriousness with which he approaches his craft.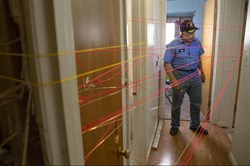 The story of "Dub" Lawrence, the former sheriff at the center of the documentary Peace Officer, could itself easily be in a feature film. As the youngest elected sheriff in the history of the state of Utah, Lawrence helped create one of the earliest SWAT teams in his region—only to see his son-in-law killed in a stand-off by that very team he helped form.
The film's directors, Brad Barber and Scott Christopherson, sat down with Christianity Today on the same day their film took the jury prize for best documentary at SXSW. While Lawrence's story is tragic and dramatic, it is only a small piece of a bigger, scarier portrait the documentary paints of the increasing militarization of local law enforcement units. As SWAT teams have evolved from what they once were—used almost exclusively to confront live-shooter or hostage situations—to their current use, which can include serving warrants (particularly in drug cases), the consequences have become shockingly predictable. More police are hurt by friendly fire than ever before, and the film documents several cases in which unarmed civilians were killed in their own homes as the result of no-knock warrants forcing life-or-death decisions on officers who increasingly conceive of themselves as soldiers fighting criminal armies, rather than officers protecting and serving the local population.
Barber and Christopheron said they began making the film before the recent violence in Ferguson, Missouri, though those events informed two or three of the latter interviews included in the film. And perhaps because of those events, they were quick to emphasize that the film was not intended to be anti-police. Christopherson's grandfather served in the FBI and he was raised to "respect law enforcement officers for putting their lives on the line."
Instead, they said they hoped the film raised awareness among viewers that too often local SWAT teams are not subject to any form of public oversight—or even scrutiny. Utah, according to the documentarians, is currently the only state that even tracks and keeps statistics on the use of local SWAT units. The film's best estimate is that the deployments of SWAT units have increased exponentially since the 1970s, when only a few hundred instances were documented. Deployments rose to several thousand in the 80s and now number in the tens of thousands.
Should documentarians help formulate public policy by offering suggestions for how to deal with the complex issues they sometimes spend years covering? On this point, the pair cited Joshua Oppenheimer (who made The Act of Killing), saying that their job is "not to report what happened but to tell the story of what happened." Making documentaries differs from reporting, since the choice of how to tell the story does influence the conclusions viewers are likely to draw.
Nevertheless, Barber said they rejected the label of "activist" filmmakers. Their primary goal, he continued, was to be "fair," rather than "objective." This is achieved by letting each character in the documentary speak, rather than just the ones who say what the filmmakers agree with.
It also means approaching new subjects with curiosity. Barber and Christopherson were initially approached by Lawrence at a softball game because he was seeking help in editing some footage documenting his own investigations into SWAT team encounters that ended tragically. In the process of helping Lawrence, they eventually realized that footage and stories Lawrence had would make a compelling feature-length documentary.
And they were right. Whatever the viewer's politics, Peace Officer is an important film, likely to challenge, provoke, anger, and sadden in equal measures. The title speaks to the directors' vision of what a police officer is meant to do—preserve peace. The film shows how much the role of local law enforcement officers has evolved and the cost in lives, property, and trust that is exacted by treating our police officers as soldiers of war, rather than officers of peace.
Kenneth R. Morefield (@kenmorefield) is an Associate Professor of English at Campbell University. He is the editor of Faith and Spirituality in Masters of World Cinema, Volumes I, II, & III, and the founder of 1More Film Blog.
Watch This Way
How we watch matters at least as much as what we watch. TV and movies are more than entertainment: they teach us how to live and how to love one another, for better or worse. And they both mirror and shape our culture.
Alissa Wilkinson is Christianity Today's chief film critic and assistant professor of English and humanities at The King's College in New York City. She lives in Brooklyn.
Previous Watch This Way Columns: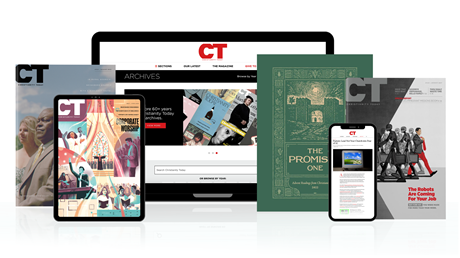 Annual & Monthly subscriptions available.
Print & Digital Issues of CT magazine
Complete access to every article on ChristianityToday.com
Unlimited access to 65+ years of CT's online archives
Member-only special issues
Subscribe
Postcard from SXSW #3: 'Peace Officer' and 'Wild Horses'
Postcard from SXSW #3: 'Peace Officer' and 'Wild Horses'