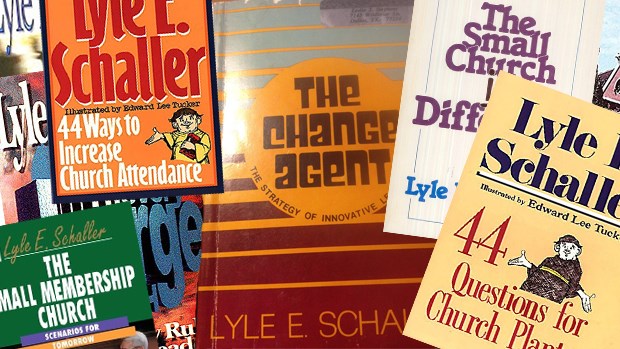 Because he was born April 19, 1923, and reached retirement age in the last century, he is best known to America's senior church leaders. Schaller outlived many of those whom he most influenced, dying on March 18, 2015, at the age of 91.
Lyle certainly was a major influence in my life and ministry. And a long time personal friend. When he was at the peak of his career we led conferences together, co-authored an audiobook for Abingdon Press (The Best Is Yet to Come: For Churches Ready To Change) and made the dedication pages of each others' books. After his retirement, we exchanged letters (he wasn't much into computers) and every year Charleen and I went to visit Lyle and Agnes in their Naperville, Illinois, and Oklahoma City homes. We wanted them to know that they were important to us long after the spotlight of fame moved to others on different stages.
The road to national influence started in Lime Ridge, Wisconsin, where Lyle was the youngest child of dairy farmers. He married Agnes Woods Peterson in 1946—she became his lifelong partner, typist, editor, and stay-at-home wife while he consulted with thousands of churches across the nation. His journey to church consulting and writing began in the planning office of the City of Madison, Wisconsin's capital. His understanding of demographics and analysis of urban structures gave him a sociologist's view of human interaction that he brought to churches and denominations.
The switch from urban planning to parish ministry came in his decision to enroll at Garrett Theological Seminary on the campus of Northwestern University in Evanston, Illinois. In keeping with his Methodist roots and education, he was ordained and became the pastor of a three- point circuit. Looking back, it's good to know that he once preached weekly sermons and met with church committees, but that wasn't what he was wired to do best.
Lyle moved to the Regional Planning Office in Cleveland, Ohio, and then from 1968-1971 directed the Center for Parish Development at Evangelical Theological Seminary in Naperville, Illinois. The Schallers' modest home on Brainard Street became the base for a national consulting ministry and the pilgrimage destination of a long list of prominent church leaders who came to visit their mentor. For 22 years his roles overlapped as he gave joint leadership to the Yokefellow Institute in Richmond, Indiana.
Few of those he influenced identified him with the institutions that claimed his leadership. Many knew him as the consultant who came to their towns and churches to listen and recommend—averaging about 150 on-site church consultations per year. I don't know if the Guinness Book of World Records includes an award for the most parishes consulted, but Lyle Schaller would no doubt hold the record with thousands and thousands of visits to local congregations. At these churches, he took a repeated approach of gathering statistics and interviewing church leaders, youth, ministers' spouses, non-leader congregants, and pastors from nearby churches. At the end of each consultation, he reported his 360-degree view, analysis and list of practical suggestions for congregational health and growth. Along the way, he pretty much avoided conflicted churches, at least he declined those obviously in a fight; he identified himself as a consultant and not as a conflict mediator.
Tens of thousands of interviews in churches ranging from mainline to independent and liberal to conservative gave him a mental data base to write, co-author, or edit almost 100 books selling over two million copies. Add his monthly monographs of "The Parish Paper" reaching 200,000 subscribers and we're talking about penning millions of words about and to the churches of America. His writing style was distinctively his own with long, long sentences including long, long lists.
In one sentence or certainly in one paragraph he covered a wide swath. There weren't a lot of footnotes because most of what he wrote about were his own experiences, observations, and analyses. This might give the mistaken impression that he was not a serious sociological and theological researcher—the truth is that he was a stalwart at the Naperville library and had one of the biggest residential mailboxes you would ever see on a private home. Inside the Schaller house was like walking through an overcrowded bookstore—books and magazines across the living room, up the stairs and crowded into the downstairs bathroom. The conversational consequence was that guests needed to be careful when guessing the number of live-births in 1944 or the doctrinal distinctives of the Evangelical Covenant denomination. Talking to Lyle was like conversation with a pre-Internet human Wikipedia.
As a child of the Great Depression, he was consistently frugal. His wardrobe was mostly T-Shirts with art and slogans (like "87% of Statistics Are Made-Up On The Spur of the Moment"), his travel expenses were minimal, and his consulting fees could be embarrassingly inexpensive. He didn't charge much and he didn't spend much.
As a novice pastor of a 100+ congregation along the Front Range in Colorado, I borrowed a Schaller book from the Denver Seminary Library and became quickly addicted. During one discouraging chapter in early pastoral ministry, I read Lyle's observation that the best years for most effective churches is during the seventh, eighth, or ninth years of the senior minister's tenure. He explained that too many pastors leave before the best years begin. It was one of the influences that kept me at Wooddale Church for 35 years as senior pastor.
When church leaders kept hearing me quote Lyle Schaller, one of them suggested that we bring him in as a consultant. I thought this would be like a Catholic church asking the Pope to stop by for a weekend homily—very little chance of it happening. But, urged by lay leadership, I wrote and invited the author I had never met and he immediately said yes. I remember picking him up at the Minneapolis airport and asking about his flight. It turned out that he was driven there from another consultation to save us some expense. Over the next few days he examined, questioned, probed and pushed. It was the beginning of decades of learning from the master consultant.
Lyle didn't talk much about doctrine in his books or consultations. Perhaps this was a boundary he established while working with broad ecclesiastical diversity. But I do remember a profoundly theological conversation he and I shared under the big tree next to his Naperville home. It was in the midst of a health crisis. Lyle comes from a family with longevity, his mother lived to 81 and his father to 91. But he took a bumpy road to longevity with chronic asthma, colon cancer, and a list of other threatening maladies along the way. Under the big tree he told me that there are many Christian doctrines and many theological views on most of them, but there is one doctrine that he held with total conviction and complete faith—the Resurrection. He declared without doubt and with force that as Jesus rose from the dead so shall Jesus' disciples also be resurrected to eternal life.
Leith Anderson is the President of the National Association of Evangelicals in Washington, DC, and Pastor Emeritus of Wooddale Church in Eden Prairie, Minnesota.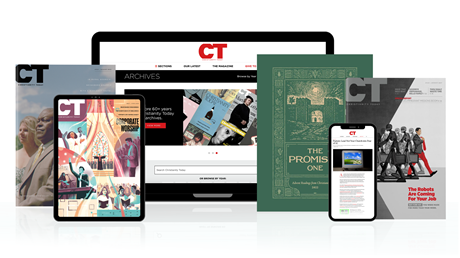 Annual & Monthly subscriptions available.
Print & Digital Issues of CT magazine
Complete access to every article on ChristianityToday.com
Unlimited access to 65+ years of CT's online archives
Member-only special issues
Subscribe
Lyle Schaller, Preeminent Church Consultant, Dies at 91
Lyle Schaller, Preeminent Church Consultant, Dies at 91