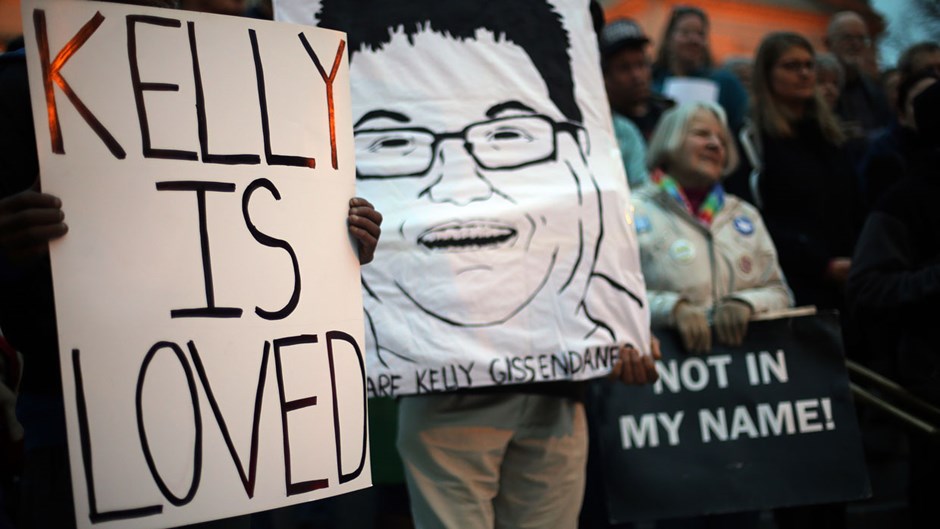 Image: Ben Gray / AP Images
It sounds like some Georgia state officials are desperately trying every trick in the book to not execute Kelly Gissendaner. Last Wednesday's scheduled execution was postposed "due to weather and associated scheduling issues," department spokeswoman Gwendolyn Hogan said.
Then last night, the Georgia Department of Corrections issued a statement: "Within the hours leading up to the scheduled execution, the Execution Team performed the necessary checks. At that time, the drugs appeared cloudy. The Department of Corrections immediately consulted with a pharmacist, and in an abundance of caution, Inmate Gissendaner's execution has been postponed."
If these are in fact mere delaying tactics, we wish them success, because the governor of Georgia simply does not have the authority—nor does the Georgia Supreme Court and the State Board of Pardons and Paroles have the desire—to grant clemency.
So we wish God's speed and success to anyone anywhere in the Georgia Department of Corrections who can delay and/or prevent Kelly Gissendaner from being killed by the state.
Make no mistake, Gissendaner is guilty as guilt can be, as she stated in a clemency petition:
There are no excuses for what I did. I am fully responsible for my role in my husband's murder. I had become so self-centered and bitter about my life and who I had become, that I lost all judgment. I will never understand how I let myself fall into such evil . . .
So Gissendaner, 46, was duly convicted of plotting to kill her husband, although it was her boyfriend, Gregory Owen, who carried out the gruesome deed in February 1997. Once they were arrested, plea bargains were offered to both to guarantee only life sentences, but while Owen took the offer, Gissendaner's lawyer encouraged Gissendaner to refuse. He couldn't believe a jury would give her the death sentence.
So we find ourselves in a place where the man who actually stabbed his victim multiple times is serving a life term (and is up for parole in 8 years), while the woman who planned the murder is about to be executed.
But this anomaly of justice is not the main reason we wish Gissendaner's death sentence to be commuted to life imprisonment. Another is this, again in Gissendaner's own words:
… I have learned first-hand that no one, not even me, is beyond redemption through God's grace and mercy. I have learned to place my hope in the God I now know, the God whose plans and promises are made known to me in the whole story of the life, death, and resurrection of Jesus.
As numerous witnesses—guards, pastors, inmates—have testified, this is no jailhouse conversion. Part of the reason the people surrounding Gissendaner recognize a genuine change is stories like these:
I watched [Kelly] reach out to scared, terrified young women and assure them that they could survive and could use their time in prison to become better human beings and to find peace. The other inmates really listen to Kelly when they will not listen to anyone else. She has talked sense into many of them when they are acting foolish or crazy. . . . —Officer Faye Roberts of Lee Arrendale State Prison

I watched Kelly Gissendaner for more than ten years and she was always a security risk because of her death row status, however, the person, Kelly Gissendaner, was not a security problem. Sometimes she had a bad day and would mouth off to one of the officers and sometimes my officers would have a bad day and mouth off to her. She was always willing to apologize when she was wrong. She was never violent or assaultive during my shifts nor did I even hear of any of this type of behavior. —Lt. Marian Williams, overseer of Gissendaner's range at Metro State Prison

When I wanted to give up, she wouldn't let me, she treated me just like I was her own child. So I started calling her Mama Kelly, I would come up and see her we would talk about my goals and how to . . . get over the hard obstacles in my life. When I would see my Mama Kelly, she always made me smile. And I know God put her in my life for a reason. —inmate Keisha Rhodes
There are many stories of "Mama Kelly" talking women out of suicide, warning guards about potential problems in the block, learning theology classes through the prison's theological certificate program, and generally making a positive difference at Arrendale State Prison.
The evidence is clear: Kelly has turned her life around. There is testimony after testimony of not only a changed life but also positive changes in the lives of others because of her ministry in prison. (Read her clemency application in full to get see many more glimpses of a transformed life.)
The Georgia Department of Corrections has, in fact, done its job. It's in the business of correcting people. Some of those corrected people can be freed; others have to remain behind bars. The Department of Corrections cannot correct the past, but it can make it possible for the convicted to correct their ways and lead meaningful lives behind bars. In this case, the Department of Corrections made reform possible for Kelly Gissendaner, giving her access to chaplains, theology teachers (Kelly has earned a theology degree), and the freedom to minister to other inmates.
By God's grace, Kelly Gissendaner's life has been "corrected," as much as one can do that in this life. By his further grace, may someone, somewhere, find a way for her to live and to continue her extraordinary work in prison.
Mark Galli, editor of Christianity Today.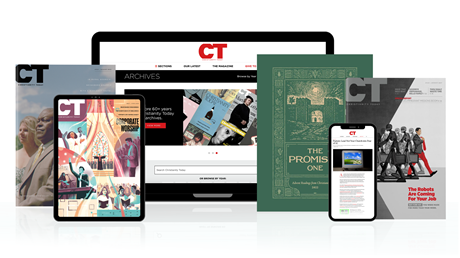 Annual & Monthly subscriptions available.
Print & Digital Issues of CT magazine
Complete access to every article on ChristianityToday.com
Unlimited access to 65+ years of CT's online archives
Member-only special issues
Subscribe
Let Kelly Gissendaner Live
Let Kelly Gissendaner Live