true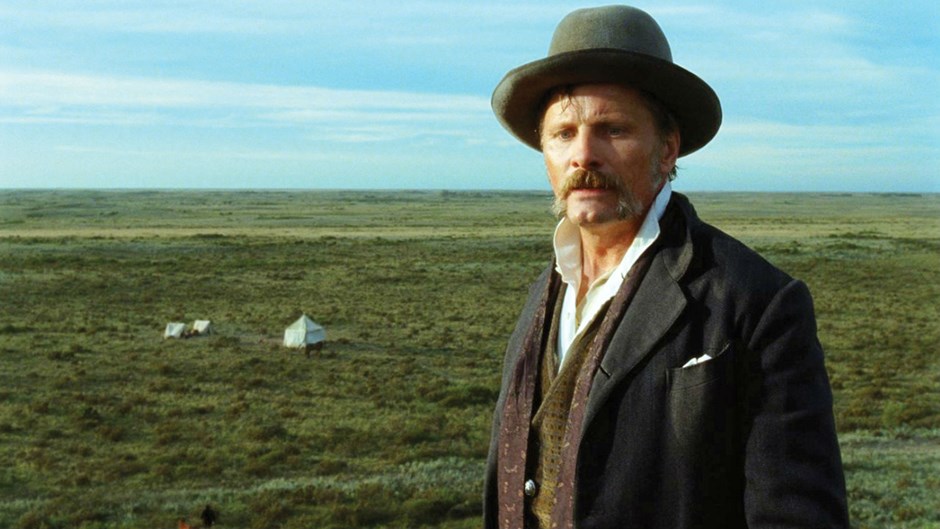 Image: The Cinema Guild
Before the American Western, as a genre, went out of fashion—charged with being formally unhip and ideologically questionable—for nearly a century it found deep purchase in the psyche of American filmgoers for giving form to our wont to wander in search of identity, both personal and communal. There was transcendence in the Western, not in the least part for the way its typical narrative through line—a physical quest westward in which wagon trains left behind acres of dust and smoldering campfires—embodied a genuine (and often conflicting) spiritual need to discover self on the one hand and the home to which that self belongs on other.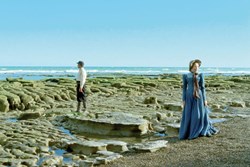 Image: The Cinema Guild
There may be no better articulation of this than in the final shot of John Ford's The Searchers, in which John Wayne's Ethan Edwards stands poised on the threshold of the settler's home to which he has come to return his niece Debbie to safety. The epitome of John Ford's "good-bad man," Ethan must choose between the freedom of the rambling man on the range and the accountable life of the domesticated man in the home.
Is it surprising that there's hardly a more devastating moment in cinema than when Wayne totters back out into the wild while on the soundtrack the Sons of the Pioneers sing "ride away"?
In his new dual language (Spanish/Danish) Jauja, pronounced "how-ha" in Spanish, director Lisandro Alonso riffs on the The Searchers conceit, but asks, "What if Ethan never finds Debbie?" Or, better yet, "What if Ethan abandons the search for Debbie entirely to wander the wilderness in search of himself?"
It's the 1880s, and the searcher here is Captain Ginna Dinesen (Viggo Mortenson wearing his years and mustache long), a Dane who has brought his daughter, Ingeborg (Viilbjørk Malling Agger), in tow to the rough and utterly foreign coast of Patagonia where he works as an engineer for the Argentine Army. It's a strange and prickly relationship the captain has with the Argentines, and it's one that is tested by the advances of a middle-aged, porcine Argentine officer on Dinesen's teenaged daughter, the only female within this ragtag group of barbaric men who day-to-day seem less-and-less concerned paying mind to the codes of civilized behavior. All to say: this is no place to bring a daughter.
Soon enough, however, the girl is gone. That is, she's run off with a young soldier, away from the coast and into the all-but-uninhabitable lunar landscape of the desert with its infinite sand, scrub brush, and mountains of boulders (a landscape rendered by director of photography, Tomo Salminen, with a metaphysical heft that matches the work of Antonioni).
All of that, I'm afraid, makes the plot of Jauja seem much busier than it actually is. And that it's not a plot-heavy film is a good thing. In fact, much of the film is simply Dinesen, alone, making his way across the desert terrain as he looks for signs of his daughter. Sure, there are life-threatening dangers out there (most notably a murderous Argentine soldier who has gone mad and now rides the desert on horseback dressed like a woman, a character as frightening as any in McCarthy's epic Blood Meridian). Dinensen does have a few encounters with others in the vast region (of particular significance, he stumbles on an elderly woman with enough witchyness to put one in an Alejandro Jodorowsky frame of mind).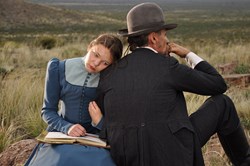 Image: The Cinema Guild
But the film is ultimately about Dinesen's quest for self discovery (no matter if he finds his daughter of not), while also being about our experience (in real time, as the images pass before our eyes) of delight and discovery as we are present and awake to Alonso's vision.
If that sounds a bit too mystical, a bit like hocus-pocus, it's not. Please stay with me, just a moment's indulgence. There's a reason we go to the movies that's beyond pure narrative curiosity. There's a reason we submit ourselves to the time of films and the spaces in which we choose to watch them (at home or in the darkened theater). We know there is something, perhaps even unnamable, about those experiences that make watching a movie what it is. Whatever it is, though, can't be summed in a neat plot or thematic summary.
Maybe these aren't questions we ask ourselves when we plop down on the couch and turn on Netflix on a Friday night after work. And frankly, most films don't invite these kinds of questions—questions about the nature of the medium itself. But certain films, like Jauja, manage to take advantage of their own materiality in such a way that they transcend narrative "who done it?" questions and move toward pure experience.
For example, in Jauja as the narrative of the film concerns itself with the physical space Dinesen traverses, our relationship, as viewers, to those spaces is mediated by Alonso's camera. We can observe that Alonso mainly captures Dinesen in long shot, or at a long distance from the camera. Alonso also sparingly uses camera movement so that most of his images are static, and a good number of the shots are held for long duration. We could also note here that Alonso has chosen the Academy ratio 1.33 as his format. That is, the film's shape is boxy, not the expansive palate of the widescreen.
The most obvious effect of these formal choices is that Dinesen is consistently defined by the space by which he is surrounded and that the immobility of the camera and the durative nature of the shots emphasize his quest's futileness. We would have a much different experience of Dinesen's struggles had Alonso chosen to rely on close-ups, quick cuts, and shaky camerawork.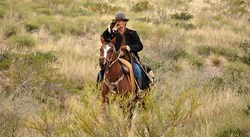 Image: The Cinema Guild
I realize this is all sort of Film 101 stuff, but it can't be emphasized enough that it really matters. These aren't just random choices divorced from content. They are choices that ask us to be aware of—to use the idea of avant-garde filmmaker Nathaniel Dorsky—the camera's attitude toward its subject. They ask us to come to a film's content with a certain posture, a certain expectation.
To that end, the film form of a film like Jauja encourages within us a posture that is open to the adventure of the unknown, the unpredictable. So while Jauja certainly concerns itself with Captain Dinesen, as his search for his daughter takes on the shape of Ethan Edwards's before him, it primarily wants to make searchers of us all.
Bearden Coleman is assistant professor of English at The King's College, where he teaches writing and film. You can follow him on Twitter at@OZUsCamera.
Watch This Way
How we watch matters at least as much as what we watch. TV and movies are more than entertainment: they teach us how to live and how to love one another, for better or worse. And they both mirror and shape our culture.
Alissa Wilkinson is Christianity Today's chief film critic and assistant professor of English and humanities at The King's College in New York City. She lives in Brooklyn.
Previous Watch This Way Columns: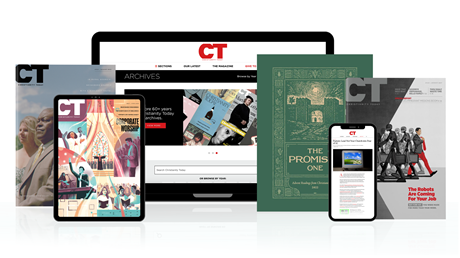 Annual & Monthly subscriptions available.
Print & Digital Issues of CT magazine
Complete access to every article on ChristianityToday.com
Unlimited access to 65+ years of CT's online archives
Member-only special issues
Subscribe
Making Searchers of Us All
Making Searchers of Us All