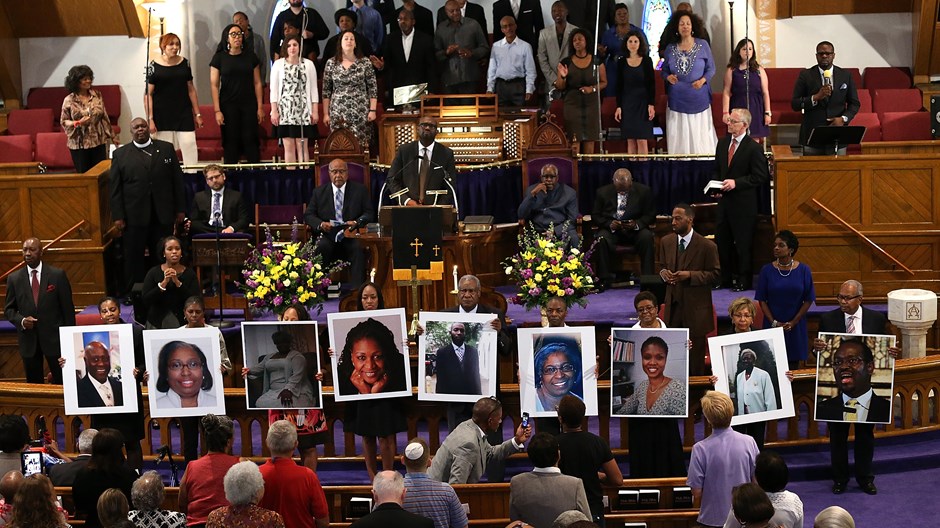 Image: Win McNamee / Getty Images
I was working in The White House when the press release arrived: "Pew Survey Finds Almost 1/5 of Americans Believe President Obama Is a Muslim."
I spent years having to talk to reporters and draft statements to counter this curious belief. It's now clear to me that, while the belief persisted for many reasons (including the way faith is used as a political weapon), a major reason was that media, racists, and liberal elites alike tend to treat African American Christianity as a cultural, not a theological, phenomenon.
I have never said this publicly, but it is one reason I believe President Obama has "gotten away with" explicitly religious language that, coming from a white President, would earn him screeds on liberal websites accusing him of violating the separation of church and state. But with a black President, many media pundits, racists, and white secular elites seem to shrug off his faith statements as arising from cultural baggage, not sincerely held beliefs.
I thought of this as I watched Charleston family members publicly forgive the man who killed nine of their loved ones during a Bible study at Emanuel AME Church.
I do not know if I could be like Nadine Collier, who told Dylann Roof, "You took something very precious from me, but I forgive you. It hurts me. You hurt a lot of people, but may God forgive you." I do not know if I could have had the compassion of Anthony Thompson, who exhorted Roof to "repent. Confess. Give your life to the one who matters the most, Christ, so he can change your ways no matter what happens to you and you'll be okay." Roof will be okay? Why should his future be hopeful when he snuffed out nine precious lives? These questions are difficult, and without Christian faith, the answers would likely make forgiveness look utterly foolish.
Confounding Forgiveness
The confounding forgiveness of the Charleston Nine families has led some to ignore its motivation and propose their own. Some of those who expressed righteous indignation at the disgusting right-wing attempts to invent motivations for Roof—rather than accept his explicitly racist statements and beliefs as his motivation—now refuse to take the family members seriously when they say it is a sincere, thought-out expression of their faith.
Hanna Rosin, for instance, seemed to suggest that black forgiveness was a legacy of white supremacy. Others turned the conversation to whether or not forgiveness provided an easy out to the public, allowing whites to move on from the systemic injustices and racist doctrines that permeate much of our society. By the end of Roxane Gay's op-ed in The New York Times, the autonomous, self-initiated (to our knowledge) motivation of the black family members was replaced with uncited references to "demands for forgiveness" from "white people," and a universal declaration that "black people forgive because we need to survive."
Is it really that difficult to imagine that these families forgave for reasons other than to please white bystanders or advance a social cause? If the family members identified their forgiveness with their faith, is it right to insist that their willingness to forgive is a result of their race? They did not forgive to express the values of their race or to represent the character of their country, but to be faithful to their God. (To their great credit, journalists like Chris Hayes and Ta-Nehisi Coates, though amazed and uncomprehending of the act of forgiveness—like many of us—have taken the faith of the family members seriously. Many others have done the same, across the political spectrum, including people like political commentator Jamal Simmons.)
Deep Roots
Explaining away black Christians' exercise of their faith, and equal access to Jesus, has deep roots. It originated, perhaps, with early interpretations of the story of Ham as denying black people a soul. This interpretation suggested that without a soul, black people did not even have the capacity to develop spiritually. This blasphemous idea infected America and supported the institution of slavery.
American slaveowners first withheld and then limited the gospel from their slaves. In their book, Defending Black Faith, Craig Keener and Glenn Usry describe the lengths slaveowners would go to prevent slaves from hearing the full gospel. According to Usry and Keener, the first slaveowners "did not want their slaves to hear about the Bible, because they feared that the slaves would understand that Christianity made them their masters' equals before God." Later, slaveholders "allowed some preachers access to the slaves, once they developed ways to leave out parts of the Bible that sounded as if they made slaves equal." Yet, this was nothing more than a "distortion of Christianity," Usry and Keener declare. Slaves discovered for themselves the true message of the gospel, a "secret their masters did not want them to know."
The desire to limit black Christians' experience of the faith remains relevant. Today, it continues with racists and "enlightened" elites who pat the black church on the head when it is politically aligned, yet roll their eyes when they can't understand the fruit of Christian faith that comes from the black church. The same trivialization of black Christianity that denies the President of his claim to the Christian faith denies the Charleston families' claim on the demands of their faith.
Remember, forgiveness from victimized religious communities after a shooting is not new; the Amish community in Nickel Mines, Pennsylvania, won praise from religious and secular alike for their response to senseless, targeted violence. What is new is the idea—invoked regarding black Christians in Charleston, not white Amish in Pennsylvania—that forgiveness might stymie social progress and disturb the social order and should therefore be withheld, at least publicly. No one questioned whether the Amish forgiveness was the result of a mature faith and conscience. Yet when it comes to the black conscience, somehow obfuscation, critique, and rationalization are embraced as progressive.
A Great Mystery
Forgiveness is a great mystery. For centuries, it has left many of even our most profound thinkers flabbergasted, unable to contend with the enormity of the challenge. Yet Christians have tried to provide a response to this challenge of forgiveness, one that we believe is grounded in history. In many ways, it is the only historical context needed. As Paul wrote:
… at just the right time, when we were still powerless, Christ died for the ungodly. Very rarely will anyone die for a righteous person, though for a good person someone might possibly dare to die. But God demonstrates his own love for us in this: While we were still sinners, Christ died for us. (Rom. 5:8)
Forgiveness has been affirmed as mandatory for Christians by African American theologians, even during the Jim Crow era. Howard Thurman, an educator and theologian who inspired Martin Luther King Jr., wrote in his classic 1949 treatise, Jesus and the Disinherited, "It is clear that before love can operate, there is the necessity for forgiveness."
Thurman admits that this view can never be "completely satisfying from the point of view of rational reflection," but offers three reasons for Christian forgiveness: First, "God forgives us again and again for what we do intentionally and unintentionally." Second, "no evil deed fully represents the full intent of the doer." And, finally, "the evildoer does not go unpunished … our deeds track us down and doer and deed meet." After offering these three reasons for forgiveness, he acknowledges that "when all other means have been exhausted, each in his own tongue whispers, 'There is forgiveness with God.' "
Because of God's sacrificial act of forgiveness, we can have confidence in our Savior, Jesus, who advocates for us in the heavens. The family members in Charleston believe in a God "who is going before you, will fight for you, as he did for you in Egypt, before your very eyes" (Deut. 1:30). Liberation was never primarily about our power but about God's power. Our ability to condemn, to begrudge, to hate, to judge—this is bondage. That is a responsibility not our own.
To believe this, of course, goes against many of our instincts. An understanding of the religious and theological reason for forgiveness does not preclude questions or skepticism, of course, particularly if you have not experienced the forgiveness of God for yourself. But that does not grant us the right to whitewash the motivation for the forgiveness we witnessed in Charleston.
The critiques of forgiveness in recent days are strikingly similar to the critiques against nonviolence during the civil rights movement. In both cases, some advocates for social justice misunderstood the allegiances of the black Christians they criticized. Dr. King and the Charleston families believed forgiveness and nonviolence are on the right side of history. They believed they would be served well on this earth by those tenets, but also that their reward is in heaven. And, clearly, they saw no conflict between forgiveness and full-throated, sacrificial advocacy for change. People so often underestimate the Christian conviction that the ends do not justify the means. The ultimate goal is not to achieve justice on this world, though we pursue that with all of our souls, but to be faithful to God. We believe, ultimately, that faithfulness is justice.
I do not think I could forgive Roof. Forgiveness is not a burden I would place on anyone in the situation of those families. We should reject all calls from those who wish to sweep under the rug the culture and systems of racism that infect people like Roof. We should reject all calls to make excuses for the evil Roof actively embraced and acted upon. He was no passive actor. He was more than simply a result of cultural, economic, or social circumstances. He had agency. And his actions were evil.
I'm a Christian Because of the Black Church
But we should also reject all calls to strip the agency and dignity from the mourning families as well. I am not mature enough in the faith to so quickly pass the burden of judgment to God. But I am inspired by those family members to grow in that direction. I am a Christian because of the black church and black faith. When I was far from God, it was the unashamedly Christian black culture, movies, and music of people like Lauryn Hill and Fred Hammond that introduced me to Jesus. It is the black church that so consistently embodies the confounding, radical love of Jesus. What other American community today displays less shame, less reservation, less self-awareness about proclaiming the Christian faith? I will not turn the Bride of the living Christ into a cultural artifact.
We serve a God who will make evil scatter with light, who is the answer to every skeptic's questions, and who is renewing all things. The Charleston family members could forgive because they believe that fateful night in the upper room of Mother Emanuel was not the end of their loved ones' stories. The Charleston victims are as they were: in the kingdom of God, beloved by him, their greatest longings realized.
In 1957, after he was imprisoned during the Montgomery bus boycott, Dr. King delivered a sermon at Dexter Avenue Baptist Church on the imperative of forgiveness. In the conclusion of his case for forgiveness, a case that relied heavily on Thurman's argument made eight years earlier, King exhorted his audience:
My friends, we have followed the so-called practical way for too long a time now, and it has led inexorably to deeper confusion and chaos. Time is cluttered with the wreckage of communities which surrendered to hatred and violence. For the salvation of our nation and the salvation of mankind, we must follow another way.
Nadine Collier, Anthony Thompson, and the others in Charleston follow another way. As inconvenient and irrational as it might be to some pundits and activists, they have no right to recast the radical love displayed in Charleston in any other light.
Michael Wear led President Obama's faith outreach during the 2012 presidential campaign and now works as a consultant and writer in Washington, D.C. Follow him on Twitter @MichaelRWear.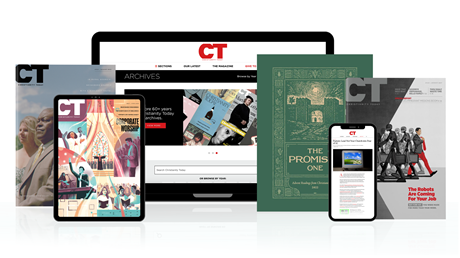 Annual & Monthly subscriptions available.
Print & Digital Issues of CT magazine
Complete access to every article on ChristianityToday.com
Unlimited access to 65+ years of CT's online archives
Member-only special issues
Subscribe
Stop Explaining Away Black Christian Forgiveness
Stop Explaining Away Black Christian Forgiveness