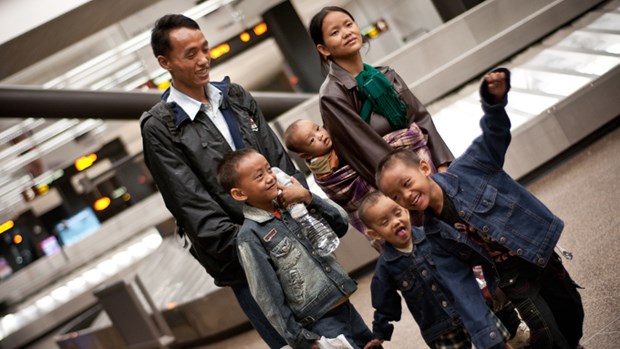 Image: World Relief
For more than three decades, Baltimore-based World Relief has resettled tens of thousands of refugees, many of whom fled religious or political persecution in their homelands.
Local churches have played a key role in this ministry. Church volunteers have befriended refugees and other new immigrants, helped them find jobs and homes, and showed them God's love—no matter what their background.
That's changing, says Jenny Yang, vice president of advocacy and policy at World Relief, as more churches only want to help their fellow believers.
And some especially don't want to work with Muslims.
"We are getting tons of emails and calls from churches specifically wanting Christian refugees, those persecuted in the Middle East," says Yang. "There is a lot of fear about resettling Muslim refugees. There is fear about them becoming terrorists or implementing Shari'ah law."
According to a 2013 study from Pew Research, America gains about 600,000 new Christians a year through immigration. And about 40 percent of the refugees resettled by World Relief are Christians. But the evangelical nonprofit has also helped resettle Muslims and those of other faiths.
That's earned them ire of anti-immigrant activists who see Muslim immigrants as a threat.
Recently, some high-profile evangelical leaders have also warned about the threat of Muslim immigrants.
"We are under attack by Muslims at home and abroad," Franklin Graham, head of Samaritans Purse and the Billy Graham Evangelistic Association, wrote on his public Facebook page on July 17. "We should stop all immigration of Muslims to the US until this threat with Islam has been settled." At press time, more than 167,000 people had "liked" the post.
Graham's comments came one day after 24-year-old Muhammad Youssef Abdulazeez, born in Kuwait and living in Chattanooga, Tennessee, shot seven people, killing five, outside a military recruiting office. Police killed Abdulazeez in an exchange of gunfire a short time later. All five of those killed were US servicemen.
Evangelicals for Biblical Immigration, which advocates for cutbacks on immigration, echoed Graham's concerns.
"We agree with the common sense biblical wisdom of Franklin Graham," the group posted on its Facebook page. "After many murder plots by Muslims against Americans, some thwarted and others not, we urge the US to stop Muslim migration until Islamic culture comes peacefully as blessing."
But Yang says those comments could backfire and lead to policy changes that hurt Christians fleeing persecution.
"My fear is that if we say, 'Muslim refugees shouldn't come in,' then it will probably be harder for Christian refugees to come in," Yang said. "Our government isn't going to restrict refugees from Muslim countries, they would restrict the entire resettlement program."
Christian groups that assist refugees have run into challenges from anti-refugee sentiment at the grassroots, driven in part by other recent fatal assaults by radicalized Muslims:
The April 2013 Boston Marathon bombing that killed 3 and injured 264.
The June 2014 killing of two gay men Seattle.
The September 2014 beheading of a woman in Moore, Oklahoma.
Muslim immigrants have also been targets of violence. Earlier this year, three young students—Deah Shaddy Barakat, Yusor Mohammad Abu-Salha, Razan Mohammad Abu-Salha—were gunned down in their North Carolina apartment.
Still, a newly released study from Lifeway Research found that a significant number of Americans see Islam as a danger.
According to the report:
Although most persecution occurs overseas, 39 percent of American adults say Islam threatens religious freedom in the United States—almost as many as the 40 percent who see Islam as a global threat. … A slim majority, 52 percent, believes US religious liberties are not at risk because of Islam.
As a group, evangelicals are wary of Muslims, according to data from the 2012 National Election Study. One in four evangelical Protestants say that Muslims are violent. Frequent churchgoers are more likely to see Muslims as violent than evangelicals who attend a few times a month. (25% of evangelicals who attend once a week see Muslims as violent, compared to 31% of those who attend more than once a week, 28% of those those who rarely attend, and 16% of who attend a few times a month.)
Researchers for the General Social Survey asked Americans if they would remove an anti-American book written by a Muslim cleric from a library. Half of Americans (51%) said they would. That jumps to 61 percent for evangelicals, and 71 percent for evangelicals who go to church more than once a week.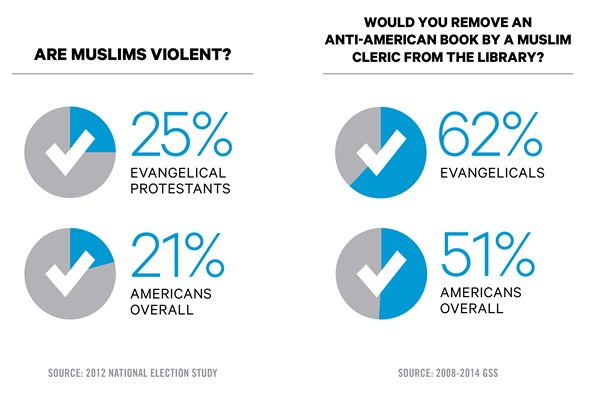 Alex Mandes, director of The Immigration Alliance, a pro-refugee and immigration group of evangelical churches and ministries, said evangelicals should be wary of anti-immigrant sentiment, which can be exploited for political gain.
He said he was disappointed to hear Graham's comments.
"Franklin Graham is a hero to me," Mandes said. "To hear him espouse what he did saddens me because I would hope a man who speaks for the church would speak for the gospel and not give political rhetoric that we hear. … My biggest hurt is that the church has no better answer than that? We have the great commission and the great commandment. Migration has always been a tool that God has used to bring people to himself."
Marilyn R. Gardner, a Christian blogger and public health nurse who grew up in Pakistan, said that Muslim immigrants have rejected the radical agenda of terrorists.
She paid tribute to her friendship with American Muslims in a piece published by the Zwemer Center for Muslim Studies, a "training center for Christians seeking to engage Muslims with the gospel":
They no more wear the ideology of terrorism than you wear the ideology of Westboro Baptist Church. They are as afraid of radicalization as you are. This is truth. They fear God and they seek to live well between worlds in their adopted country. And that country is the United States.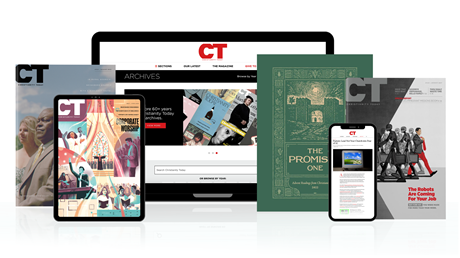 Annual & Monthly subscriptions available.
Print & Digital Issues of CT magazine
Complete access to every article on ChristianityToday.com
Unlimited access to 65+ years of CT's online archives
Member-only special issues
Subscribe
Franklin Graham's Call to End Muslim Immigration Could Backfire
Franklin Graham's Call to End Muslim Immigration Could Backfire