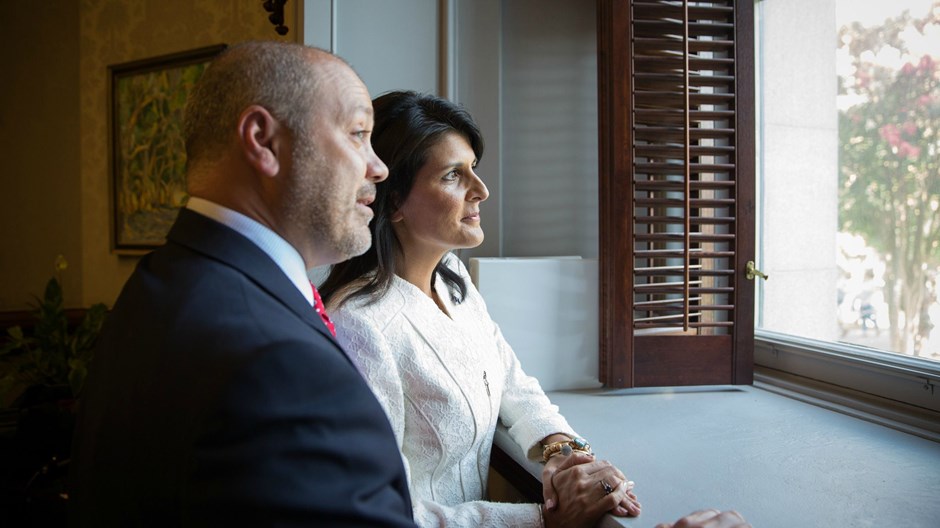 Image: Zach Pippin / Governor's Office
Along with the rest of the country, I followed the debate over whether the Confederate battle flag should be removed from the South Carolina state house lawn in the wake of the massacre in Charleston last month.
What struck me most about what it took to get the flag down was the role of female voices in the public square.
From the moment we learned of the massacre, Nikki Haley—South Carolina's first female governor—was front and center, expressing her outrage and sharing in the grief of her fellow South Carolinians. She spoke honestly and vulnerably. She let her voice shake. She cried. Haley was present at each vigil and memorial service, flanked by male politicians.
Even as a leader in the Republican Party, which had long supported the presence of the flag, she ultimately took a stand against it. "We are not going to allow this symbol to divide us along longer," she declared just days after the shooting. "The fact that it causes so [much] pain is enough to move it from the capitol grounds. It is, after all, a capitol that belongs to all of us."
When the flag finally came down for good, who can forget the tearful speech that poured out of state legislator Jenny Horne? On the state house floor, the Republican lawmaker and descendant of Confederate president Jefferson Davis choked up as she called on her fellow legislators to vote to remove the controversial flag. One of my friends said she sounded like a mother scolding her children. (And that's a good thing.)
We've heard so much in recent years about women and their emotions. Some tell women to downplay their feelings and hold back their tears, lest they be viewed as weak. After all, there's no crying in business. But others have resisted this message, suggesting that it's women's emotions and empathy that makes them effective leaders, mentors, and coworkers. As Rachel Marie Stone wrote, women's emotions are a good thing, not an aspect of our femaleness to be ignored or discarded.
And that goes for women in the halls of power as well. Leaders like Haley and Horne show us the benefit of women—and their emotions—to be present in the public square. A recent profile of Governor Haley noted the pressure on female politicians:
Working in a man's political world only reinforced Haley's need to appear determined, not emotional.

"Women political leaders have to navigate appearing tough enough to do the job as expected and human enough to be 'liked' — all thanks to prevailing gender stereotypes," says Lynne Ford, a political science professor and associate vice president at the College of Charleston who researches women in politics.

That's especially true, Ford adds, for female politicians like Haley who focus on stereotypical "male" policy areas such as jobs and economic development.

And here was Haley, crying on national TV.
Men still far outnumber women in politics, but we are seeing female leaders make strides in many states and at the federal level. Six women serve as governors. About a fifth of Congress—104 legislators—are women. The proportion of women lawmakers is even higher in state legislature.
One female politician whose story has made an impact on me is Cecile Bledsoe. Elected to the Arkansas House of Representatives 13 years ago, she served six years in the House before being elected to the Senate, where she spent the past 7 years. Bledsoe became involved in politics in the mid-'90s, first as a volunteer for candidates who shared her values, then as an elected official.
When her last child left home, she began praying about where God would have her serve in her empty nest years, and after the prompting of some friends, ran for office. Bledsoe relies on her experiences as wife, mother, and grandmother to inform her leadership in government. She said:
Women bring a different perspective to government in that traditionally we have been the caregivers, not just to the children, but to those that are elderly in the family. We make many of the decisions concerning the education of our children, we make decisions about their health, and everything that concerns them falls to us as wives, mothers, and grandmothers.

The mothers and the wives are the ones who are usually running the home, making very practical decisions on a daily basis. We learn how to budget. We learn how to delegate. And we are often doing this among many other things.
Women were more than twice as likely as men to rate themselves as "not at all qualified" to hold public office and often don't receive the kind of prompting and encouragement that Bledsoe did, according to research from American University.
For women to have political ambition, they must see their work and experience—whether in business, civil service, or other sectors—as valuable preparation. While many would consider years as a stay-at-home mom as a setback, Bledsoe views it as her training ground: Her multi-tasking, home management, budgeting, and problem-solving has given her the confidence and skills necessary to lead her state.
Women can use their distinct perspectives and backgrounds to shape their leadership styles and priorities, bringing first-person insights than many men lack. In the White House, First Lady Michelle Obama relies on her experience as a mom to establish initiatives for better eating habits and exercise for our nation's children. Across the political spectrum, women are making contributions to the public good out of their femaleness, not despite of it.
As a complementarian, some may be surprised that I applaud female leadership in the public sphere. While I believe that leadership in the church rests on qualified, male pastors, I don't carry that belief into the culture because I don't think the Bible does. Many fellow complementarians are with me on this point. As women like Sarah Palin and Hillary Clinton pursued the presidency in recent elections, evangelicals noted that while Scripture clearly speaks directly to spiritual leadership in the home and church, it does not make the same kind of clear statements on women in governmental leadership. Additionally, many point out the examples of women leading as queens and judges in the Bible.
Likewise, we see God raising female leaders of conviction in our day, giving them the voice and platform to change our country for the better. In South Carolina, Nikki Haley and Jenny Horne inspired onlookers across the nation as they grieved, empathized, and took action against a longstanding and divisive symbol. In our own states, we can look to women serving faithfully (like Representative Cecile Bledsoe) and know that their leadership shows us women's innate strength and capabilities… not their weaknesses.
While the numbers of female officials in the US are slowly edging up, their voices have long been rallying for social good and change. Throughout history, women fought for protection from harsh factory conditions. They have defended rights for pregnant women and mothers. They stood alongside men in efforts to abolish the slave trade. Today, they continue their work to bring hope to a society in desperate need of redemption and restoration.
It is not good for the man to be alone, God said (Gen. 2:18). We all benefit from the work and voices of female leaders, who stand alongside men to bring change to a broken world.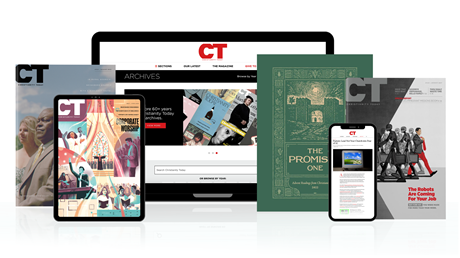 Annual & Monthly subscriptions available.
Print & Digital Issues of CT magazine
Complete access to every article on ChristianityToday.com
Unlimited access to 65+ years of CT's online archives
Member-only special issues
Subscribe
Amen to Women in Politics
Amen to Women in Politics