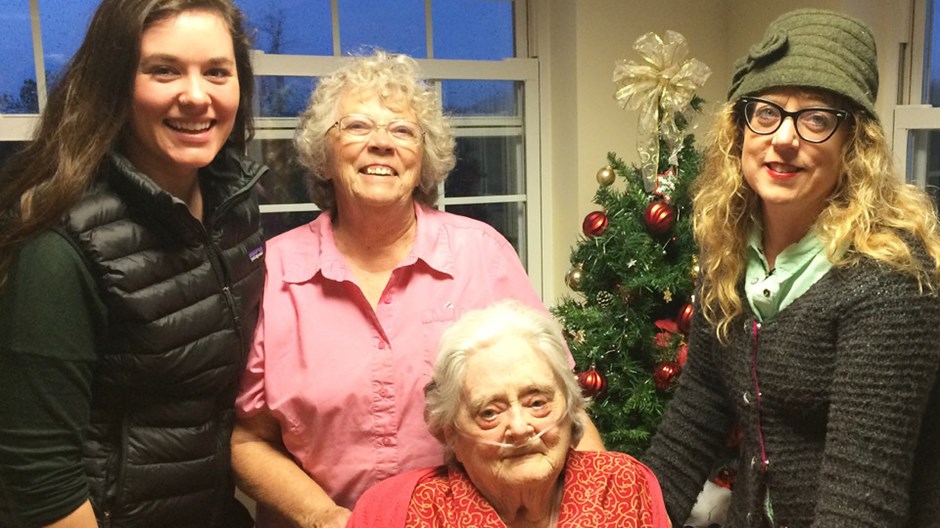 Image: Courtesy of Karen Swallow Prior
As we bid farewell to the year now past and usher in the new with the singing of "Auld Lang Syne," let us not forget those who've seen the passing of many years.
Such "old acquaintances" remain with us longer and in greater numbers. America's 40.3 million citizens aged 65 and older comprise 13 percent of the population—12 times as much as in 1900, when seniors made up only 4.1 percent. The proportion of seniors is expected to grow even more, reaching 20.9 percent by 2050, when an astonishing 19 million of the elderly in 2050 will be aged 85 or older.
But sheer statistics won't ensure vibrant places for seniors in society. Our oldest neighbors too often live on the sidelines, either in institutions or by themselves. Over 5 percent of the aged reside in nursing homes, assisted living facilities, or other commercial settings. More than a quarter of the rest—and nearly half of those over 75—live alone.
"In our culture today death and dying has become nearly invisible as it has moved out of the home and into institutions," said Charmaine Yoest, president and CEO of Americans United for Life, by email.
The elderly will have an economic impact on the rest of us, as an aging population produces a rise in the "older dependency ratio." Once the Baby Boomers all reach retirement age, experts predict there will be "fewer than three people of working age (20 to 64) to support every older person."
The values embedded in a fast-paced, individualistic society like ours make it all too easy to view the elderly as burdens rather than blessings. The crumbling of religious, institutional, and familial authority, combined with medical and technological developments unmoored from moral absolutes, places the vulnerable at both ends of the life spectrum increasingly at risk.
Christians can model a different way as we uphold biblical teaching about the sanctity of human life and the command to honor our fathers and mothers. Yoest says that issues affecting the elderly are pro-life concerns:
We always say that we believe in defending life from conception to natural death. It's important to be clear about that because abortion is such a noisy flashpoint in the public debate, but the issues surrounding end-of-life are tremendously important. As a pro-life movement, it's essential that we remember to include the elderly as an integral part of our community.
An aging population opens up spaces for us to meet new needs creatively and compassionately. Increased longevity along with more post-retirement years need not lead to mere idleness and isolation. Opportunities abound for entrepreneurial innovators to meet the needs of older people. For example, USA Today recently highlighted efforts to provide transportation to seniors who no longer drive themselves. Far simpler ideas to assist the elderly in small, daily tasks include cane-like posts at intersections that offer a rest to weary bones, re-designed buttons on clothing to aid less nimble fingers, and utensils engineered to reduce the movement of tremors caused by shaking hands. Even the ever-popular Fitbit is working wonders for my own mother by helping her to increase and regulate daily exercise. Clearly, the spirit of capitalism, rightly applied, can be used to bless senior citizens with improved quality of life.
Families, too, will be called upon to make adjustments that incorporate aging members into their lives. It may require shifting away from the independence and individualism that have long defined our society. Because education and work today sunder families geographically, more and more aging parents might consider re-locating to be near their adult children. My own parents did this, even bringing my mother's mother, now 101 years old, along with them (as I've written about earlier for Her.meneutics). My husband built a home for my parents in our backyard, and my wheelchair-bound grandmother resides in a nursing facility just a mile away. "Granny pods," small, pre-fabricated, medically equipped modular homes designed to be placed outside homes as independent dwellings present a new option for households with less room or less handy husbands.
Supporting family members who are caring for the elderly is one way the church can minister to an aging population. Members of my parents' church have done so by helping with transportation needs for my parents when I have been unable to do so. And in serving the elderly directly, there is much more the church can do beyond weekday potluck luncheons (although those are pretty terrific, as my parents will tell you).
Some churches, for example, have congregational nurses that provide health programs and offer blood pressure tests and other screenings on a regular basis, the proverbial ounce of prevention, along with a pound of care. Marlena Graves, a fellow Her.meneutics writer and minister of pastoral care at her church, suggests several ways the church can serve the elderly, such as bus service to worship services, folksy newsletters with updates about congregants and the church, as well as organized activities and trips.
Churches can take ministry outside the walls, too, by serving communion to homebound residents, providing meals, and taking Vacation Bible School to nursing homes as my mother did this summer. Graves emphasizes that the greatest need both within and outside the church walls is to make contact with seniors: notice them when they attend, visit when they can't. Meeting these needs requires all the church members, Graves points out, not only the pastoral staff.
Americans United for Life, which includes end-of-life issues in its pro-life mission, reports that "activity around end-of-life issues was one of the highest ever" during this year's legislative session," Yoest noted. These are quiet developments that pro-life Christians need to know and address.
Just as many churches have started or supported pro-life ministries to serve the unborn, so can churches work creatively to support those living out their last years. In doing so, we bear witness of the value of all human life and, in turn, reap the blessings of the collective wisdom, experience, and love of our elders.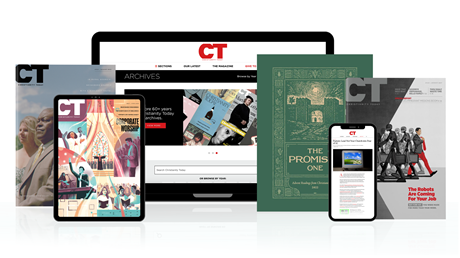 Annual & Monthly subscriptions available.
Print & Digital Issues of CT magazine
Complete access to every article on ChristianityToday.com
Unlimited access to 65+ years of CT's online archives
Member-only special issues
Subscribe
The Pro-Life Call to Remember our 'Old Acquaintance'
The Pro-Life Call to Remember our 'Old Acquaintance'