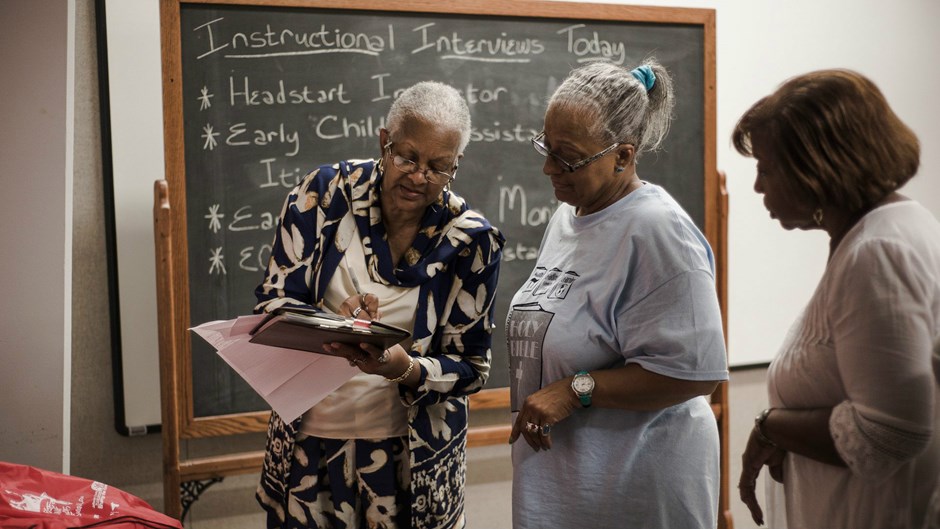 Image: Jefferson County School District
­­­­­­As a boy, John Marshall remembers his favorite Sunday school teacher reading Bible stories to the class—and then leading students to uncover their literary themes using plot and Venn diagrams.
"She was an English teacher, and she'd ask us, 'What is the metaphorical meaning behind Jonah and the whale?' 'When were you in the belly of a whale?' 'Who are the Delilahs today?'" said Marshall, now the chief equity officer for Jefferson County Public Schools (JCPS), in Louisville, Kentucky.
Marshall believes that approach helped him and his friends become better students and apply the Bible stories to everyday life.
Now he's using it to change how churches do Vacation Bible School (VBS) by training teachers how to integrate Common Core standards into their Bible lessons.
Marshall's efforts are part of the "15K Degrees Initiative," a partnership of Louisville schools, churches, and other local groups aimed at helping more African-Americans in that city earn college degrees. Only 14 percent currently have degrees, according to organizers, compared to about 20 percent of African Americans nationwide.
One of Marshall's main challenges is combatting the "summer slide." Students from minority and low-income backgrounds have a greater risk of learning loss during the summer than their wealthier classmates. Researchers say it's one of the biggest factors driving the achievement gap between the two groups.
Weaving Common Core strategies into VBS is one potential intervention.
This year, 25 VBS and Sunday school leaders from about 20 churches—mostly African American—were trained by JCPS officials at the city's Urban League at the beginning of June.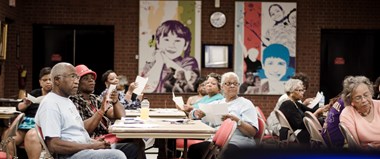 Image: Jefferson County School District
During the training, facilitators read a passage about Jesus' disciples and then asked participants to write a description of them in their own words. Among other suggestions: doing addition or multiplication exercises to calculate the number of animals entering Noah's ark.
Temple of Faith VBS teacher Nicole Joyner tried this approach with her 8- to 10-year-olds on Sunday mornings. She recently taught a lesson about Jesus' baptism and subsequent temptation in the desert. She divided the students into small groups, where they discussed the passage, summarized the story, and then presented it back to the class.
She wants to incorporate more writing into her lessons in the future.
Her one criticism: the initial training came too late in the year.
"VBS groups need more time to prepare the lessons [in order] to use those standards effectively so it doesn't feel like school," Joyner said. "It takes time—it's almost like rewriting the whole lesson plan. You have to decide which core standards will work in your lesson."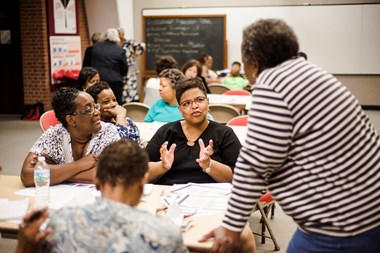 Image: Jefferson County School District
Overall, feedback has been positive, said Marshall. Some churches have asked him for help with their curriculum.
Kentucky was the first state to adopt Common Core, and officials there have seen some academic improvement in recent years. Nearly two-thirds (62%) of Kentucky students are now considered college ready—up from 37 percent in 2011. Average ACT scores are the highest since the state began recording them in 2008.
Historically, VBS was an effort to teach both literacy and the Christian faith, said Al Mohler, president of the Southern Baptist Theological Seminary (SBTS) in Louisville. Many Southern Baptists, including Mohler, came to faith through the program. In some ways, Marshall is trying to take VBS back to its roots. The earliest VBS programs were organized by Mrs. Walker Aylette Hawes in the 1890s for the benefit of immigrant children living in poor neighborhoods in New York City.
Mohler is wary of plans to combine Common Core and VBS. He worries that churches could lose their focus on evangelism.
"The real issue here is not a controversy over Common Core, but an urgent concern for the teaching of the Bible," he said. "If the church allows Vacation Bible School to be redefined as a refresher course for some other curriculum, the church will have lost its way."
Kevin Jones, an education professor at Boyce College, SBTS's undergraduate school, and former public school teacher, praised the program for engaging churches—and at the same time serving students, parents, and teachers. Taking part in the training sessions could give church leaders a chance to share their faith with school officials, he said.
"We are to use every opportunity to share the gospel," said Jones. "If the opportunity is sitting in a two-and-a-half hour class to hear about integrating Common Core Standards in an effort to share the gospel with the presenter and enhance educational practices, a Christian should do that."
Charlotte Jackson, who taught VBS at Corinthian Baptist Church in Louisville this summer, hopes the Common Core focus will help her grandkids, who are public school students in the city. She plans to turn her notes on Common Core strategies over to next year's VBS leader.
"The experiences are not the same for the minority and at-risk kids," said Jackson, "so I was glad that the school district was doing these types of things to make sure everyone was keeping up."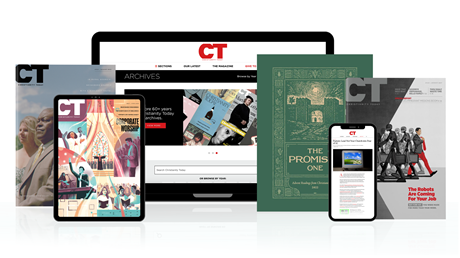 Annual & Monthly subscriptions available.
Print & Digital Issues of CT magazine
Complete access to every article on ChristianityToday.com
Unlimited access to 65+ years of CT's online archives
Member-only special issues
Subscribe
Common Core Meets VBS
Common Core Meets VBS