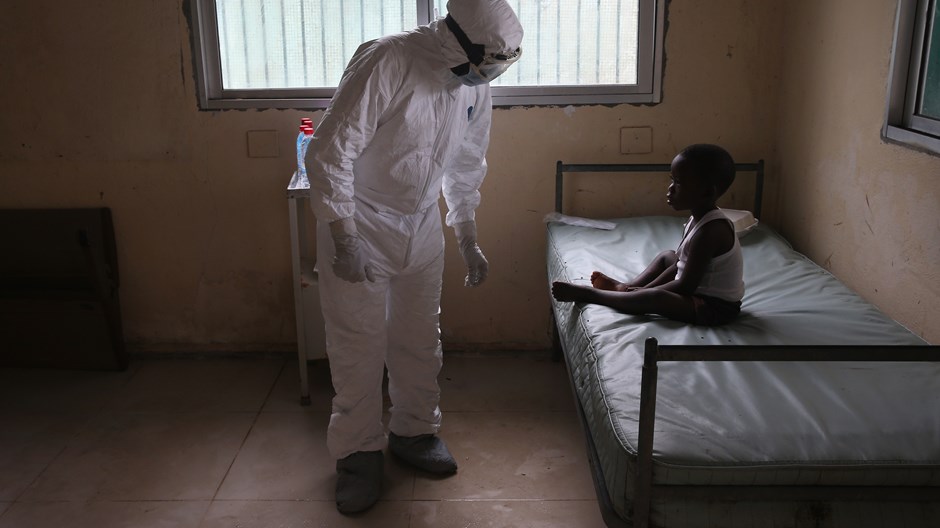 Image: John Moore/Getty
"My mama is dead in my house and we don't know what to do." In Sierra Leone, an 8-year-old boy called the national hotline by dialing 1-1-7 earlier this month. The father had already died, presumably from Ebola, and this boy was now head of the household with five younger siblings. He had decided to call for a burial team to pick up his mother's remains.
In West Africa, the death of parents from the Ebola epidemic has caused a surge in orphans. They are mostly young children age 5 and under. Government officials estimate 25,900 or more of them are in urgent need of comprehensive care in Sierra Leone, Liberia, and Guinea. A very high percentage of these children have lost both parents to the virus. Many of the children are under quarantine. Fearful relatives are shunning or abandoning them as possible carriers of the virus.
But there is something worse for these orphans than abandonment: becoming infected with Ebola. "What I'm seeing on the ground is quite disturbing," said Susan Hillis, a senior staff adviser in global health with the US Centers for Disease Control and Prevention (CDC), during an interview from Freetown, Sierra Leone. "Children under 5 in both Liberia and Sierra Leone, where I've been working, very commonly get into the ambulance with mom."
She said typically an ambulance takes mothers to Ebola centers for admission. But there's no one to take the children. "By that point, everybody knows the mother probably has Ebola, and they are afraid of the children, who could transmit the infection to whoever is going to take care of them."
Until the Ebola outbreak, families often were willing to provide informal foster care. Hillis said, "In Liberia and Sierra Leone, with the history of such rampant and ruthless civil war, it has been common for people to take in children who are not theirs biologically. In Liberia, about 35 percent of kids live with parents who are not their biological parents."
Inside an Ebola unit, contagious mothers or other patients sometimes spread Ebola to these uninfected children. But health officials now plan to place these children into interim care centers to protect them from infection. Some children still fall through the cracks. In one incident, officials found a 2-year-old abandoned in a home with the decomposing body of her mother, who died several days earlier.
On November 19, the World Health Organization (WHO) confirmed 15,145 Ebola cases and 5,420 fatalities in West Africa. The WHO said that the epidemic seems to be slowing down in Liberia and Guinea, but not in Sierra Leone, where "steep increases persist." By far, Sierra Leone has the largest number of new cases, reporting more than 1,389 new ones in the past 21 days. Its government reported 15,000 people monitored after contact with the virus; 5,056 confirmed cases; 1,041 deaths; and, more than 800 survivors released from treatment. Sierra Leone's Ebola treatment units have 356 beds; health officials say they need 1209 in total.
Role of Faith Sector
National government leaders in Sierra Leone, Liberia, and Guinea are turning to churches, mosques, and other faith-based groups to help care for shunned orphans and Ebola survivors. Faith groups are also teaching prevention methods to slow down and eventually stop the epidemic.
As a sign of solidarity in the fight against Ebola, Christian pastors and Muslim imams in Sierra Leone are coordinating outreach in surprising ways. World Vision has assisted this new cooperation by using a program called Channels of Hope, which they used successfully in HIV/Aids outreach with thousands of religious leaders. These religious leaders "exchange pulpits" to instruct adults in each other's congregations in effective Ebola care and prevention in the home or in a clinic. This reinforces the message that minority Christians and majority Muslims must set aside religious and cultural divisions in the community-wide effort to stop the spread of Ebola, care for orphans, and survivors.
"I was at a service at our church today when I saw a thing which has never happened in the history of our country: an imam came to our church with us and enlightened us about the deadly Ebola viral disease," a Sierra Leone churchgoer recently said toWorld Vision magazine.
One tangible result of this new cooperation is the community-wide attempt to send out volunteers who help provision quarantined homes with food for up to 21 days, the incubation period for Ebola. There are not enough government holding centers to house thousands of people exposed to Ebola who need daily monitoring, so homes and sometimes entire villages are quarantined for 21 days to slow the spread of Ebola.
But the need for services is so great, it is outstripping the nationwide response. "I don't think we know what is really happening in many areas and whether adults are doing much more other than trying to make sure food gets to the porch," Hillis said.
The level of response depends a lot on whether local leaders take personal responsibility. Recently, Hillis convened a focus group of leaders from the hard-hit Kenema District, Sierra Leone, including an educator, a Muslim imam, a Christian pastor, a village chief, and a social counselor.
"I asked them, 'Do you know children orphaned by Ebola?' They all said, 'Oh, yes.' One said there's 20, another said there's 5, another said there's 6, another said there's 10," Hillis said. "When I asked what is being done for them, they said very little. When I asked what could be done for them, it's what any child needs—a warm loving family, an education, clothing, and food, and hope for a future."
She noted that this crisis is reminiscent of HIV 25 years ago when fear of infection inhibited people from responding to the sick. "But I am optimistic that with time, solutions will be created and implemented. Right now, it's really a crisis."
Upping Their Game
In Sierra Leone, the United Methodists are the largest Protestant group with about 50,000 members and 250 congregations. Local Methodist leaders have discovered that their communities expect local congregations to do much more and do better in treatment of Ebola cases, disease prevention, as well as its secondary effects. All schools and many businesses are closed so daily life for millions in Sierra Leone has been disrupted.
"People are looking to humanitarian assistance agencies to put out the fire, when typically what humanitarian assistance agencies do is help people who have been burned by the fire or are running from the fire," said Jack Amick, head of the international disaster response unit of the United Methodist Committee on Relief.
Hillis said, based on her travel around Sierra Leone, local church leaders are more intentionally addressing the fear and stigma associated with infected families. "The churches stand out as being salt and light and different from the world," Hillis said. "I keep hearing testimonies of their communities stigmatizing families and standing outside and saying, 'Oh, that's the Ebola house.' By contrast, survivors go to their church and the churches welcome them."
Hillis's first Sunday in Liberia, a pastor invited her to speak at a church. The pastor and his wife were both Ebola survivors. "They shared how their first Sunday back, their bishop came and the entire church welcomed them back, applauded them. It was full of joy and celebration.""
Pastors and other Christian leaders are bringing dignity, compassion, and family honor back into the grieving process, Hillis said. Earlier, public health teams would bury the dead as quickly as possible without graveside memorial services to lower the risk of new infection.
These pastors are conducting dignified burials that surviving adults and children can attend with very low risk of infection. Early on in the epidemic, police in some places fired tear gas to disperse mourners when Ebola victims were buried. "When someone dies from Ebola, the amount of virus in their body is at its very highest," Hillis said. Pastors go to wherever the burial is, deliver a message, and celebrate the person's life—but 6 to 12 feet back from the grave.
Despite the rapid rise in orphans, Hillis, who has adopted children internationally with her husband, said she does not see an urgent need for a surge in international adoptions from West Africa to the United States or developed world. She said starting new orphanages would be inappropriate. "We know institutional living leads to brain damage in children."
She said Christians in Liberia and Sierra Leone are beginning to join the global World Without Orphans movement, which emphasizes placement of orphans into local families and supporting them long-term. Hillis said two ministry models that work are church-to-church partnerships child-sponsorship programs.
"We would do much better to try to help build up leaders here to find the Sierra Leonean solution to what the leaders are telling us they're really wanting God to do in their country—to bring Sierra Leone to a point that there's a Sierra Leone without orphans."
Timothy C. Morgan is CT senior editor, global journalism. Follow him on Twitter: @tmorgan815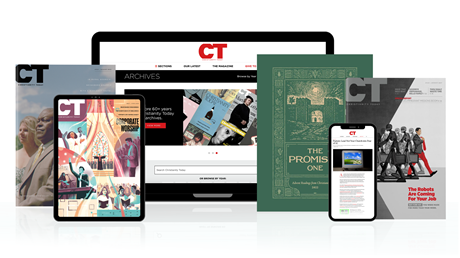 Annual & Monthly subscriptions available.
Print & Digital Issues of CT magazine
Complete access to every article on ChristianityToday.com
Unlimited access to 65+ years of CT's online archives
Member-only special issues
Subscribe
Over 25,000 Ebola Orphans at Risk
Over 25,000 Ebola Orphans at Risk