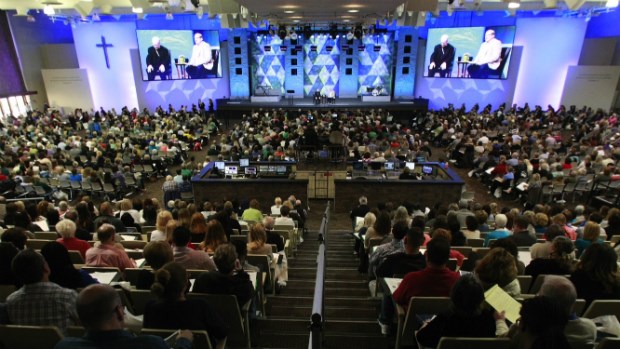 Image: Saddleback Church
The thing about a conference called "The Gathering on Mental Health and the Church" is that most people there have been touched by mental illness. And most people at Saddleback Church in Lake Forest, California, on March 28, probably felt like they were hearing their family's story preached from the pulpit.
I just didn't expect to hear my family's story literally discussed.
The conference was held on the sixth anniversary of my son Gabriel's death by suicide. One of its key speakers was Aaron Kheriaty, M.D., an associate professor of psychiatry at the University of Calfiornia, Irvine. He had delivered a beautiful, hope-filled homily at Gabriel's funeral in 2008 and dedicated his 2013 book, The Catholic Guide to Depression, to Gabe.
Hearing him mention that history in his plenary talk in front of a 3,300-person live audience, with another 6,000 watching via webcast, was surprising. But I also didn't envision my surviving son, whose church experiences have been marred by pain, would drive from the Pacific Northwest to sit through hours of talks about mental illness. Anticipating the day, I was filled with a mixture of hope and dread.
Faith-filled and Free
"I'm not okay, you're not okay, but that's okay because God's okay," said Rick Warren, Saddleback's senior pastor and founder in the opening plenary. Warren admitted having suffered a debilitating, year-long depression soon after he and his wife, Kay, launched Saddleback.
Like HIV/AIDS and orphan care, mental health is now one of the Saddleback's signature issues, said Warren. "We're going to be known for this whether or not anybody else does it," he said.
Kevin Vann, bishop of the Roman Catholic Diocese of Orange County, co-hosted the event with Warren, Warren's wife, and Steve Pitman, board president of the Orange County chapter of the National Alliance on Mental Illness.
Warren and Vann became friends after Vann was installed as bishop in September 2012, and the two grew closer after Warren's son Matthew died by suicide on April 5, 2013. It was in the context of their friendship that the conference idea emerged, Vann told CT in a pre-event interview.
Vann thought, "This is one thing that Catholics and Evangelicals here in Orange County could do and offer together for the common good."
Pitman told reporters at a midday press conference, "There is no single group or agency that is going to solve this problem. We must be working in concert with the faith-based community."
Defeating Debilitating Shame
Shame is the enemy of healing and needs to be cast aside, speaker after speaker said. "I believe the vision is that there is freedom to be had and an incredible opportunity to move away from a paradigm of shame and illness," said David Mandani (one of several speakers who received standing ovations after sharing their personal stories) in an interview with CT.
Mandani suffered a psychotic break during college and was diagnosed with schizophrenia the following year.
Culturally rooted shame contributed to delays in his recovery, Mandani said. There were seven relapses before he finally stabilized. With the support of his church, friends, and mental health professionals, his has been a productive life that includes a master's degree in social work, a wife and two children, and a long, successful career helping others, he said.
"God gave me the resilience, the bounce back power to get through my recovery," Mandani testified. And yet, two decades after his diagnosis, Mandani's Philipino family is still uncomfortable talking about mental illness, he told CT. Only his wife attended the gathering with him.
"In some Asian populations, we know there are not even words for therapy or suicide," said Kristee Haggins, senior associate at the California Institute for Mental Health and one of a dozen or so exhibitors. Unwillingness and/or the inability to access care are common barriers across cultures, said Haggins. But there is an added layer of resistance among some ethnic groups. Members of these groups may prefer to access non-psychological resources and services, like church and spirituality, she told CT.
Fighting Stigma
"If you don't fight stigma in your own family, the rest of society and the church aren't going to fight stigma either," said Amy Simpson, author of Troubled Minds: Mental Illness and the Church's Mission. The message she heard from her community and church growing up was that her mother (who has schizophrenia) was to be feared and that she too was "infected," Simpson said.
One-fourth of Americans will suffer a mental illness this year, several speakers said. Sixty-five percent come to church first for help with their struggles, said Vann.
However, one-third of Americans and roughly half of evangelical, fundamentalist, and born-again Christians say that with prayer and Bible study alone, sufferers can overcome serious mental illness, a September 2013 LifeWay Research survey found.
"From my standpoint, the stigma that affects the members of the congregation is exactly the same stigma that affects any group of people," said Pitman at the press briefing.
"People don't want to admit to having a mental illness, because we all know what it looks like. It's either a psychopathic killer or somebody sitting in a corner, staring vacant-eyed and drooling.... That's not what it looks like. It looks like the people in this room," he said.
Stubbornly High Suicide Rate
Stigma is "a victim word," said Tom Insel, director of the National Institutes of Mental Health, in an email to CT after the conference. (Insel was not in attendance.)
"We need a word that empowers," he said. "Discrimination is a better term for framing the issue." Imprecise language can negatively influence the perceptions of caregivers, conflate the illness with a person who has it, and affect the person's self-perception, Insel said.
"One of the most difficult issues for people with depression is their self-loathing, that sense of hopelessness and helplessness that precludes getting the care they need. All of this is complicated but, for me, much more useful than talking about stigma," he said.
The issue that keeps Insel up at night is the nation's intractable suicide rate, he said. "The rate is remarkable — 38,000 a year – or about one every 15 minutes in this country — and no sign of a decrease over the past 20 years when mortality from traffic accidents, homicides, and AIDS [all now less than 38,000 per year] have gone down," said Insel.
Lack of integrated and equitable care contribute to mental illness mortality and morbidity rates, he said, but so does a lack of of good science about mental illness.
"We don't know enough," said Insel.
Additionally, the Affordable Care Act ensures mental health and addiction will be treated no differently than other medical issues by insurance companies, but since 94 percent of mental health providers offer non-medical treatment, in reality, mental health parity does not exist, he said.
Among the Ruins
Warren told CT in a pre-event interview that when he and Kay launched Saddleback's ministry to people living with HIV/AIDS 12 years ago, he thought the disease was probably the "last taboo." But an outpouring of empathetic responses to their public grieving convinced him that the "silence" around mental illness had to be confronted as a taboo.
Matthew was diagnosed with clinical depression at age seven, Warren said in that interview. He had only been diagnosed with Borderline Personality Disorder a short time before he died.
In her conference testimony, Kay Warren compared the devastation she felt when Matthew died to the consciousness-awakening devastation she experienced around HIV/AIDS and orphan care. "This time there was nothing glorious about being ruined. In the aftermath of his death, there were moments when I thought I couldn't take the next breath, moments in which I said, 'I am ruined forever,'" Kay Warren said.
That wasn't the end of her story, though.
"God is not helpless among the ruins," Kay Warren said, quoting British Olympian and missionary Eric Liddell. Then she instructed attendees to turn to one another and take those words to heart by declaring: "God is not helpless among my ruins!" Half of registrants were family members of someone suffering a mental illness, Warren said.
Bittersweet Redemption
"To be able to speak publicly, to call the church to action … it's a bittersweet moment," Kay Warren told reporters. (CT's interview with Kay Warren ran Friday.)
"We had hoped this would be one of those moments that we shared with our son, that he would be one of those lucky few who find a way to manage their illness, that he would be by our side as we talked, for the rest of our lives, about caring for people with mental illness.… That is not the way it turned out," she said.
Seeing good come out of such devastation is bittersweet. When she was done speaking to reporters, Kay Warren looked in my direction and shouted above the lingering crowd, "I want to give you a hug, Christine."
I'm not exactly sure how she knew who I was, but we held each other tightly for what felt like a long time.
"I'm so sorry about Gabriel," she whispered.
"I've been praying for you," I replied. "It does get better."
"I'm believing that," she said.
Christine Scheller is a frequent contributor to Christianity Today.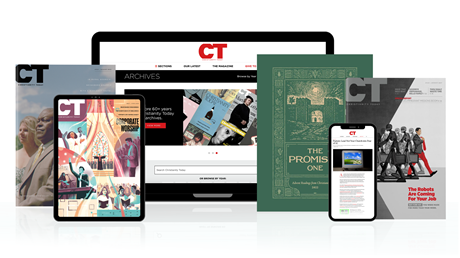 Annual & Monthly subscriptions available.
Print & Digital Issues of CT magazine
Complete access to every article on ChristianityToday.com
Unlimited access to 65+ years of CT's online archives
Member-only special issues
Subscribe
Can Churches Separate Mental Illness and Shame?
Can Churches Separate Mental Illness and Shame?