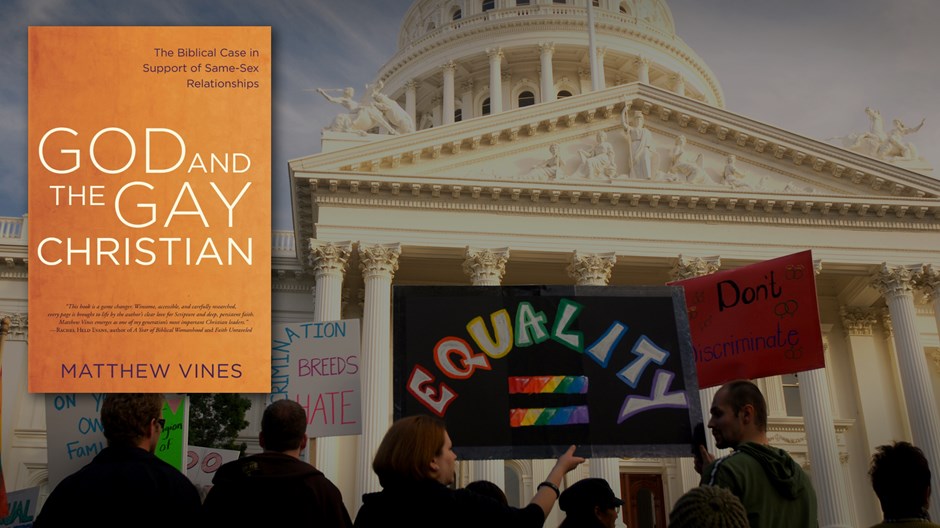 In March 2012, Matthew Vines posted a video on YouTube suggesting that "being gay is not a sin," and that the Bible "does not condemn, loving, committed same-sex relationships." He spoke eloquently from the heart with poise, conviction and vulnerability. The video quickly went viral.
Vines is a bright young man raised in a Christian home. At age 19, he left Harvard University after his third semester so that he could come out to his family and friends in Wichita. He knew that his father would not agree with the way he reconciled his sexuality with Scripture. So Vines sought to arm himself with biblical scholarship on the affirmation of same-sex relationships and strove to convince his family and church that they were wrong—that homosexuality is not a sin.
Vines's new book, God and the Gay Christian: The Biblical Case in Support of Same-Sex Relationships, expounds further on the arguments made in his video. His aim is not to present new information, but to synthesize gay-affirming arguments and make them accessible for a broader and younger audience. Vines does a good job fulfilling this goal. Unfortunately, his book consists of some logical and exegetical fallacies, and it does not address the shortcomings of the authors to whom it is most indebted. And although Vines professes a "high view" of the Bible, he ultimately fails to apply uncomfortable biblical truths in a way that embraces a costly discipleship.
Good and Bad Fruit
God and the Gay Christian begins with an emotional appeal from Matthew 7:18, "A good tree cannot bear bad fruit." Vines states that universal condemnation of same-sex relationships has been damaging and destructive for those who identify as gay Christians, producing bad fruit (depression and suicide, for instance). In contrast, Vines asserts that loving, same-sex relationships produce good fruit. Additionally, he claims that the biblical authors did not understand sexual orientation as a fixed and exclusive characteristic. Recognizing that celibacy is a gift, Vines contends that this gift should only be accepted voluntarily. Citing 1 Timothy 4:3, Vines even argues that those who forbid gay marriage are false teachers who promote hostility toward God's creation.
Six biblical passages directly address homosexuality, and Vines insists that none address same-sex orientation as we know it today. Thus, in Genesis 19, the sin of Sodom is not related to loving, consensual same-sex relationships, but to the threat of gang rape. Leviticus 18:22 and 20:13 are not about committed same-sex relationships, but about the improper ordering of gender roles in a patriarchal society (men taking the receptive, sexual role; women taking the penetrative, sexual role). Paul in Romans 1:26-27 is not referring to monogamous, gay relationships, but instead to lustful excess and the breaking of customary gender roles. In 1 Corinthians 6:9 and 1 Timothy 1:10, Paul does not condemn same-sex relationships as an expression of one's fixed and exclusive sexual orientation, but instead condemns the economic exploitation of others.
After discussing these six passages, Vines passionately argues that God blesses the marriages of same-sex couples. Marriage as a one-flesh union is a reflection of Christ's love for the church. This relationship between Christ and the church is not a sexual union based upon gender complementarity. Therefore, Vines asserts that "one flesh" refers to a binding covenant of deep relational connection that is not dependent upon gender differences. For Vines, "sexuality is a core part of who we are" and same-sex orientation is "a created characteristic, not a distortion caused by the fall."
In Vines's 2012 video, he presents himself with a gentle and winsome demeanor. The tone of God and the Gay Christian is quite different. Unlike others who advocate respectful dialogue on this divisive issue, Vines charges that those who do not affirm same-sex relationships are sinning by distorting the image of God and are essentially responsible for the suicides of many gay Christians. This does not help to foster respectful dialogue on an already divisive issue.
Emphasis on Experience
Throughout the book, Vines declares that he holds a "high view" of the Bible. From this perspective, he says, one can still affirm gay relationships. One of the main weaknesses of God and the Gay Christian is that Vines's methodology of biblical interpretation clashes with the high view of the Bible he claims to hold. A high view of Scripture is more than just talking about Scripture. It is learning from Scripture. Vines certainly talks about Scripture, but he tends to emphasize his experience and tangential background information, downplaying Scripture and its relevant literary and historical context.
Experiences do inform our interpretation of Scripture. As a racial minority, biblical texts on sojourners and aliens mean more to me than to someone who is not a racial minority. However, experiences can also hinder the interpretation of Scripture. Although it is impossible to completely distance the interpretive process from one's experiences, it is important to recognize our biases and do our best to minimize them. A high view of Scripture involves measuring our experience against the Bible, not the other way around.
It appears to me that Vines starts with the conclusion that God blesses same-sex relationships and then moves backwards to find evidence. This is not exegesis, but a classic example of eisegesis (reading our own biases into a text). Like Vines, I also came out as a gay man while I was a student. I was a graduate student pursuing a doctorate in dentistry. Unlike Vines, I was not raised in a Christian home. Interestingly, a chaplain gave me a book from a gay-affirming author, John Boswell, claiming that homosexuality is not a sin. Like Vines, I was looking for biblical justification and wanted to prove that the Bible blesses gay relationships. As I read Boswell's book, the Bible was open next to it, and his assertions did not line up with Scripture. Eventually, I realized that I was wrong—that same-sex romantic relationships are a sin. My years of biblical language study in Bible college and seminary, and doctoral research in sexuality, only strengthened this conclusion. No matter how hard I tried to find biblical justification and no matter whether my same-sex temptations went away or not, God's word did not change. Years later I found out that the gay-affirming chaplain also recognized his error.
In God and the Gay Christian, Vines relies heavily upon other authors, many of whom also began with a strong gay-affirming bias. John Boswell was an openly gay historian. James Brownson, a more recent scholar, reversed his stance on the morality of same-sex relationships after his son came out. Michael Carden, a fringe gay Catholic who dabbles in astrology, has written on the "homo-erotics of atonement" and contributed to the Queer Bible Commentary, which draws upon "feminist, queer, deconstructionist, utopian theories, the social sciences and historical-critical discourses." Dale Martin, an openly gay man, believes neither that Jesus' resurrection is a historical fact, nor that the historical Jesus believed he was divine. These views do not represent a "high view" of the Bible.
Leaning upon experience rather than biblical context leads Vines to some inaccurate interpretations. For Vines, "bad fruit" in Matthew 7:17 refers to the experience of emotional or physical harm. But this does not line up with the storyline of the Bible. Under Vines's definition, crucifixion, martyrdom and self-denial would all be considered "bad fruit." Matthew 7:14 reads, "For the gate is narrow and the way is hard that leads to life, and those who find it are few." Following Jesus is not easy and can result in very difficult trials. Vines also neglects to note that two different Greek words are translated into one word, "bad." "Bad tree" literally means a rotten or diseased tree, while "bad fruit" is literally wicked or evil fruit. From the context of Matthew 7, "bad fruit" does not mean emotional or physical harm but refers to sin.
For Vines, "sexuality is a core part of who we are." This perspective makes his experiences (feelings, attractions, desires, orientation) essential to his identity. Our society may place a great emphasis upon a sexual identity, but Scripture does not. As a matter of fact, our identity should not be placed in anything (such as our sexuality, gender, or race) other than Jesus Christ.
Vines asserts that the biblical authors did not understand sexual orientation as we do today, as a fixed and exclusive characteristic. It is one thing to say that the biblical writers were ignorant. But it is a whole different matter to claim to hold to a "high view" of Scripture and imply that the author of the Bible, God himself, does not understand sexual orientation.
Vines is wrong to claim that orientation is fixed and exclusive. Although male sexuality may be more fixed, the latest research in lesbian and feminist studies shows that female sexuality is quite fluid and not as fixed and exclusive as Vines claims. The view of same-sex orientation expressed in God and the Gay Christian mirrors Vines's own gay-male experiences. But according to the latest research, it does not represent the broader gay and lesbian community.
Ignoring Context
God and the Gay Christian includes a good amount of historical background information. For a non-academic book, it is impressive to see all the references to primary sources, such as Plato, Aristotle, Philo, Josephus, Jerome and Augustine. It is disappointing, then, to see insufficient interaction with the actual biblical texts. Investigating historical context is very important, but this must go hand in hand with the investigation of a passage's own literary context. It is easy to deconstruct one or two seemingly inconvenient words in light of tangential background information, but only if one disregards the immediate historical and literary context in which these words appear.
Vines discusses why Christians do not obey all the laws in the Old Testament. However, he does not discuss why Christians do obey some laws in the Old Testament. There is much discussion about the relevance of Old Testament law. But where the New Testament reaffirms it, Christians remain obligated to obey it. Paul reaffirms Leviticus 20:13 in 1 Corinthians 6:9 and 1 Timothy 1:10, using a compound Greek word (arsenokoitai) taken from two words found in the Leviticus passage of the Septuagint ,the Greek translation of the Old Testament.
Vines dismisses this important allusion. He contends that the parts of a compound word do not necessarily help uncover the meaning. As an example, he states that "understand" has nothing to do with "standing" or "under." Yet etymologists (those who study of the origins of words and the historical development of their meanings) can trace the origin and meaning of "understand" to Old English.
Vines notes the use of arsenokoitai in the vice lists of three second-century texts. Even though he admits the vice lists are of limited help, he tries to link arsenokoitai to economic exploitation through word association. Vines might have a case if every vice in each list is related to economic exploitation. But these lists contain a variety of vices, related and unrelated. For instance, 1 Corinthians 6:9-10 mentions idolaters, adulterers, drunkards, and slanderers.
Vines also asserts that arsenokoitai is only minimally associated with sexual sin because it is not always mentioned alongside other sexual sins—and when it is, it is separated by three words. This is insignificant, and ignores other, more relevant historical information. The Greek Old Testament was probably the most widely read piece of literature among first-century Jews and Christians. The two words, arsen (male) and koite (bed), occur together six times in its pages. On four occasions, the reference is to women lying with men, and on the other two (Leviticus 18:22 and 20:13) the reference is to men lying with men. Vines and others who rely upon second-century texts to explain arsenokoitai, dismissing the Greek Old Testament, are inconsistent in applying background information. Again, their biases prevail in their attempt to interpret Scripture.
For Vines, Leviticus 20:13 is not a universal condemnation against same-sex intercourse. Rather, it is "centered around the proper ordering of gender roles in a patriarchal society." Men were not to act like women by taking the receptive role. Ironically, Vines dismisses Philo (a first century Jewish philosopher) for explicitly linking Sodom's sins to same-sex behavior, but then affirms Philo for linking the sin of Leviticus 20:13 to "being treated like women." This is another example of bias and an inconsistent use of background information. If the sin of Leviticus 20:13 is merely a matter of men adopting the woman's sexual role, then only the man in the receptive role should be condemned. However the verse states that "both of them have committed an abomination." Both men are condemned.
Gospel-Centered Reformation
Vines exhorts gay-affirming Christians to help usher in a modern reformation by "speaking the truth," which for him starts with personal life stories. Indeed, we must share our personal experiences, but experience should not replace truth. I completely agree with Vines that many gays, lesbians, and other same-sex attracted people have struggled to reconcile their faith and sexuality without much help from the church. Some churches are unwilling to talk about homosexuality, afraid that it will open up a can of worms. Other churches only talk about the immorality of it, while neglecting to discuss how the transformative message of the gospel is also for gays and lesbians. We must do a better job of walking with those who are working through issues of sexuality, regardless of whether they are acting upon their temptations or not.
We have failed to provide gospel-centered support for same-sex attracted Christians. As a 43-year-old single man who did not choose singleness, I know firsthand the challenges of obedience. But there are also blessings, just as marriage involves challenges and blessings. The church must have a robust, practical theology of singleness which involves more than just abstinence programs and the Christian singles ghetto (also known as the "college and career" group). We are not ready to address the issue of homosexuality (or even sexuality in general) if we have not first redeemed biblical singleness.
We have failed to walk alongside same-sex attracted Christians to whom God has provided a spouse—of the opposite sex. Vines limits the power of God by actually believing that there is no possibility for gays and lesbians to marry someone of the opposite sex. He even believes that encouraging such marriages "is not Christian faithfulness," because they would most likely end in divorce. In this, he offhandedly dismisses many marriages that have not failed. Certainly, there are challenges with these relationships, and getting married should never be the main focus. But fear of failure should not trump gospel-centered living. This is true Christian faithfulness.
We have failed to offer Christ to the gay and lesbian community. We have also failed by giving the impression that orientation change and reparative therapy is the solution. Sanctification is not getting rid of our temptations, but pursuing holiness in the midst of them. If our goal is making people straight, then we are practicing a false gospel.
Jesus did not come to call the righteous, but was accused of being a friend of sinners. Too often, we are more like the older, self-righteous brother of the prodigal son, and our hearts are hardened toward the lost. This is truth at the expense of grace. But the approach that Vines suggests—grace at the expense of truth—also misses the mark. It overlooks the theology of suffering and gives us Christ without the Cross. Jesus, who personifies love, came full of grace and full of truth (John 1:14). Might this be how we live as well.
Christopher Yuan (www.christopheryuan.com) is co-author, with his mother, of Out of a Far Country: A Gay Son's Journey to God, A Broken Mother's Search for Hope (WaterBrook Press). He teaches the Bible at Moody Bible Institute and has an international speaking ministry.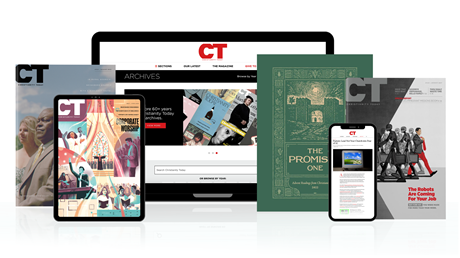 Annual & Monthly subscriptions available.
Print & Digital Issues of CT magazine
Complete access to every article on ChristianityToday.com
Unlimited access to 65+ years of CT's online archives
Member-only special issues
Subscribe
Why 'God and the Gay Christian' Is Wrong About the Bible and Same-Sex Relationships
Why 'God and the Gay Christian' Is Wrong About the ...