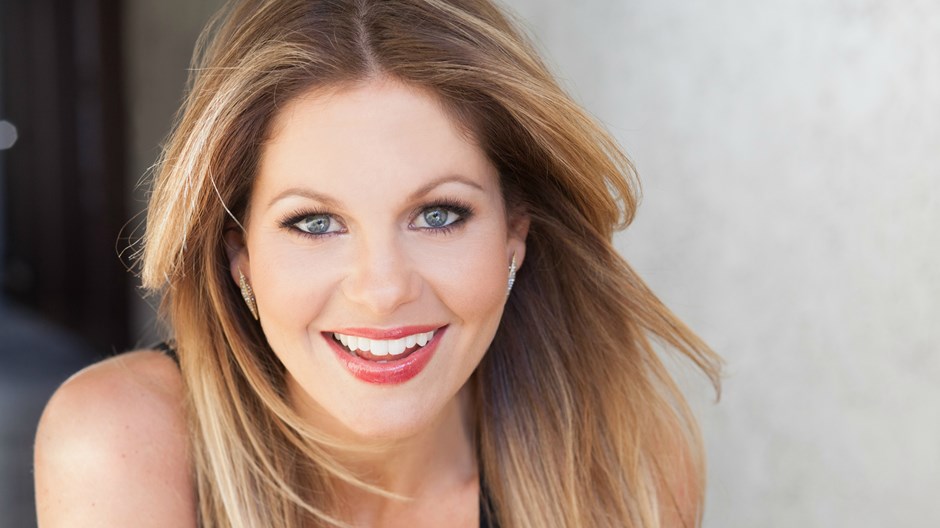 Image: Mike Healey
Candace Cameron Bure grew up playing big sister DJ Tanner to two TV little sisters on Full House. She also big-sistered countless girls like me, who spent their '90s childhoods glued to the television during ABC's TGIF Friday night lineup.
At 37, Candace is all grown up now, back in the spotlight with a series of Hallmark movies and a new book, Balancing It All. Mother of three kids (between ages 12 and 15) and wife to retired hockey pro Val Bure, Candace blends mom-talk with a bit of women's ministry through her blog, TV appearances, and speaking events.
Like her brother, child-actor-turned-evangelist Kirk Cameron, she's outspoken about her faith. In the throes of doing publicity for her book, Candace was pelted by news outlets for her complementarian approach to marriage.
I recently talked with Candace about balancing her family and her resurging career, being a Christian in Hollywood, and of course, what we always wanted to know about Full House. I'm only human.
So, you recently released your new book, Balancing It All. Why did you decide you wanted to write a book on balance?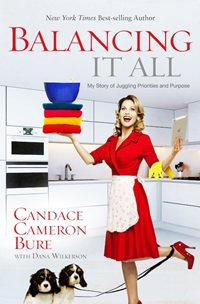 I think it's so relative to how we live life today. We're all crazy-busy in this world of technology, and I think that each generation puts more and more on our plates. Whether you're single or married, you have children or you don't, no matter where you are in life, we all feel the pressure to do a lot and then try to figure out how to balance it.
What is the hardest part of balance for you?
Each season of life really brings its own unique challenges. I chose to come back to work at an age that would be more conducive to allowing me to be away more while my kids are in school. Working while my kids are in school hasn't been the hardest part of balance.
It's about knowing what's important to you in life—everybody's life is unique, and you can't base your life on someone else's, so you can't write a ten-step guide to balance. It's about prioritizing what's most important and then knowing and keeping in line with those priorities. When push comes to shove and something has to fall, and maybe fall for a season, maybe fall for a day, you'll know what things need to go and what things must be done.
While promoting your book, you recently got a lot of heat for taking on a more complementation view of marriage.
Yeah, I did an interview with Huffington Post for my book … . They got to the chapter on marriage, and I wrote in there that I tend to take a more submissive role, and let my husband take the lead. They thought that was quite controversial, to which I giggled, and explained my point of view.
But it hit a nerve. The press took it and ran with it, and it was pretty much the hot topic on every single talk show for that week and more. This is what has worked in our marriage, and I take it from a biblical standpoint. I literally did giggle because there's nothing in there that's offensive towards me or devalues my role as a woman or as a wife within my marriage. We have different roles within our marriage, and they do complement each other.
Is this the first time that you've been racked over by the press like that? It seemed kind of horrible to go through.
Yes, it was definitely the first time I'd said something that got a lot of heat. You know, it isn't anything new to me, and it isn't something that I haven't talked about before. (I talked about it in my first book too, but I guess they didn't read my first book thoroughly.)
I wasn't hurt by it, by any means. We all have differences of opinions, and I think that's extremely healthy. I love talking about these things, and I love hearing other people's points of views. My best friend of more than 20 years is very different from me: I'm a Christian, and she's a Buddhist. I'm politically conservative, and she's politically liberal. We have very different viewpoints, but I think that makes for healthy relationships. It forces you to know where you stand, what your convictions are, and why you believe what you believe. So I took it all in that sense when they attacked me on my viewpoint. I was like, Hey, it's my viewpoint. You don't have to agree with it or like it. This is my life.
I know the biggest thing that was hit on was you talking about the difference between meekness and weakness. What's the difference, for you?
Meekness is bridled strength—strength under control. There's nothing weak about it. Now, I'm not likening my marriage in any way, or myself in any way, to a dog. But I have a 120-pound Rottweiler. That is some serious strength. But my dog is incredibly meek because that strength is controlled. She's trained, she listens, and she obeys.
It takes so much strength to be self-controlled. Anybody can lash out at anybody, either verbally or even physically. But when you have self-control it takes a lot of strength. Again, my husband and I do marriage together. We just have some different roles in our marriage that are fitting for us, and we see that it works better. But in no way am I the "weaker vessel." My husband doesn't rule or lord over me. He leads our family—just as I'd hope that my husband would lead in love and believe what's best for our family. But we talk about every single decision that's made.
I liken my role in my marriage to the "heart" of our family—I'm the nurturer and the caretaker. Sometimes I can't, because I am more feminine, or sometimes, don't necessarily want to make the stronger decisions that come more easily to my husband. So that's how we make our decisions—with him leading and me loving.
You became a Christian when you were how old?
Well, I became a Christian at 12, but I wasn't walking with Christ for my own reasons until I was about 25.
Did you and your husband grow in that together?
We did. I really came to my faith first, before my husband. And then about two years after, my husband became a believer.
Has it been hard to navigate roles as an actress and a Christian?
I've been in this industry for more than 30 years and my faith has almost always played a role. It's something I don't even think about that much—I don't have a strong pull to do certain things. It's not that hard to navigate. At this point I don't get offered a lot of roles that aren't fitting for me to begin with. I'm pretty well-branded, people know what I will and will not do. So I'm not getting scripts passed my way that frequently that are so out of my range, boundary-wise. That parts not a huge struggle.
You know, it's actually a little bit more on the reverse. There are things that I am willing to do as far as playing certain characters, but I'll get passed over on those roles because a casting director will have a hard time seeing me outside of my faith.
That's got to be frustrating.
Sometimes. But I'm producing several things for the Hallmark Channel that I'll be starring in, too. One is a Mother's Day movie that will be coming out next year, that I'm producing and starring in. And the other is a series of several mystery-movies for the Hallmark Channel that I'm also producing and starring in. This has been a big stride for my career that I'm super-excited about it.
How long have you been producing?
I've been co-producing for a while—but these will be the first films that I'm actually producing on my own. I think being in the business for so long, most actors go into something else, either directing or producing, and producing is just more fitting for me. Plus you have to sustain longevity in this industry, so if you can come at items from multiple angles, it really helps.
You can say no, but I have a Full House speed round of questions.
Oh, that's fine!
Bless you.
How often do you and Andrea Barber (Kimmy Gibbler on Full House) hang out? Please tell me you're neighbors.
I wish we were neighbors! We hang out at least once a month. She was just over here.
Were you good friends on the set and you've just maintained that?
You know, we've always been friends, but we weren't super close—we just hung out on the set. It's different when you're working as a kid because then you go home and you're with your "real friends" that you miss all the time. Our relationship really flourished when we both got married and became mothers. We never lost touch but we got a lot closer over the years.
That makes my heart so happy.
Was John Stamos really as crazy about his hair as Uncle Jesse?
Oh…umm…no. Ha!
Did you ever confuse the Olsen twins for each other on the set?
Oh I'm sure I have at times, I'm sure everyone does. I confuse them more now than I did on the set, but I was also with them every single day. But now I'll look at pictures, and I totally have to stop for a minute and figure out who's who.
Did you ever accidentally call Bob Saget, "Dad"?
Nope! Bob was nothing like my father.
You have gotten to spend a lot of time with Lori Loughlin over the years, especially as you've both done more Hallmark movies. Question: Why hasn't she aged?
Oh my gosh, I know. She's so gorgeous—and she just takes great care of herself. I know eating right and exercise are really important to her, and she's got great genes. Her mother looks amazing too. Lori is almost 50, I think. I hope I look as good as her when I'm 50.
How often a day do you get called DJ Tanner?
Well, people on the street don't really do that anymore.
That makes me proud of humanity.
But on Twitter, probably a hundred times a day.
There it is. Did you say, "Oh, Mylanta!" because you needed a substitute for "Oh my God"?
Well, I was never comfortable saying, "Oh my God," so I'd usually say, "Oh my gosh," and then I actually started saying, "Oh Mylanta" on my own because I thought it was really funny. The writers took it and wrote it into the show. I wanted to stand by my principles, and if you can get a laugh off something while doing that, even better.
Ashley Moore is the assistant editor for Christianity Today's ChurchLawAndTax.com. She regularly contributes to Today's Christian Woman, blogs at "ashleygracemoore.blogspot.com," spills on herself at least twice a day, and has developed very strong feelings for her snooze button. Follow her on Twitter: @ashgmoore.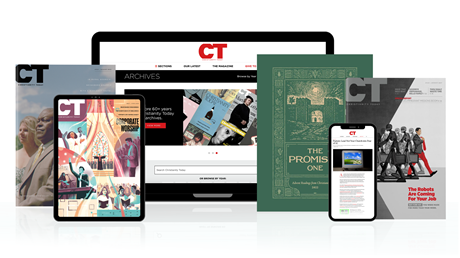 Annual & Monthly subscriptions available.
Print & Digital Issues of CT magazine
Complete access to every article on ChristianityToday.com
Unlimited access to 65+ years of CT's online archives
Member-only special issues
Subscribe
Candace Cameron Bure: On Her Christian Faith and Her Own 'Full House'
Candace Cameron Bure: On Her Christian Faith and ...