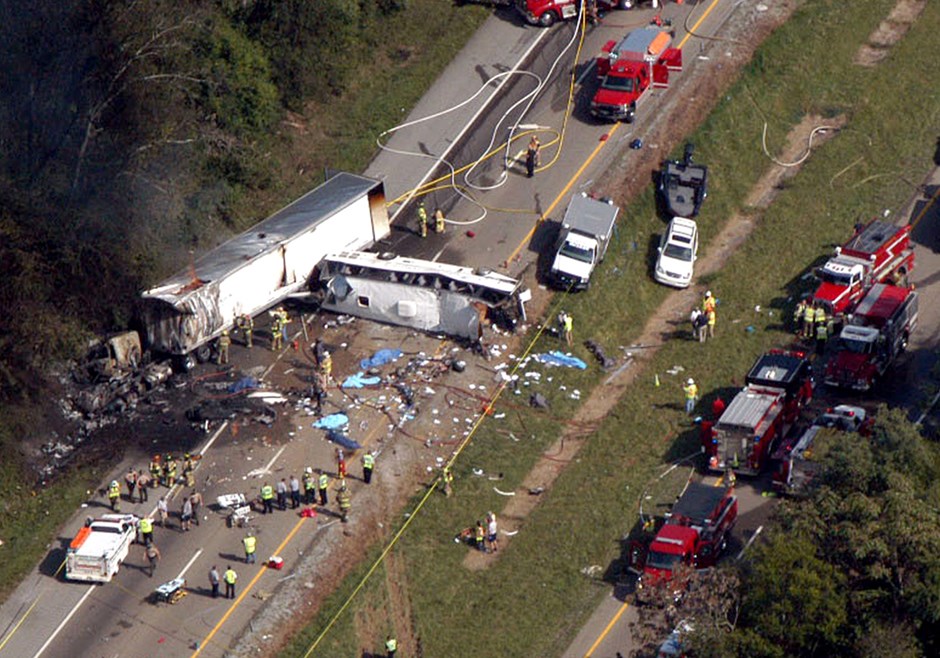 Image: Gary Smith / Citizen Tribune / AP
Last week's deadly highway accident involving a church bus in Tennessee made national headlines and left experts wondering what safety measures could have been taken to prevent the tragedy that killed eight people.
The accident occurred Wednesday, October 2, after a tire on the Front Street Baptist Church bus blew out, causing the vehicle to swerve through a median into oncoming traffic. The bus, which was carrying 18 seniors coming home from a church event, then collided with an SUV and a semi-truck before flipping onto its side. Six passengers in the bus were killed, along with one person in the SUV and one in the truck.
Dandridge fire chief Andrew Riley described the scene to the Knoxville News Sentinel as a "war zone," and although many bystanders jumped in to help the injured, some died before emergency medical crews arrived.
"We know that God is in control and we know that he is able to heal," said Front Street Baptist Church pastor Rick Cruz in a press conference. "Even in this difficult time we do rejoice in the fact that six of our loved ones are in heaven with the Lord right now."
The investigation into the wreck is ongoing, but the incident is reminiscent of other church vehicle accidents, many involving 15-passenger vans.
When an innocent road trip takes a deadly turn
The Tennessee accident and many other church vehicle accidents share a common pattern: a tire blows out, the driver loses control, the vehicle flips, and the result is deadly.
That's what happened in a recent accident near Ft. Myers, Florida, when a church van flipped and killed three people. When the a tire blew out in a van belonging to the Maranatha French (Mission Group) Seventh-day Adventist Church, the van flipped several times. A 2-year-old was among those critically injured.
Sometimes, other variables are involved in church van accidents, including weather. Such was the case in a September van accident in Oregon, when wet roads and windy conditions may have caused the driver to lose control, resulting in the death of an 11-year-old girl.
And sometimes, the driver simply loses control for no apparent reason, as was the case last week, when a church van collided with a bus and rolled over. The accident killed one of the church leaders in the van. Similarly, in Illinois this May, five people—members of a church group—died when a driver veered off the side of the road.
This is just a sampling of the numerous church van and bus accidents over the year. Why are wrecks involving these 15-passenger vans such a common occurrence?
Mileposts toward vehicle safety
The tendency of 15-passenger vans to flip when a driver loses control came to the public's attention over a decade ago. Back then, agencies including the National Highway Traffic Safety Administration (NHTSA) and Citizen Public made significant progress in improving 15-passenger van safety.
In 2003, the NHTSA prompted auto makers to make significant changes to the vans—"deathtraps" and "top-heavy, lumbering behemoths," as a Public Citizen press release called them that year. First, manufacturers were required to equip 15-passenger vans with electronic stability control (ESC) by 2012; however, most vans began installing ESC prior to the mandatory overhaul.
NHTSA also required drivers transporting 16 or more people to have a commercial driver's license; in addition, it required upgrades on the tires for high speed performance, endurance tests, and Tire Pressure Monitoring Systems. NHTSA also introduced rear lap and shoulder belts, and Ford and GM voluntarily installed advanced air bags in their vans.
The NHTSA does not have current data on the effect of ESC in reducing accidents, but it says the safety improvements in general have led to annual declines in van accident fatalities since 2001 (though there was an uptick in 2007). But even with the steady decline in van fatalities, the accidents are still a common occurrence, especially among church groups.
A 2013 NHTSA press release said one reason why vans are still prone to accidents is because of overloading: Too many passengers means more pressure on the tires, increasing the probability of a tire blowout.
"Recognizing that 15-passenger vans are particularly sensitive to loading, the agency warns users never to overload these vehicles under any circumstances," the press release said. "NHTSA research shows overloading 15-passenger vans both increases rollover risk and makes the vehicle more unstable in any handling maneuvers."
This factor proved true in a recent Florida incident, when a popped tire on a church van resulted in the death of 46-year-old Merlande Chery after the overcrowded van flipped.
The lack of experience among drivers is another prominent explanation for van accidents, according to the NHTSA.
"Because 15-passenger vans handle quite differently than smaller passenger vehicles due to their increased length and width, NHTSA recommends only experienced drivers familiar with their handling should operate them," said the agency.
Joan Claybrook, president emeritus of Public Citizen, agreed, saying, "The people driving them are not trained to drive them. As a result, when the vehicle gets into trouble, they have no idea how to handle it. If they're not aware of its propensity to roll over, they might not drive it the way they should."
And the third reason? Improperly inflated tires. In a recent survey, NHTSA estimated 30 percent of 15-passenger vans have at least one under-inflated tire. The agency "urges vehicle users to make certain the vans have appropriately-sized and load-rated tires that are properly inflated before every trip."
Brotherhood Mutual, a church ministry insurance company, often handles 15-passenger van accidents, but could not divulge any details regarding specific cases. The company, however, has done its own investigations into van safety, narrowing down the safety boosters to two things: suspension improvement and removal of the rear seat.
"The quickest, most inexpensive way to reduce rollover risk in a 15-passenger van is to remove the rear seat," the company's website said.
In addition, Brotherhood Mutual conducted research on 15-passenger vans' suspension and discovered surprising results: vans fitted with Roadmaster Active Suspension were able to complete a fish-hook turn on four wheels, while an identical van without the suspension could not.
The 15-passenger vans still remain a popular choice for church transportation, with 500,000 of them still being used today. Despite the pressure and activism to make these popular church vehicles safer, perhaps the most telling safety factor has nothing to do with ESC, suspension improvement, or tire pressure, but instead with common sense.
According to the NHTSA, about 80 percent of the people in van rollover accidents were not wearing seatbelts.
In a 2011 accident in Tennessee, a van from Destiny Church rolled over when the youth pastor lost control of the vehicle and hit a light post. One 14-year-old passenger died and three were seriously injured. Those four occupants were not wearing seatbelts.
"They're highly dangerous vehicles," said Claybrook. "In my view they should never be used by anybody."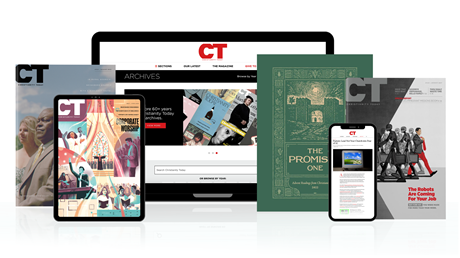 Annual & Monthly subscriptions available.
Print & Digital Issues of CT magazine
Complete access to every article on ChristianityToday.com
Unlimited access to 65+ years of CT's online archives
Member-only special issues
Subscribe
The End of the Youth Group 'Deathtrap'?
The End of the Youth Group 'Deathtrap'?