true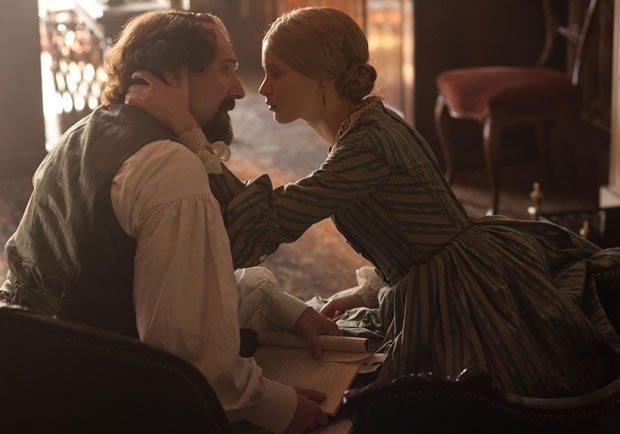 Editor's Note: Most moviegoers don't get to attend many film festivals, but festivals are important nonetheless. What happens at a festival can influence how, when, and even whether a film will get out to audiences.
Two of our regular critics were at the Virginia Film Festival this weekend and sent daily updates, capsule reviews, and reflections on what they saw. Here's Ken Morefield's report on day one;Nick Olson's report on day two; andKen Morefield's report on day three.
The Invisible Woman (directed by Ralph Fiennes)
Mandela: Long Walk to Freedom (directed by Justin Chadwick)
"We have fallen in love with men of distinction," Caroline Graves (Michelle Fairley) tells Nell Ternan (Felicity Jones) in The Invisible Woman. For the former, that would be Wilkie Collins; for the latter, Charles Dickens. Nell insists that she doesn't love the Victorian writer. If so, she's the only one appearing in or making the movie of whom that is apparently true.
One of the first pieces of cultural criticism I ever attempted, way back when I was in high school, was an examination of how and why so many films and television series were formally structured to justify adultery. (I was angry at Herman Wouk's The Winds of War for making me root as a reader for naval officer Pug Henry to ditch his wife.) The two most common practices, it seemed to me, were to 1) make the wife ugly or 2) make the wife a shrew.
That's a fairly unsophisticated critique, even for a high school student, but it struck me in watching The Invisible Woman how little has changed since then. The camera lingers over Nell's bare neck, like a lover coming from behind to share an intimate moment. By contrast, when Dickens (Fiennes) walks in on his wife, Catherine (Joanna Scanlan) while she is changing clothes, he and the camera quickly look away while she covers herself. She is so . . . un-svelte.
Lest we are tempted to think the affair is about nothing more than physical lust, we begin and end with Nell reciting words from a Dickens play, words about the primacy of love. The author himself claims that he cannot share a life with his wife because she "understands" nothing.
Honestly, though, Scanlan is the best thing in this movie, stealing every scene she is in, including an impossible scenario in which her husband makes her deliver his mistress' birthday present, claiming he assumed that when she was confronted with the other woman she would understand why he preferred her. In a later scene, Catherine listens as her son reads a letter her husband has sent to the papers defending the honor of the young lady while announcing in a cruel aside that they are separated. If only the whole movie had been about Catherine and from her point of view, it might have been a story worth telling.
The film wants to insist that Dickens's biography, especially his love, informed his work. As if to underscore that, we get the author reading the end of Great Expectations to Nell. As if that weren't enough, Nell's confessional harkens back to the same scene to underscore it.
It's not so much Dickens being a cad that sinks the movie. There are lots of engaging, insightful films about flawed human beings. But the film can't decide if he is driven by a need to be loved by the public or an artist's narcissism to always put his work first. We do get the performative aspects of an attention-seeking personality, but I kept looking in vain for the depressive side of the manic people-pleaser.
Also, his childhood poverty is mentioned, but Fiennes's performance never suggests a man who is a workaholic driven by fear of the poorhouse. As a result, the emphasis on money comes across as just another manifestation of personal greed. Dickens is more or less a Victorian Woody Allen, insisting that the heart wants what it wants when it wants it.
Nell is slightly more interesting, if only because there is an element of self-chastisement in her eventual abandon. Her best speech is not with Charles but with Wilkie, when he tries to dismiss marriage as a pointless social institution that trailblazers have to to dismantle to show the masses just how enslaved they are to petty morality. That argument smells, and she sniffs it for what it is, but by that time she's already in too deep.
Maybe this script was meant to be a feminist argument about the eternal oppression of women, ironically contrasting the author's beloved status amongst the masses with his contempt for their values. Or maybe we are supposed to buy that he is a true believer who just can't help himself. If that's the case, I didn't see any self-incrimination in Charles, either outwardly or inferentially in the form of self-struggle.
If there is enough time to separate us from Dickens so that his adultery saddens but doesn't shock us, I'm not sure the same can be true of Nelson Mandela. Mandela: Long Walk to Freedom is based on the man's own autobiography. In one sense, it's admirable that the film does not gloss over its subject's personal failings.
In another sense, though, this is an oddly depersonalized film. Even at two and a half hours, it feels oddly opaque. We get a checklist of historical events, but very little character development. It actually feels more like a film about South Africa than about Mandela; he comes across almost like a Zelig figure in his own movie.
The movie gestures at ideas, but doesn't fully explore them. The African National Congress uses violence. Is it justified? Or is the difference between a terrorist and a freedom fighter really just which side you are on?
In an early scene, Mandela says that it seems to him that God is too busy "looking after the boss" to care about him or his people. He tries to explain to his son that he is spending time away from him and his family because he is doing "this" for "all of us." That level of mushy platitude combined with biographical detail makes for a very unsatisfying mix. We are impressed by Mandela's achievements, but have no real insight into what sustained him.
The film's lone bright spot is Naomie Harris as Winnie Mandela. While visiting her husband in jail, she is asked how she perseveres in her ill treatment. "By hating them," she replies simply. When she tells her husband not to tell her she is wrong for doing so, our surprise reveals that how little the film has created any kind of interior world for its main character. We don't want him to tell her to stop—because Winnie's rage is just about the only recognizable emotion in the film. Other than that, it is just a checklist of stuff that happened.
In the end we have two respectful, distant films about men of distinction whose wives make us want to follow them right out of their scenes and into a movie of their own. It's probably too much to ask in a modern, tell-all culture, to be inspired by men of distinction.
But must they be so flat? I've read enough novels by Dickens to suspect there has to be more too him than the adolescent desire to be loved by everyone. And I've seen enough clips of Nelson Mandela to know that he was an actual human being and not just an empty cipher in the middle of a political maelstrom.
Kenneth R. Morefield is an Associate Professor of English at Campbell University. He is the editor of Faith and Spirituality in Masters of World Cinema, Volumes I & II, and the founder of 1More Film Blog.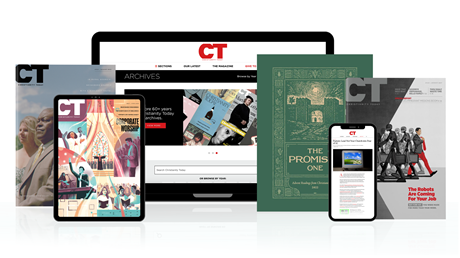 Annual & Monthly subscriptions available.
Print & Digital Issues of CT magazine
Complete access to every article on ChristianityToday.com
Unlimited access to 65+ years of CT's online archives
Member-only special issues
Subscribe
VFF 2013—Day 4: 'The Invisible Woman' and 'Mandela: Long Walk to Freedom'
VFF 2013—Day 4: 'The Invisible Woman' and ...