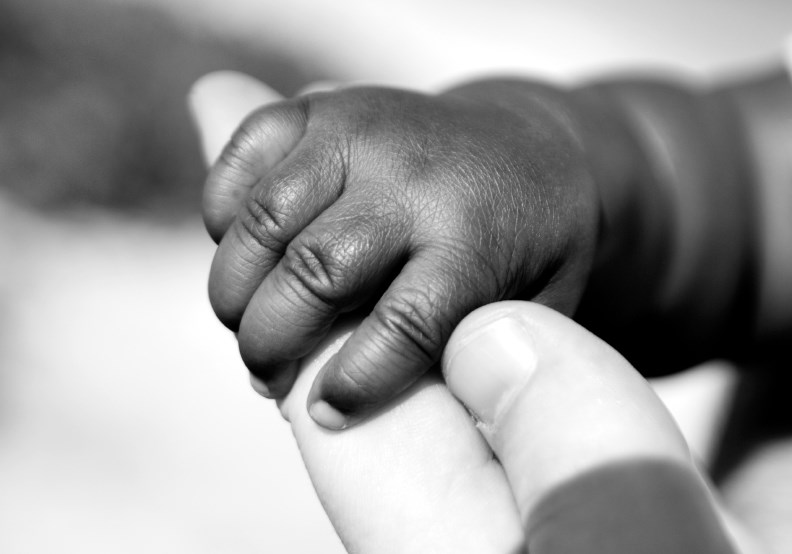 In the photograph, a little girl—5 years old, her blonde hair in two braids—sits between a man and a woman who look markedly different from her. And that's where the trouble started.
A few weeks ago, CNN reported, "Authorities asked questions about Maria because she has fair skin and blonde hair while her parents have darker complexions typical of Roma, also known as gypsies." Eventually, the girl's biological parents came forward and her adoptive parents were cleared of abduction, but while the news of this little girl (and two others in Ireland) played out across my screen, I couldn't help but see my own family's reflection.
When I step out in public with my two black sons and one white son, we turn heads. Like those European families, mine is subject to scrutiny because the color of our skin does not match.
Strangers suggest skin and hair-care products. They ask if I'm babysitting. They ask if my kids are triplets. I've been told I'm an angel. I've been told I'm a racist. Everywhere we go, people of all colors make judgments about me simply because of how we look.
This is especially common for white parents of black children. When I posted a question about families' experiences on an adoption Facebook page, the stories poured in. "An AA [African-American] woman stopped me at the local library," wrote one mother, "wanting to know where we got our daughter. She then looked my daughter right in the face, and asked, 'Are you happy with them? Do you want to come home with me?'"
The stories ranged from harmless ("I have had people ask 'Where are his parents?' when I'm standing right there," a woman wrote) to frightening. Several parents told of bystanders threatening to call the police when their child began screaming while being buckled into a car seat.
In a recent essay for The New York Times, adoptive father Frank Ligtvoet wrote:
Our daughter once threw a tantrum on a crowded street on the way to school, and the only way to move forward involved dragging. It was not a pretty sight, and a black woman who had witnessed the scene came up and, bypassing my partner, who was doing the dragging, addressed our child: "Is this your father? Is this your father?" She was claiming our daughter as part of the black community.
Mostly, people are trying to make sure our kids are okay. I can appreciate that. But sometimes, as in Ligtvoet's story, there's a subtext to the questions. A disapproval of trans-racial families. A long look of skepticism over whether we white parents are really what's best for these kids.
I live in Mississippi. This is a place where, with frightening shades of Trayvon Martin, a nearby neighborhood's Facebook page gives detailed descriptions of each black man whom residents have seen walking through the area. It's a place that has made some progress, but race is undoubtedly an issue here.
But it's not just an issue in the South. Ligtvoet lives in New York City, and even he writes, "Raising kids of color by white parents is not just a matter of love; it requires a racial consciousness that is common in families of color, but rarely developed in white families."
I'm not happy about the people who stop me in the grocery store to question my fitness to be a mother to my kids. Not happy about the double- and triple-takes everywhere. But, as a parent, I've learned to be almost thankful for it. This scrutiny enables me to enter into my kids' experience of a racially conscious world and to set for them an example of how to navigate it.
Someday (sooner than I'd like to imagine), my kids won't be with me every time they go out in public. People's nosy questions and unfriendly looks right now are the best chance I have to sympathize with my kids' minority experience, the best chance I have to model for them how to act in the face of prejudice or false assumptions.
By the time they are older, it will be too late. By then, my lectures will sound hollow unless I've done these things, unless I've lived faithfully in my moments as a minority.
I want to demonstrate that I am not ashamed of who I am. I am proud to be my children's mother. I am the white mother of black children. This is a beautiful thing.
I hope, by watching me interact with skeptical dog-walkers and store clerks, my children learn to be proud of who they are, too. After the trial of George Zimmerman, Thabiti Anyabwile wrote these words: "To be 'Black'... is to be beautiful. It is to be as God designed us... We ought not to diminish or change that for one moment—much less when we're teaching our boys how to navigate the world." It is this unashamed before God and the world that I want to model for my kids. Whatever we are, it is good.
I want my children to learn to be hopeful. I want them to assume that, by God's grace, people can change their negative attitudes. In his book, Bloodlines, John Piper writes about racial generalizations and prejudice. He concludes that one indication of a "good heart" is someone who is "willing to take risks to act against negative expectations and belittling stereotypes when dealing with a person. Paul said, 'Love. . .believes all things, hopes all things' (1 Cor. 13:7). I think he meant that love strives to believe and hope for the best, not the worst."
If a person with negative prejudices is called to instead believe the best of those whom he encounters, the person who is misjudged can also act hopefully that his critic can change. In love, I can respond kindly and confidently to those who dislike my trans-racial family, praying that I might be an instrument in their change of heart. Perhaps my children will learn to do the same.
Maybe my kids won't encounter overt prejudice on their own. By the time they are climbing into the driver's seat and walking the aisles of Target by themselves, I hope this world has become a more grace-filled and less race-conscious place.
But the lessons themselves are not a waste. The plain truth is that there are only two kinds of people in this world, and the ones who follow Christ will always be a misjudged minority. I pray that my children will have their primary identity in that holy nation, which will inevitably make them strangers, sojourners, and exiles on the earth.
Modeling for my children how to be a minority has a bigger purpose than merely learning how to have dark skin in a white world. My lessons are about how to wear Christ's skin. How to conduct yourself among a majority people who are instinctively prejudiced against you for who you are, and for who you look like.
Here, too, I want my children to be unashamed—to be allied with gospel and clothed in the beauty of Christ—and to be optimistic that the "power of God for salvation" might persuade someone to change his mind.
A few weeks ago, a middle-aged black woman in our church invited my 7-year-old white son to go with her to the state fair. It wasn't until I was buckling him into her back seat that I realized it would cost her something. Mississippi fair-goers would certainly think this woman was a nanny. They might even suspect her of wrongdoing. But she drove away, head up and a smile on her face. She was confident and joyful, eager to be with her young friend at the fair, to share with him the joys of bumper cars and greasy fries, though strangers would certainly misunderstand.
This woman was exposing my son to how it feels to be a racial minority. She was also showing him how to be a Christian. I hope he was paying attention.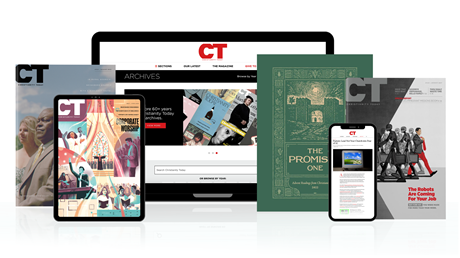 Annual & Monthly subscriptions available.
Print & Digital Issues of CT magazine
Complete access to every article on ChristianityToday.com
Unlimited access to 65+ years of CT's online archives
Member-only special issues
Subscribe
My Family, In Black and White
My Family, In Black and White