true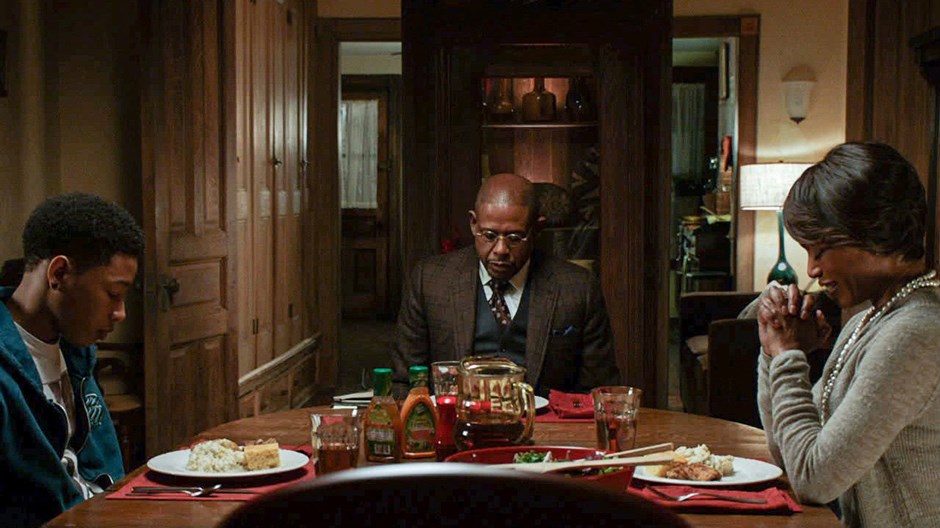 Image: Fox Searchlight
Langston Hughes is probably my favorite poet.
That fact should have helped me appreciate Black Nativity, the Christmas film based loosely on his holiday libretto. Instead, paradoxically, the film carries its Hughes pedigree around its neck like an iron albatross. Too subdued and serious to let Jennifer Hudson and Mary J. Blige let it rip, the film doesn't update or adapt Hughes's work so much as build a soap opera hedge around it.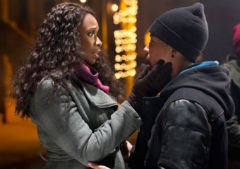 Image: Phil Bray / Fox Searchlight Pictures
The film opens with single mom Naima (Hudson) facing eviction. She sends her son Langston to live with his grandparents. The family is estranged, and Langston doesn't understand why his grandparents (Whitaker and Bassett) are willing to shelter him but can't seem to reconcile with his mother: "You got this tight crib, all this stuff. Why can't you help her?" When he asks his grandfather, the Reverend Cornell Cobbs, what kind of parents they are to his mother, Whitaker delivers the film's best line: "The heartbroken kind."
None of the frame story is in Hughes's Black Nativity, which the poet subtitled "A Gospel Song Play." Writer/director Kasi Lemmons invokes Hughes, but never really channels him. We get an early reference to Hughes's most famous poem, "Harlem," when the poet's namesake says of his mother, "Whatever dreams she had for me got deferred in Baltimore . . ." That poem (which was also the source for the title of Lorraine Hansberry's "A Raisin in the Sun") gets a fuller rendition from a character in the third act. Beyond that—and the protagonist's name—the movie's connection to Hughes outside of the nativity production is tenuous.
Also, although "Harlem" is Hughes's most famous poem, it feels strangely out of place in the movie, since the frame story is not about a Harlem experience. Reverend Cobbs and his wife are financially comfortable, and Naima's money problems are more because of her unwanted pregnancy and family dysfunction than the kinds of sociological and cultural oppression Hughes bemoans in his most famous poem. That oppression is what informs his depiction of the nativity story, which sees it as an experience of the poor and downtrodden.
Do all narratives about the African-American experience need to be urban and angry? Of course not, but neither is "Harlem" the only poem that Hughes wrote. But it seems like it's the only one the film is confident we've read, and so it has to be central to the film, whether or not it actually fits the rest of the movie.
The nativity production, which in the film is produced by Langston's grandfather's church, is both the film's highlight and its reason for being. But the movie is short—ninety-three minutes—and it's lost all momentum by the time the story gets to the nativity. Langston is reluctant to go to church, but the gospel story rendition stirs his soul. It draws parallels between Mary and Joseph and contemporary African-American experiences.
Black Nativity's real problem, though, is not how the nativity production is executed, but its fitful integration with the domestic drama. Not all film is, or must be, narrative. Some is experimental; some pure spectacle. But in a musical, if the production numbers don't drive the narrative, then the point of the narrative ought to be to arrive at the spectacle. Here, though, once the nativity singing is over, there is still a broken family to reunite. Structurally, this means the gospel story is secondary to the family drama, and that's a problem. And Naima is not reunited with her parents until after the nativity concert, meaning Hudson—the film's most dynamic talent—is off screen too long.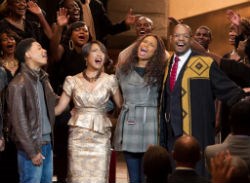 Image: Phil Bray / Fox Searchlight Pictures
I probably would have enjoyed the film more if it were a straight-up concert film (or even a television special), allowing Bilge and Hudson to do what they do best without getting bogged down in subplots, like Langston stealing a watch given to his grandfather by Martin Luther King, Jr. Latimore is okay as Langston, but his character is the least interesting. Because he is largely in the dark about the family conflicts, the film that revolves around him has a very limited emotional palette.
The movie's tone is oddly subdued, too. These characters are wounded, and thus somber and sad. That's appropriate for the frame narrative—and Christmas can and should be a symbol of hope and renewal for the heavy laden. But where is the joy?
But in spite of its shortcomings, Black Nativity somehow manages to muddle through on the strength of its star power. Whitaker takes the vaguest of character types—a stern and distant reverend whose own house is not in order—and creates a human being. There is more drama and conflict in a short scene where he answers the phone and we read his expression than in any scene involving his grandson. Bassett continues to elevate marginal material (American Horror Story, Green Lantern, Jumping the Broom) with her very presence.
Then, of course, there is Hudson and Blige. I suspect the soundtrack to Black Nativity may have a longer shelf life than the movie itself. Hudson's "Fix Me Jesus" and "Test of Faith" are solid. If the film accomplishes nothing else besides allowing her to sing some Christian-themed music that could actually make it onto a few music players outside of church, it will have more than justified its existence.
Caveat Spectator
Black Nativity is rated PG, more for those generic and pesky "situations" than anything else. There is one scene of mild tension involving a gun at a pawn shop, and there is some domestic squabbling. The family's back story involves an unwanted pregnancy, but that is in the past and there is little in the way of explicit content that might scare parents away.
Kenneth R. Morefield is an Associate Professor of English at Campbell University. He is the editor of Faith and Spirituality in Masters of World Cinema, Volumes I & II, and the founder of 1More Film Blog.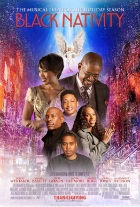 Browse All Movie Reviews By: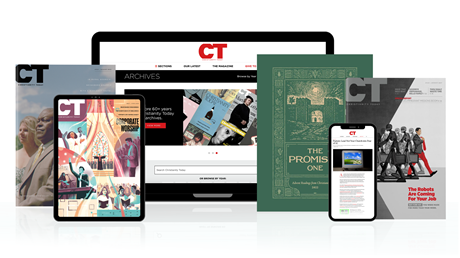 Annual & Monthly subscriptions available.
Print & Digital Issues of CT magazine
Complete access to every article on ChristianityToday.com
Unlimited access to 65+ years of CT's online archives
Member-only special issues
Subscribe
Black Nativity
Black Nativity