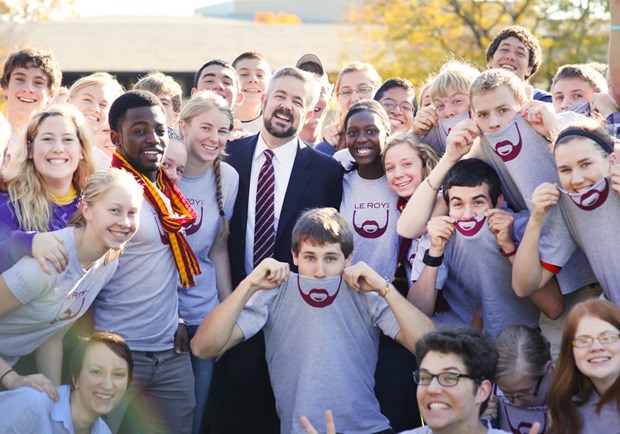 Image: Kelly Powers / Calvin College
Michael Le Roy's career has been deeply molded by Reformed theology, one of the many reasons he accepted the offer to become the 10th president of Calvin College in June 2012. "I love the worldview tradition—that's why I love Calvin," he said. "But also through the course of my life as an academic, I've come to see the real value of the heart side. The heart chases the mind."
With celebrated teaching posts at Wheaton College, Whitworth University, and the College of William and Mary, Le Roy now has a chance to help the 4,000-plus students at the Christian Reformed Church–affiliated college integrate their studies with their spirits. But with increased competition from distance-learning programs, he thinks that can really happen only in the traditional learning environment. "You think of Jesus Christ himself—that was an incarnation act. Embodiment is important to Christ, so learning in an embodied environment is really important. The brick-and mortar-place, particularly this place, is a crucible."
Le Roy recently sat down in his home with CT managing editor Katelyn Beaty (who is, full disclosure, a Calvin graduate) to discuss the financial and pastoral challenges he's facing, as well as how he's fared as a non-Dutch president—and the first president who never attended the Grand Rapids, Michigan, college.
At your inauguration ceremony last fall, you described your role as "educator-in-chief." What does that phrase mean to you, especially as you work with different constituencies—students, faculty, alumni, the board, the Christian Reformed Church, and the city of Grand Rapids?
Often when we think of the term educator, we think of a teacher, but to be a teacher, you first have to be a learner. When I was a professor, I always had to remember that I was first a learner, then a co-learner with my students.
Not having grown up in the Christian Reformed Church, I felt I needed to be in a learning posture: reading everything I could get my hands on about Calvin College, listening to key faculty and staff who have been here a long time. . . .
I've spent most of the year meeting with every department on campus, 74 departments, hosting 20 receptions for every employee in the house by the end of the spring. I'm listening for major themes that animate and motivate this community. This year I've tried to be a student of Calvin College.
What has your first year as educator-in-chief looked like?
When I speak internally, I try and help faculty and staff see the issues that confront us: the competitiveness, the cost pressures, the price pressures, the political context that is much more skeptical of higher education than it used to be, and the need for us to be more evidence-based in the way we think about ourselves. The day is over when Christian colleges can assert their uniqueness. We have to demonstrate our uniqueness. We have to start more apparently [showing] why they should attend a place like Calvin. We have to be ready to make the case.
So how would you make the case to a parent with a 17-year-old looking at different college options? Calvin is on the list, but so is the community college that's a lot cheaper, alongside the option of distance-based education.
I would first say that a Christian education isn't about selling credits. If you just want to buy credits, this isn't the right place for you. American culture is leading us to believe that education is really a commodity. It's like flour, sugar and butter, like we are just buying credits and we can buy those credits anywhere, online, community college.
But I would also want to know, who in this society is going to help this student be wise? Who is going to help her be faithful? Who will help us avoid that two-kingdom view of faith that our faith is relevant for Sundays and not for the other days? Who is going to give this student a worldview that will hold up to the problem of evil, to the knotty intellectual problems of scientific discovery, to the ethical problems of faith and politics?
A wonderful anecdote I heard yesterday: A faculty member in the philosophy program was instructing students and said, "We're going to talk about the problem of evil today." He said, "Before we talk about evil, I want to pray so you can feel protected, because this is a scary thing." Where else are you going to get that?
Students need a faith that's going to stick when a tragedy enters their life or when they witness a cataclysmic event. They need to have a faith that can be taken with them to Haiti where they can see those are the margins and not accept that kind of devastation, but understand where it comes from and the vision of shalom that seeks to transform it.
What does it mean to be disciplined and apply oneself to get better, whether it's on the athletic field or when you study? All of these lessons are learned in relationships and learning environments where there's room for messes.
You probably realized by now that you are not Dutch.
Yes, and they figured that out too.
You are the first president within the past six decades who has not come from a Christian Reformed background. How have you experienced Calvin, not being part of it?
There hasn't been a day when it has been a problem. People have been very warm and receptive, enthusiastic and supportive. Calvin College is really changing, even in the past 10 years. Probably when you were a student here, the most common name was DeVries, and for decades that was the case. Now the most common name is Kim.
More than 20 percent of our students come from a diverse population, internationally and nationally. The percentage of students born in the CRC has been declining for years. It's below 40 percent now. What that means is that there are fewer and fewer people who know what Calvin is about. The mission of Calvin is deep, vibrant, and very real, and we need to be sure that a newcomer can understand what it's all about.
College enrollment rates among Hispanic and Asian young adults have grown exponentially in the past 10 years. Is Calvin doing anything to strategically reach those potential students?
Calvin has the Entrada program, a summer program for AHANA students (Asian American, Hispanic American, African American, and Native American). They come as high school students and take summer college classes and learn about college life. That's a way we recruit domestic students; we also have pretty extensive recruitment programs for international students. We are seeing significant growth in those enrollments.
Like every Christian college I have been a part of, there is a dominant culture that is well meaning and well intended and wants to be diverse, but is not always aware of the way being the majority culture leads to blind spots.
A big part of the work that lies ahead for Calvin is going farther up and farther in, to understand what it means to be a diverse community of faith that welcomes students from a broad background in ways that say, "We need you because we need to learn from each other. We all will be better if we are all gathered here." The blind spots that we have with race, class, and gender are hurtful to other people and evidence of structural sin. To me, learning about those blind spots, confessing those, and trying to grow is a part of the sanctification process.
CT has reported on the budget challenges Calvin is facing. You released a report in March that showed $115 million in long-term debt. The budget at the time only accounted for $900,000 of that. What are the steps moving forward to address the debt and Calvin's overall financial solvency?
First, we are working to incorporate our payments into our operating budget. That means we need a mix of strategies to raise more revenue and reduce expenses. The committee just submitted the budget for next year to the board this month. We exceeded our target by quite a bit in terms of reducing expenses.
We will do that a couple more times in the coming years. Next, we need to re-engineer how we do things. While you were a student, probably going back to the mid-'90s and since the '70s, Calvin has had about 4,000 students annually, give or take a couple hundred. From the mid-'90s forward, we kept adding programs and faculty without enrollment growing. We had more and more bread and the same amount of butter, spread very thin. That kind of growth has happened at a lot of Christian colleges, but usually correlates with more students.
We are going through a prioritization process right now. Deans and directors are going through all programs and looking at how programs align with the mission and whether they're working. They are going to prioritize the programs that meet those standards in the highest way down to the ones that are less so. This summer we are going to cost out those areas that are on the lower end to see what programs we need to discontinue.
There can be a tension with Christian higher education between educating students and spiritually forming them. Christian colleges emphasize each differently. For such a heady place as Calvin, where does the shaping of the heart come in?
Calvin has the legacy and the richness of that heritage that says there's discipleship behind the development of a worldview. That's probably what Calvin is known best for. The gift that Calvin has given other institutions is a language of worldview and the ideas of leaders and thinkers like Nicholas Wolterstorff. Also in the tradition that's being recovered by writers like Jamie Smith and others is the need for the discipleship of the heart. Learning to follow the person of Jesus Christ helps to order our loves.
We follow Christ into worship, and I'm really pleased with Calvin's worship programs. There is now a campus-wide Bible study and online resources prepared for anyone who wants to lead a Bible study. My wife and I led one for 12 students here in the house, on the Sermon on the Mount. These things are happening all over campus. We are all studying Jesus' words together.
What's the most significant theological challenge currently facing Calvin?
The biggest issue is, what does it mean to be obedient to Christ? Before any specific issue is really the posture of the heart toward Christ, and how we encourage a spirit of obedience among 18-year-olds who perhaps up until this point, their experience of faith has been youth group.
All of the language of serious, committed faith is obedience language—take up the cross and follow. It's the cost of discipleship. It's not pretty stuff that you can make nice. It's pretty rugged stuff, but that's the gospel. Theologically, how do we convey that truth in a graceful way and not water it down? Then that has implications for all the other issues.
Of course every Christian college president is worried about this, but homosexuality is a very real issue for campuses. We have gay and lesbian students here. I have met with them. I have talked with them. They are Christians and they are trying to figure out, "What does this mean? How do I live?"
The Scripture that I need to be obedient to leads me to the conclusion that marriage is a relationship between man and woman, and sexuality is to be used in that context. I say that in the spirit of humility. It breaks my heart the way that statement makes other people feel. That's the struggle. I have said this to the Board of Trustees and I have said this to gay and lesbian students: We're going to continue to struggle with this issue.
Anybody who speaks in platitudes or thinks it's simple to be a faithful and wise Christian in these issues is overlooking something. I don't think there are very many people who report on these issues in ways that aren't clichés and stereotypes. The politicization scares me the most about this issue. It can throw a whole college off-track and hurt a bunch of students.
What would be so hard would be if Christian colleges become battlegrounds of the culture wars. I don't want that to happen, because each student is a precious life. I want them to be learning in a safe place.
Katelyn Beaty is managing editor of Christianity Today magazine.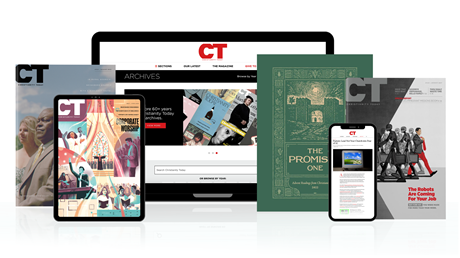 Subscribe to Christianity Today and get access to this article plus 65+ years of archives.
Home delivery of CT magazine
Complete access to articles on ChristianityToday.com
Over 120 years of magazine archives plus full access to all of CT's online archives
Subscribe Now
Calvin College's New President Talks Budget Pressures, Diversity, and the Biggest Theological Issue Today
Calvin College's New President Talks Budget ...