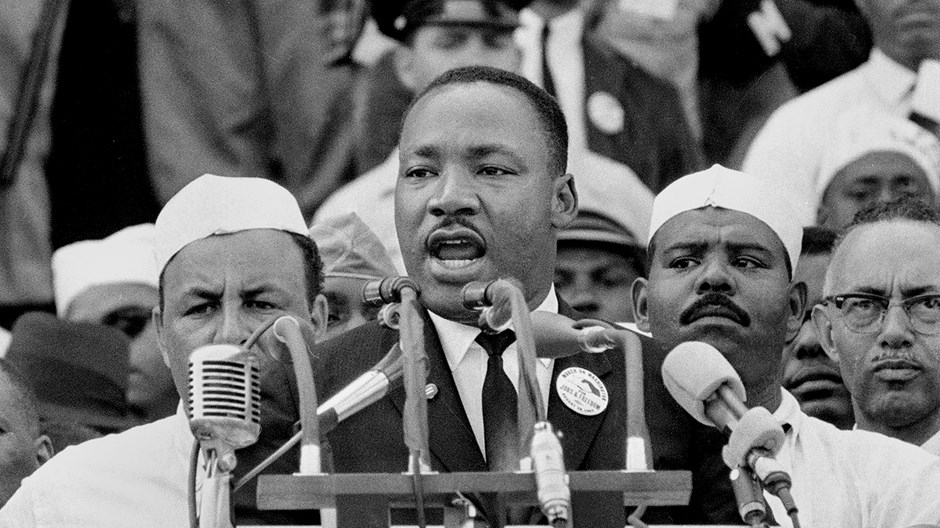 Image: AP Images
Among other civil rights milestones, this year marks the 50th anniversary of the March on Washington, the historic rally that concluded with Martin Luther King Jr. unleashing his most legendary words on a watching nation. Today, "I Have a Dream" stands alongside the Declaration of Independence and the Gettysburg Address as possibly the most significant piece of American rhetoric known to the world. However, it's become pretty common over the past few decades for those of us who regularly opine on King's legacy to take a contrarian stance and push back against the notion that "I Have a Dream" was his defining statement to the world.
Scholars such as James Cone and Michael Eric Dyson have vehemently argued that the bright-eyed King of the dream rhetoric must make way for the more pessimistic and radical King that came later. As Vincent Harding, a personal friend of King's who is currently a professor of religion at Morehouse College, put it, "We Americans have insisted that King live forever in the unbroken sunlight of that historic August day on the Mall when hundreds of thousands of us stood in that place, and millions more gathered before television sets across the nation, to affirm our solidarity with his vision of racial harmony and triumphant freedom."
The problem with the "Dream language," says Howard Divinity School professor Cheryl Sanders, is that it draws attention away from the comprehensive message of King's life. "There's a danger of only seeing him as a dreamer," adds Sanders, who is also the pastor of Third Street Church of God in Washington, D.C. "If we only see him as a dreamer, we too easily let ourselves off the hook from dealing with the realities that he was dealing with." In addition to racism and segregation, those realities included poverty, militarism, and overall socioeconomic injustice.
I think all of these scholars have it right: King is far more than "I Have a Dream." In fact, over the last year I've worked on a book project that has required me to delve deeply into King's "Letter from Birmingham Jail," an equally profound piece of rhetoric that also marks its 50th anniversary this year. Written mostly from a jail cell following his arrest in Birmingham, Alabama, the letter was composed as a response to a public statement from eight white clergymen who supported the general aims of the civil rights movement but felt King's methods were too disruptive and extreme. More than any other writing or speech by King, "Letter from Birmingham Jail" captures the spiritual and social essence of the man and his mission. In it one can observe all the religious, philosophical, and political ideas and principles that shaped his Christian vision for justice and nonviolence. It's the one work from King that best represents his message in its entirety.
Over the past few weeks, however, I've been reconsidering the implications of King's "I Have a Dream." After a contemptuous presidential election year, a controversy leading to the withdrawal of evangelical pastor Louie Giglio from the program of President Obama's second inauguration, and increasingly heated national debates about issues such as healthcare, immigration reform, and the Second Amendment, it's possible to come away feeling that our nation is incapable of overcoming its deep social and ideological fissures. Will conservative evangelicals and some members of the gay-rights movement ever find common ground on which to engage? Will pro-lifers and pro-choice advocates ever move beyond viewing each other as subhuman? Will political conservatives and political liberals ever find the courage to rise above their acrimony and truly work for the common good of the nation? Humanly speaking, I'd have to say it's doubtful, so severe is our polarization. Yet, when I listen to America's most famous sermon and allow myself to strip away the familiarity of King's lyrical voice as he describes his dream "that one day this nation will rise up and live out the true meaning of its creed," I'm struck by how at the heart of the dream is a vision rooted not just in "the American Dream," as King explained, but in the biblical "substance of things hoped for" and "evidence of things not seen."
The best preachers are not only able to diagnose our moral ills but to prescribe a compelling remedy for our healing. Part of the genius of Martin Luther King Jr. was his ability to interpret America's racial crisis and provide a nation with vivid illustrations of what racial injustice and man's inhumanity to man looked like. But he didn't stop there. He also worked to supply a hopeful picture of where we could go, a sort of travel brochure for what he called "the beloved community"—an integrated America that values justice, peace, and reconciliation.
"I Have a Dream" demonstrated not only King's remarkable way with words (he was, after all, a Baptist preacher) but also a grand imagination empowered by the Christian gospel that could see things others were yet to grasp. King helped America see people of color, working-class individuals, and those in stuck in poverty as flesh-and-blood human beings.
Today, as in King's era, we are experts at depersonalizing our ideological opponents, viewing them more as oppositional labels than neighbors whom we are commanded to love. In our contemporary clash of values, perhaps the thing we are missing most is the capacity as Christians to dream large and imagine a culture informed by kingdom values of grace, reconciliation, and justice. Such a culture will likely require more listening than arguing, more giving than posturing.
In 1963, King saw something big that we've only begun to envision. Fifty years later, the dreamer and his Dream are as relevant as ever.
Edward Gilbreath is the author of Reconciliation Blues: A Black Evangelical's Inside View of White Christianity. His eBook on Martin Luther King Jr.'s "Letter from Birmingham Jail" will be available next month from InterVarsity Press. He's on Twitter @EdGilbreath.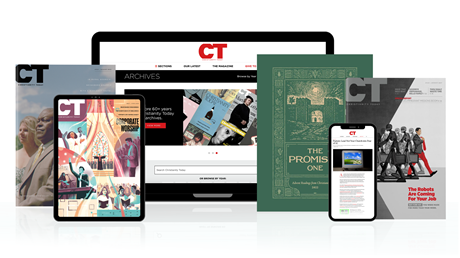 Annual & Monthly subscriptions available.
Print & Digital Issues of CT magazine
Complete access to every article on ChristianityToday.com
Unlimited access to 65+ years of CT's online archives
Member-only special issues
Subscribe
Why I Changed My Mind About Martin Luther King's 'I Have a Dream' Speech
Why I Changed My Mind About Martin Luther King's ...