true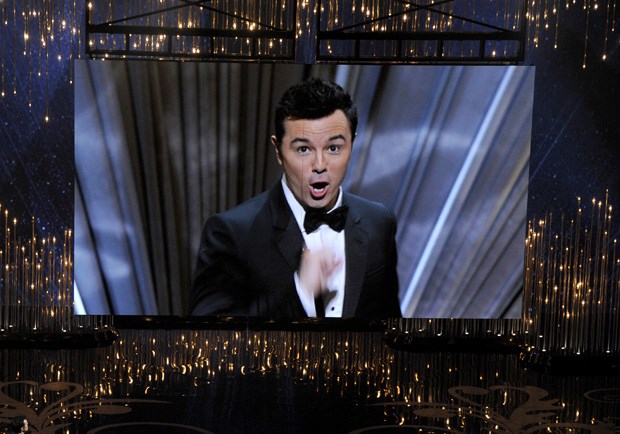 Image: Chris Pizzello / Invision / AP
After the Oscars, the world seemed divided into two parties: those who thought host Seth MacFarlane's song, "We Saw Your Boobs," was hilarious and those who, well, weren't quite so amused.
Count me among the greatly amused.
That should surprise no one who knows me, or has read here of my fondness for art both high and low, or understands my appreciation for language. As a like-minded friend live-tweeted, "Boobs is just such a funny word!" Indeed it is.
To recap: MacFarlane, creator of the crudely humorous show Family Guy, opened the Oscars with an ode to female actors who've bared their breasts in their films. Outrage—along with a follow-up tit-for-tat video that turns the gender tables—ensued.
At worst, the song was merely the puerile snickering befitting a 13-year-old boy.
At least, it was Oscar-appropriate burlesque.
At best, it was even more: biting social satire.
Skipping over the MacFarlane-as-adolescent interpretation ("What do you expect from the creator of Family Guy?"), let's consider the act as burlesque. Burlesque humorously caricatures a serious work by making it ludicrous or even vulgar. It would be hard to get a better textbook example of the genre than MacFarlane's song, which reduced serious film scenes, some involving rape and abuse, to the exposure of the actresses' breasts. The entrance of the cabaret dancers, a staple of burlesque, cued us to the song's context within a long tradition of low art.
While burlesque is sheer mockery for the sake of laughs, satire serves a higher purpose. "I Saw Your Boobs" may rise to this level, even if unintentionally so. Satire—the ridicule of vice or folly to achieve correction—often looks childish on the surface, since it generally deals with the baser aspects of human nature. Puerility is in the eye of the beholder, so those who can't, or won't, see beyond the surface-level titillation remain near-sighted indeed. Unfortunately, as another writer has said, they will know we are Christians by our lack of irony. And sometimes by our lack of humor.
Perhaps everything we need to know about these matters can be learned from the ancient Greeks. The ancients used the word "obscene"—literally meaning "against the scene"—to designate anything that distracted inordinately or unnecessarily (gratuitously) from the unity or artistry of a work as a whole. The foremost category of the "obscene" for the Greeks was violence. While Greek drama gets filled with murder, mayhem, patricide, fratricide, and suicide, none of these events occur onstage. Though crucial to the plots, such events in classical drama are narrated by a character after the fact. The Greeks well understood human nature: our natural, visceral reactions to the dramatization of violence, as well as sex, can distract us from the aesthetic and ethical experience of art. For similar reasons, Aristotle, in his Poetics, rates "spectacle" as the least important element of the drama because, like "obscenity," spectacle is a distraction.
Certainly, what proves to be distracting—whether because it is "obscene" or "spectacular" and so on— is culturally determined. Bare breasts in some cultures are the norm, but in a culture in which female breasts are as fetishized as they are in this one, their exposure works "against the scene" as MacFarlane's version of "The Emperor Has No Clothes On" demonstrates, even if supposedly in jest.
On the other hand, it's a Hollywood truism (which may or may not be actually true) that nudity for nudity's sake draws more dollars, and that's why directors often—though not always—insist upon it. Boobs distract, apparently, in lucrative ways.
It's understandable to feel dismay at having one's work or one's self reduced to merely an exposed breast, as some have said in the Oscars' aftermath. I understand the frustration of a reductionist reading of a work. I've experienced, for example, having something I've written dismissed entirely because of one ill-chosen word, and, conversely, have had entire treatises written about a polemical 140-character tweet. Such distortions are frustrating. Yet, I know that if I want to reach my audience—and if I fail to do so by distracting them with something that "goes against the scene"—I must strive to learn and do better. As tempting as it can be to blame the counter blogger or claim victimhood by the commenter, I must take responsibility for my actions and my art.
The same is true for the talented, smart, and successful female actors named in the song for showing their breasts in their films. The Women's Media Center tweeted that doing so likely wasn't their preference. Perhaps not. But it was certainly by their permission. While the working conditions of the film industry are undoubtedly patriarchal and sexist, one doesn't change a sexist industry by giving into its sexism. Nor does one change it by insisting that these actors are victims rather than moral agents in their art. What is shown is seen, after all. And that's what the song made explicit—and made mockery of.
A silly song certainly might go a long way toward showing how ridiculous and ludicrous that same patriarchal system is in sacrificing art in order to cater to puerile tastes, and in trafficking in the "obscene" (in the classical, not the puritanical, sense) in order to titillate. If we can see in "I Saw Your Boobs" the satire often implicit in burlesque, then we can recognize the inherent correction in its reduction of women and their works to their body parts. It is ridiculous to so trivialize—and this is the very correction satire offers if we are willing to let ourselves laugh at it first. Sometimes laughter is the best medicine.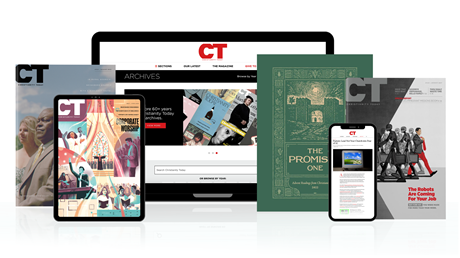 Subscribe to Christianity Today and get access to this article plus 65+ years of archives.
Home delivery of CT magazine
Complete access to articles on ChristianityToday.com
Over 120 years of magazine archives plus full access to all of CT's online archives
Subscribe Now
We Saw Your Satire
We Saw Your Satire