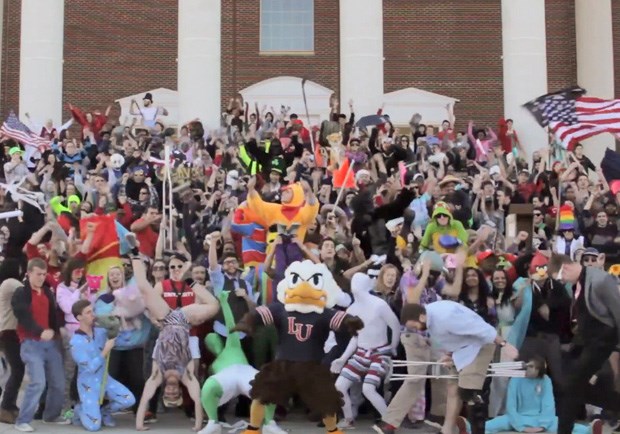 Image: YouTube
Who knows why such weird, borderline-incomprehensible setups go viral, but here we are, weeks into the age of the "Harlem Shake," watching Christian college students and church members don wacky costumes and dance like crazy. The videos:
Christian organizations have joined companies, sports teams, firefighters, friends, and seemingly the rest of America in the latest YouTube meme, which now numbers more than 12,000 videos and 44 million views. In each version, a 30-second clip of the electronic dance music song "Harlem Shake" plays as a single dancer in a headpiece gets down in front of a group of people, then suddenly, the whole crowd joins him. Hilarity.
As far as anyone can tell, the point is there is no point, so no need to raise questions. It's fun seeing a bunch of Christian folks having a good time and participating in the latest trend, so I hate to be a party pooper and ask—should we think a little deeper before jumping into the latest dance craze?
Even as the meme takes off and gets mainstream exposure on outlets including the Today show, most of us still know nothing about the music, artist, or song behind the "Harlem Shake."
The "Harlem Shake," like most memes, has become a commodity, so easily replicated that we use it for our own ends and move on. We happily hijack the setup, then post our versions on YouTube for views, laughs, and "relevancy." We have no real engagement with the phenomenon outside of copying and clicking.
This commodification of culture—an impulse discussed by Vincent Miller in his book Consuming Religion—allows us to ignore the context where things originally gained meaning. As we dance the "Harlem Shake," we don't need to know how to do the hip-hop dance move of the same name. We don't need to know anything about Baauer, the musician who created this song-heard-round-the-Internet. We don't need to understand this underground genre of music called "trap." We don't even need to think about the lyrics of the short song, which proclaim "Con los terroristas!" (With the terrorists!) through the skittish beats.
No longer embedded in its cult music context but dragged into our own, the dance loses any of its original significance to become a vehicle for our silliness. "With commodities in general, the more they are associated with their particular origins, the less susceptible they are to abstraction and shallow engagement," Miller said. "Tradition stabilizes the meaning of cultural objects, preventing them from sliding into weightless postmodern signifiers."
Regardless of what the ramifications are for this particular song, Christians—whose faith relies on the context of its own teachings and symbols—generally need to take interest in where cultural phenomena come from and what they mean.
The same impulse that has us thoughtlessly clicking and sharing viral videos trains us to disconnect the thing in front of us with the story behind it. Our lives as Christians are all about the story of the Gospel, and we don't want our traditions distanced from that story…by us or anyone else.
The commodification of religious beliefs is nothing new. Just think of how long people have been wearing cross necklaces without believing in the man who died on the cross or quoting Bible verses without having read the chapter of the Bible they came from. Church leaders have long warned against this "picking and choosing" from our traditions.
The rapid pace and widespread reach of the Internet makes it easier than ever for us to settle for "abstraction and shallow engagement." This isn't just happening with the "Harlem Shake." Nearly every online sensation soon spurs Christian versions, from a remake of Rebecca Black's "Friday" called "Sunday" to Liberty University's Christmas carol rendition of the bed intruder song. Eager to be "in the world but not of the world," to show that they don't take ourselves too seriously, Christian groups gladly play along.
Posting a parody or taking part in a meme often brings that thing into the Christian world instead of forcing participants to examine what's going on in broader culture. We consider pageviews, retweets, and mentions as engagement, though all can be done without recognizing the original context of an idea. In fact, when something's gone viral, it's often impossible to even find its source and context.
I don't think the answer is for us to power down our iPhones and roll our eyes when someone sends us "the next 'Gangnum Style.'" Nor do we need to overanalyze every mindless meme that comes up. As Christians, our approach—as with many things—should be balanced and thoughtful.
Before sharing the latest thing everybody's tweeting about, Google where it came from and consider how it got from there to everywhere. There may not be life lessons tucked into SNL Digital Shorts or LOLcat photos, but it's worth asking: What do people love about this? What makes them want to click? What does its popularity say about our society at this time?
By examining popular phenomena, rather than clicking and letting them pass us by, we may get some insight into the nature of our culture. Let us take the time to recognize joy, humor, pride, communal spirit, and brokenness reflected in the latest hit video rather than limiting ourselves to the shallow experience of commodification.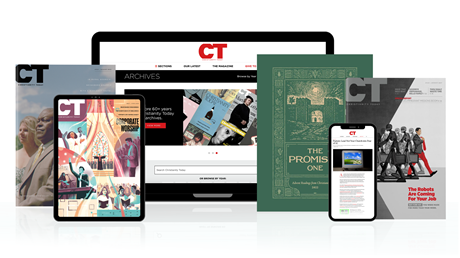 Annual & Monthly subscriptions available.
Print & Digital Issues of CT magazine
Complete access to every article on ChristianityToday.com
Unlimited access to 65+ years of CT's online archives
Member-only special issues
Subscribe
The Problem with Christians Doing the 'Harlem Shake'
The Problem with Christians Doing the 'Harlem Shake'