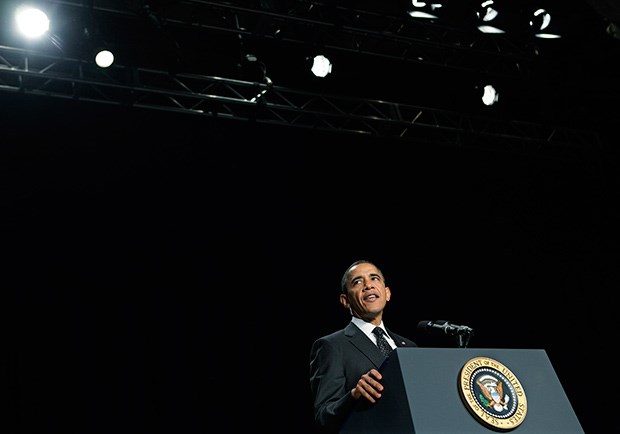 Image: Chris Kleponis / Getty
President Barack Obama at the National Prayer Breakfast yesterday morning pleaded with Democrats and Republicans to take a more prayerful stance as they address the nation's problems.
"This is now our fifth prayer breakfast, and it is always just a wonderful event. But I do worry sometimes that as soon as we leave the prayer breakfast, everything we've been talking about the whole time at the prayer breakfast seems to be forgotten—on the same day of the prayer breakfast," Obama said, provoking laughter from the 3,000 people in attendance.
"I mean, you'd like to think that the shelf life wasn't so short," the president said. "But I go back to the Oval Office and I start watching the cable news networks and it's like we didn't pray."
Obama opened his remarks by thanking Josh Dubois, head of the White House Office of Faith-based and Neighborhood Partnerships. Yesterday was Dubois' last day in that job.
"Joshua has been at my side—in work and in prayer—for years now," Obama said. "He is a young reverend, but wise in years. He's done an outstanding job as the head of our faith-based office."
"Every morning he sends me via email a daily meditation—a snippet of Scripture for me to reflect on. And it has meant the world to me. And despite my pleas, tomorrow will be his last day in the White House. So this morning I want to publically thank Joshua for all that he's done, and I know that everybody joins me in wishing him all the best in his future endeavors—including getting married."
At his recent inaugural address, President Obama took the oath of office using two Bibles, one from former President Abrahama Lincoln, the other from Martin Luter King Jr. At the prayer breakfast, Obama said, "As I prepared to take the sacred oath, I thought about these two men, and I thought of how, in times of joy and pain and uncertainty, they turned to their Bibles to seek the wisdom of God's word—and thought of how, for as long as we've been a nation, so many of our leaders, our presidents, and our preachers, our legislators and our jurists have done the same."
Later in his address, Obama said, "In the midst of all these debates, we must keep that same humility that Dr. King and Lincoln and Washington and all our great leaders understood is at the core of true leadership."
Obama also referenced the growing religious diversity of America. "As Christians, we place our faith in the nail-scarred hands of Jesus Christ. But so many other Americans also know the close embrace of faith—Muslims Muslims and Jews, Hindus and Sikhs. And all Americans—whether religious or secular—have a deep and abiding faith in this nation."
Attendees were struck by the sober tone of Obama's remarks. Andrea Redman, a New York financial executive, told Christianity Today, "I felt like he was hurting, like he was in pain."
Joseph Brown, a professor at Southern Illinois University, said, "I've known him for years. That was one of the most serious moments I've ever seen him in. It was really good, but it was so different."
World-renowned Italian tenor Andrea Bocelli performed at the event. Perhaps the most stirring part of his performance came shortly after the last note of "Ave Maria." As he was returning to his seat, Bocelli came back to the microphone and told the crowd that this morning had been like a dream come true for him. He said seeing men and women who disagree, but pray with one another touched him deeply.
"The will to pray together is the most important thing," Bocelli said.
Attendance at the National Prayer Breakfast is an annual exercise of public piety for Washington elites. This morning, the Washington Hilton buzzed as the 61st annual event began. About 3,000 guests from 50 states and over 160 countries gathered together in the largest ballroom in D.C.
Ben Carson, best-selling author and director of pediatric neurosurgery at the Johns Hopkins, delivered the keynote address.
Carson, who also gave the keynote in 1997, joins the ranks of former keynote speakers such as Mother Teresa, Bono, and Tony Blair. Eric Metaxas, author of the popular Bonheoffer biography, delivered a powerful pro-life address in 2012.
Carson opened his speech with a denunciation of political correctness: "It's not my intention to offend people but we've got to get over sensitivity. It muffles and muzzles people and keeps them from discussing important issues. We must speak up for what we really believe."
He said the way forward to address the nation's greatest troubles is for political opponents to set aside special interests and commit themselves working together comprehensively. He asked, "Why is an eagle able to fly high? Because it has a left wing and a right wing."
Gabby Douglas, the Olympic gold medal gymnast, gave the closing prayer.
The National Prayer Breakfast itself is only one part of a series of formal meals and panel discussions, as well as informal conversations. "The event has symbolism, but the true meaning is sitting in the lobby," said Kedrick Pickering, deputy premier of the British Virgin Islands who has attended 11 prayer breakfasts. Hosted by members of the House and Senate, each participant is invited directly by either a Congressman or their delegated surrogate.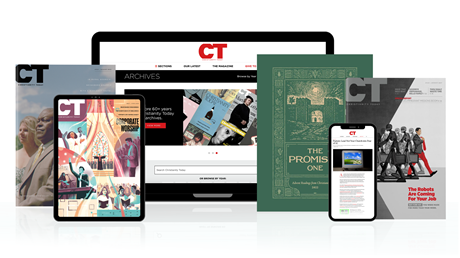 Annual & Monthly subscriptions available.
Print & Digital Issues of CT magazine
Complete access to every article on ChristianityToday.com
Unlimited access to 65+ years of CT's online archives
Member-only special issues
Subscribe
Obama Pleads for a More Prayerful Washington
Obama Pleads for a More Prayerful Washington