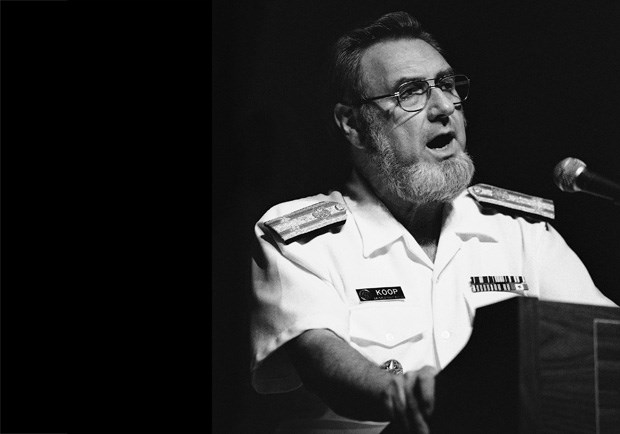 Image: Raul De Molina / AP
Former Surgeon General C. Everett Koop—known for his medical advocacy and his evangelical Christian faith—died today at age 96. This article originally appeared in the March 19, 1990, issue of Christianity Today.
Former U.S. Surgeon General C. Everett Koop says he is pessimistic about the chances of finding a cure for AIDS and is troubled by the social impact of the disease. Speaking to a group of pastors meeting last month in Chicago, Koop called upon Christians to develop "a ministry of compassion, medical help, and comfort to those dying" of AIDS. He noted that many of the great missionary hospitals founded a century ago for leprosy patients are today filled with AIDS patients, and he urged the church leaders to pattern their response to AIDS after the church's response to leprosy in years past.
"I don't think we will ever see a cure," said Koop, who left office last fall after eight years as the nation's public-health leader. Nor does he foresee development of a vaccine. At best, a treatment that would prevent the HIV virus from growing in the bloodstream and postpone the resulting infections might eventually be produced.
Koop said he has observed a growing feeling that "the epidemic is over." He also pointed with concern to complacency and a "we-they" attitude among most Americans who feel they are not at risk and are content to let AIDS sufferers "stew in their own juices." While the Bible clearly condemns homosexual behavior, at the same time it teaches that "it is our obligation as believers in Christ to separate the sin from the sinner," he said. "In AIDS we are fighting a disease, and not the people who have it."
Koop made his comments at the Midwinter Conference of pastors of the Evangelical Covenant Church. He was interviewed by ABC News medical editor G. Timothy Johnson, who is an associate minister of Community Covenant Church in West Peabody, Massachusetts, and a regular columnist for the denomination's monthly magazine, the Covenant Companion.
In answer to Johnson's wide-ranging questions, Koop described the development of his Christian faith, as well as his battles with the Religious Right over AIDS policy and the effects of abortion.
Responding to a question on abortion, Koop called for movement to "common ground" in the debate: the elimination of unwanted pregnancies. Emphasizing his opposition to abortion, he said, "If you want to stop abortion, follow the public-health model of prevention and go to the cause [of abortion]." To do that, he said, "we have to be willing to bite the bullet on the issue of contraception" and press for greater public discourse and research funds to study methods of effective birth control.
"The church is involved in the total life of its people," he said, but unfortunately, it has been virtually silent on sex education. "One of the church's greatest failures is that the sexual behavior of our children is the same as [the rest of society]." Only if Christian parents start teaching their children early and appropriately about sexual behavior and the moral, ethical, and religious reasons governing it, will they develop teenagers with strong Christian standards.
In other comments, Koop pointed to the lack of access to adequate health for up to 37 million Americans as "a moral burden on the society." The church's role as a "safety net" has been replaced by government entitlement programs; but with the failure of those support systems, the church must return to its role as a social provider.
He labeled the discussion of health care "the political issue of the 1990s" and said he is devoting almost half his time to urging government, business, and medical leaders to develop a comprehensive, privately organized system of health-care delivery.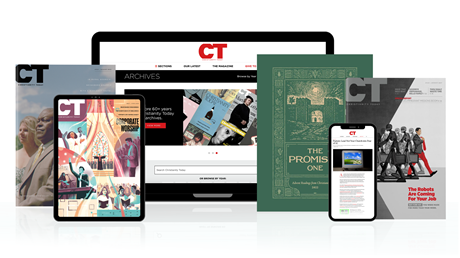 Annual & Monthly subscriptions available.
Print & Digital Issues of CT magazine
Complete access to every article on ChristianityToday.com
Unlimited access to 65+ years of CT's online archives
Member-only special issues
Subscribe
Koop Calls on Church to Address AIDS, Sex Education
Koop Calls on Church to Address AIDS, Sex Education