true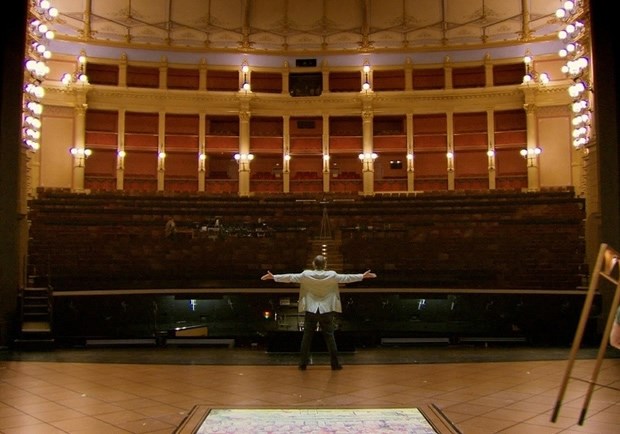 Image: Wavelength Films
"Music can change the world," Bono once said, "because it can change people."
No one would dispute his claim. Music's power to soothe, to inspire, even to motivate one to great things is well chronicled through the ages. Nor, on the other hand, is there little argument about music's ability to provoke, to rile, even to stir up trouble.
But to kill? Maybe.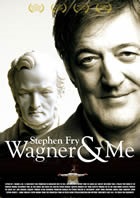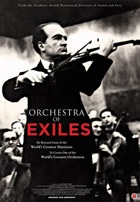 Two compelling new documentaries examine music's role—for good and for evil—during the rise of the Third Reich. One, Wagner & Me, explores how the great German composer's works may have played a part in Hitler's anti-Semitism and the advent of Nazism. The other, Orchestra of Exiles, tells almost the opposite tale—how music was used for the greatest good, sparing the lives of almost 1,000 Jews just as the Holocaust was about to begin.
Both are new releases from First Run Features, long one of my favorite sources for fascinating and often daring documentaries on a wide variety of topics. Wagner & Me and Orchestra of Exiles are now available at First Run's website.
And both fully bear witness to the gut-wrenching truth of Bono's quote, that music can—and often does, as history bears out—change the world. For better or for worse.
Near the beginning of Wagner & Me, host and narrator Stephen Fry describes his lifelong love of music: "[It has] always made me do things inside. It's released forces within me. And no music has done it like Wagner's."
Hitler may well have said the same, especially the part about it "releasing forces within me." (Several decades later, Tom Waits would say, "I like beautiful melodies telling me terrible things," but I don't think he was channeling Hitler.) Fry, who is Jewish, explores the connection between Wagner's music and Hitler's worldview, and how the former may have influenced the latter . . . and, of course, the atrocities that followed.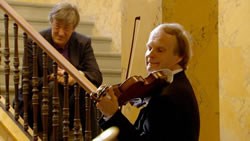 Image: Wavelength Films
Fry, a lifelong Wagner aficionado, takes us on what amounts to an educational travelogue with the 19th century composer. The film begins and ends in Bayreuth, Germany, where Wagner had a custom opera house built in his later years (and where his epic Der Ring des Nibelungen, aka The Ring Cycle, was first performed in 1876) and where an annual Wagner festival is held to this day. Fry follows Wagner from Germany to his 12-year exile in Switzerland (he was a wanted man for his role in a political uprising in Dresden), to Paris, to Russia, to his return to Germany and, ultimately, back to Bayreuth.
It's all sufficiently informative, an adequate primer on the life of the man. But the heart of the film belongs to Fry, his articulate wit and brilliance front and center. It's a joy to see him utterly rapturous as he listens to orchestras rehearse, to singers sing, and to a professional pianist playing portions of Tristan und Isolde. (When the pianist tells Fry to play the final note to end the marvelous piece, his finger misses by one key—and the result is both melodically disastrous and hilarious.)
Fry and the filmmakers seamlessly alternate between biographical bits, interviews, and sense of place, often with Wagner's music soaring in the background. But most compelling is Fry's own journey as he wrestles with the film's overriding and underlying question.
Can he—indeed, can any of us—separate Wagner's brilliant work from its apparent role in the rise of the Third Reich and the extermination of 6 million Jews?
Fry, who lost relatives at Auschwitz, clearly grapples with that question throughout, especially during a visit to Nuremberg, where Hitler staged his propaganda rallies in a massive stadium while Wagner's Die Meistersinger blared over the loudspeakers—a sort of soundtrack for the 100,000 goose-stepping soldiers in the field below. (A Wagner scholar says the music presents a "dialectic" worldview—protagonist vs. antagonist, or, in Wagnerian terms, Siegfried vs. the dragon. "The opera needs the tension of drama between good and evil," he explains. "But as soon as you turn it into reality, it becomes a devastating political fantasy and ideology"—which may have been Hitler's intent.)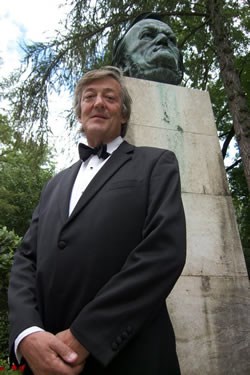 Image: Wavelength Films
In one sobering moment, Fry, talking directly to the camera, is sitting in the arena, contemplating and contending with these issues. He looks at the podium where Hitler stood, giving the Nazi salute while overlooking his army, and notes that it's the spot tourists typically go to for a photo op. Fry can't bring himself to even approach the platform: "I don't think I want to put myself in that position." He says he's "deeply uncomfortable" because "I realize how close to the Nazi fantasy world Wagner was, and how deeply stitched into Hitler's vision of the world. It's very difficult." (Wagner's own anti-Semitic attitudes came through in some of his writings, political views, and music.)
Fry continues: "I imagine it like this. Imagine a great, beautiful, silk tapestry, of infinite color and complexity, that has been stained indelibly. It's still a beautiful tapestry of miraculous workmanship and gorgeous color and silken texture. But that stain is real. And I'm afraid Hitler and Nazism have stained Wagner. For some people, that stain ruins the whole work. For others, it is just something you have to face up to. And here's a place, as storm clouds gather in Nuremberg, to think about such things."
The camera lingers on Fry, who slowly looks away. He looks as if he may weep.
There's another poignant moment near the end of the film, when Fry interviews a London woman who survived at Auschwitz—likely because she played the cello and was tapped to be in the inmates' orchestra. She remembers being forced to march naked before Nazi guards. She also recalls having to play a particular piece (not Wagner, but Schubert) for an audience of one—none other than Josef Mengele, the SS physician notorious for performing human experiments on concentration camp inmates, including children.
Fry asks the woman if she thinks he is "betraying my Jewishness by playing Wagner and liking him." She tells Fry that he'll have to figure that out for himself. But when she learns that he plans to attend the Wagner festival, she asks him outright: "Why do you have to listen to Wagner in Bayreuth, which is so symbolic of everything terrible? Why can't you just sit at home and listen to a record?"
"That's a very good question," Fry replies. He tries to explain, but he's not entirely comfortable with or convinced by his answer. He's still asking the question himself.
Fry does return to Bayreuth for the festival, and ends up—at least in his mind—answering the question to his own satisfaction. It's an interesting and, I believe, wholly appropriate conclusion. You'll have to watch to see what it is.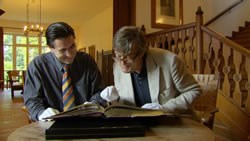 Image: Wavelength Films
Just how significant a role Wagner's music actually played in the rise of the Third Reich—and the extermination of 6 million Jews—is still debated by scholars and historians. But there is no debate about the role of music in Orchestra of Exiles, which chronicles the amazing story of how one man saved Europe's premier Jewish musicians from obliteration by the Nazis. Think of it as something like Schindler's List meets The Sound of Music.
Through documentary and reenactments, Orchestra of Exiles tells the story of Bronislaw Huberman, a Jew born in Poland in 1882 who became one of the world's finest violinists before Hitler rose to power. Huberman had attracted the attention of Brahms as a child prodigy, and made a small fortune as a teenage whiz kid while touring Europe, the United States, and even Russia.
As World War I raged throughout Europe, Huberman, deeply affected by its horrors, became more politically aware—and politically active, embracing the Pan-European movement after the war. He joined Einstein, Freud, and others in writing and speaking out in support of the movement.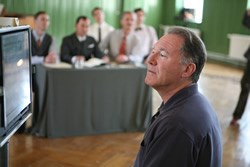 Image: First Run Features
As Hitler came to power in the early 1930s, Huberman saw the writing on the wall, taking the Fuhrer's anti-Semitic rants more seriously than many Jews did. As Hitler fired thousands of professional Jewish artists—including many musicians—from their posts, Huberman, by now an outspoken opponent of Nazism, began to develop an idea.
After playing a series of concerts in Palestine in 1934, his idea was fully formed: He decided to create a world-class orchestra in Palestine, made up primarily of Jews from all over Europe who were losing their jobs with their local symphonies. "One has to build a fist against anti-Semitism," Huberman wrote. "A first-class orchestra will be this fist."
Huberman spent the next two years traveling around Europe, auditioning Jewish musicians for his orchestra. He knew he could only take the best musicians, and steeled himself for what would happen to those he didn't choose. In essence, he put himself into a position of deciding who would ultimately live and who would die. His vision was prescient; he sensed that not only were German Jews in mortal danger, but Jews throughout Europe. But in 1936, many Jews believed that Nazism was just a phase that would eventually blow over, so Huberman had a difficult time convincing many of the coming horrors. Somehow, Huberman sensed the Holocaust long before it came.
When he auditioned musicians in his homeland of Poland, many were among his friends. So, rather than have personal feelings dictate his choices, he held "blind" auditions—turning his back while they played, choosing solely for their music ability.
As the orchestra began to take shape, many musicians asked to bring their families too—and somehow, the deeply connected Huberman, who had many friends in high places, was able to work it out. There were plenty of kinks and bureaucratic roadblocks along the way—including in then British-controlled Palestine, where there were last-minute snags with Arab uprisings and other conflicts, both armed and bureaucratic.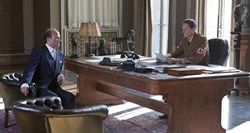 Image: First Run Features
What's most remarkable about Huberman's quest is that so little of it was done in secret. He had recruited Italian maestro Arturo Toscanini, also known for his anti-Nazi views, to conduct the initial concerts in Palestine, and worldwide media picked up on the story. Huberman even played 42 concerts in 60 days in the U.S. to raise money for the venture. (His 1713-vintage Stradivarius was stolen during a 1936 Carnegie Hall show, and would remain missing for 50 years, until the thief confessed on his deathbed that he had stolen it. The violin eventually ended up with American violinist Joshua Bell, who purchased it in 2001 for $4 million. Fitting, then, that Bell is Jewish.)
After his concert tour, Huberman still needed $80,000 to meet the start-up costs for his dream orchestra. He contacted Albert Einstein, then the most famous Jew in the world, to host a fund-raising dinner at New York's Waldorf Astoria—and finally, Huberman had the finances to move forward.
When the musicians and their families traveled from throughout Europe to Palestine—many for the first time in their lives—they stepped off the boat in Haifa, only to find mostly sand, intense heat, lots of bugs, and a few buildings. Some wondered what they had gotten themselves into, not yet knowing what would have happened to them had they remained behind in their homelands. (A couple musicians did quit and returned home, only to lose their lives in prison camps.)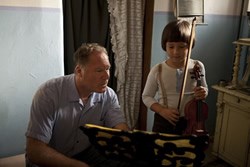 Image: First Run Features
They took a bus to Tel Aviv and began rehearsals for the first concert, to be held December 26, 1936. When Toscanini arrived, there was a media frenzy. A hundred thousand Palestinian Jews were clamoring for the 3,000 tickets. Huberman refused to play those first shows, because he wanted the orchestra to be the star. And as the musicians, under Toscanini's baton, launched into a Rossini overture, history was made. The concert, broadcast around the world, was heard by millions on the radio.
One man, who attended the landmark event as a 6-year-old, told the filmmakers that "it was a feeling of victory." The Palestine Post reported, "Mr. Huberman has turned a great calamity into a unique opportunity." And a descendant of one of the original musicians said that Huberman "was one of the great liberators of the world."
Bono was right. Music can change the world. Because it did.
Mark Moring, a former film and music editor at CT, is a writer at Grizzard Communications in Atlanta.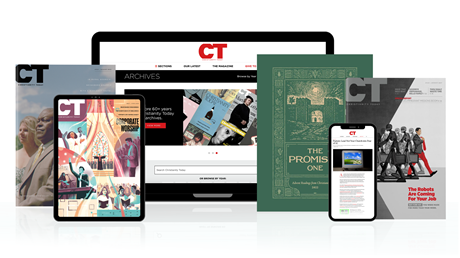 Annual & Monthly subscriptions available.
Print & Digital Issues of CT magazine
Complete access to every article on ChristianityToday.com
Unlimited access to 65+ years of CT's online archives
Member-only special issues
Subscribe
To Kill and To Save
To Kill and To Save