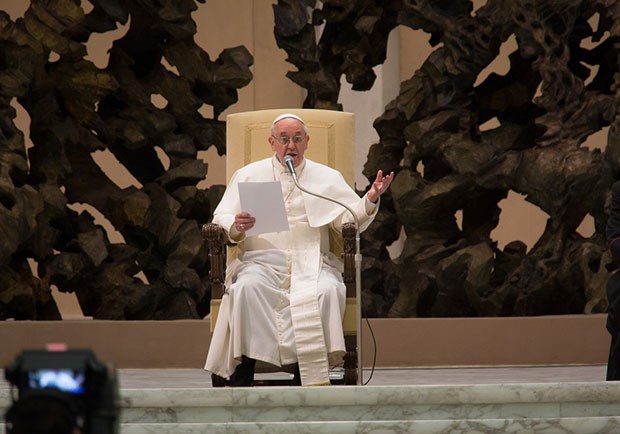 Image: Boston Catholic / Flickr
Headline after headline, story after story, we read about how Pope Francis is doing things differently. Eschewing the pomp and traditional trappings of the papacy, he refused the fur-trimmed half-cloak and golden cross in favor of a plain white vestments and a cross made of iron. He declined the official papal car and rode the bus with the cardinals that elected him. In his most astonishing departure from tradition, Pope Francis washed the feet of two women prisoners, one of whom was Muslim. Last week, he announced that instead of giving bonuses to Vatican employees, the money would go to charity.
Pope Francis is different from his predecessors, and everyone has taken notice—laity and leaders, Catholics and non-Catholics. (As an evangelical, I closely followed these stories because of the tremendous influence of the papacy, and despite the theological differences between Catholics and evangelicals, I believe we're called to a certain degree of unity through Christ.)
The former Argentinean archbishop is a humble, simple man, exactly the kind of man needed to tackle the financial and sex abuse scandals engulfing the Catholic Church. Here was a pope for the people, a pope that did not seem altogether different from his followers. Here was a pope who understood and embraced for himself a lifestyle of poverty. President Obama called him a "champion of the poor and the most vulnerable among us." United Nations Secretary General Ban Ki-Moon praised Pope Francis as a "voice for the voiceless … he has a deep sense of humility."
And yet, something about our praiseworthy reactions to this new pope concerned me. Why were we so surprised, so encouraged that a Christian leader lived out these Christian values? I realized, although Pope Francis is different from his papal predecessors, contrary to public perception, he's not so different from believers in general.
Given today's negative perceptions about Christians, our faith struggles with a substantial public relations problem. In their book, UnChristian, Gabe Lyons and David Kinnaman unpack a few of these perceptions. According to their research, people think Christians are hypocritical, anti-homosexual, sheltered, too political, judgmental, and too concerned with getting people "saved" rather than building relationships and meeting felt needs. It's not just non-Christians that have this view; Christians do too, especially young Christians.
In some ways, we're our own worst enemy. Christians loudly protest what's wrong with other Christians and quickly point out what's wrong with certain Christian leaders and bloggers and headline-makers, but we very rarely celebrate the mighty things God is doing in our midst. When we fail to recognize the faithful, charitable Christians among us, it becomes easy to see humble, faithful Pope Francis as the exception. I'm guilty too—as I followed the coverage of the new pope, I realized I wasn't comparing him to the Christians I know personally, but to a cynical stereotype of Christians in general.
I was ashamed because I know better. The Christian stereotype that pervades popular culture isn't true of most Christians I know—Christians like Rachel Marie Stone, a fellow Her.meneutics writer who along with her husband, serves as a missionary in Malawi teaching at Zomba Theological College and volunteers as a doula at a local hospital. Emily Chengo, a native Kenyan, is the African director for the African Leadership and Reconciliation Ministries. She trains African women to build businesses and played an active part in resolving conflicts between warring tribes in South Sudan. Annie George and her husband Alexei run a seminary in Manakkala, India, where the culture is increasingly hostile to Christians. Paula Hayes and her husband Gary both left lucrative careers to live among the poor in Thailand, ministering to children to protect them from human traffickers. Faustin Ntamushobora, a survivor of the Rwandan genocide, founded TLAfrica, a ministry dedicated to transforming villages and communities throughout Africa.
Many others serve closer to home. Laverne Tolbert ministers to pastors in the inner cities, equipping them to serve their congregations well. Arloa Sutter founded Breakthrough Urban Ministries, which operates two Chicago homeless shelters to serve nearly 1,000 homeless adults with more than 70,000 meals and 10,000 bags of groceries each year. Pastor Kari Morris-Guzman continues to minister to people in her home church, by preaching, teaching, and praying for others despite a devastating car accident that left her a quadriplegic. Myrna Brown, who works in the library at Azusa Pacific University, doesn't have children, but she mothers every person—faculty or student—that comes across her path. Under my own roof, in the 11 years of our marriage, my husband Paul has demonstrated the self-sacrificial love of God in countless ways.
These are just a handful of Christians I know personally—there are many, many others just like them. We all know people who live faithfully and help make the world a better place for all. Whenever our inner Christian cynic pipes up, we should remember them rather than letting the stereotype take over. The Israelites held feasts throughout the year to commemorate and celebrate God's great acts of redemption—achieved through common, everyday people like Moses and Rahab. Evangelicals don't do that enough.
When we celebrate these stories of good, they remind us that God is at work among and through his people. American theologian Frederick Buechner wrote, "To lose track of our stories is to be profoundly impoverished, not only humanly, but also spiritually." We can work to overcome the contemporary negative perceptions—that we ourselves may hold or that others may hold against us—by raising our leaders to high standards and by celebrating the many ways God is working through Christians around the world.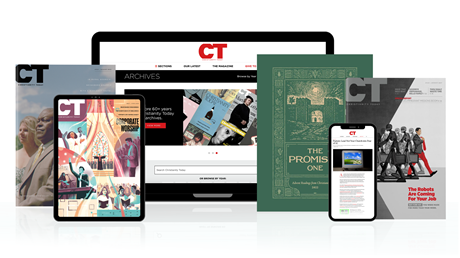 Annual & Monthly subscriptions available.
Print & Digital Issues of CT magazine
Complete access to every article on ChristianityToday.com
Unlimited access to 65+ years of CT's online archives
Member-only special issues
Subscribe
My Cynical Christian Reality Check
My Cynical Christian Reality Check