true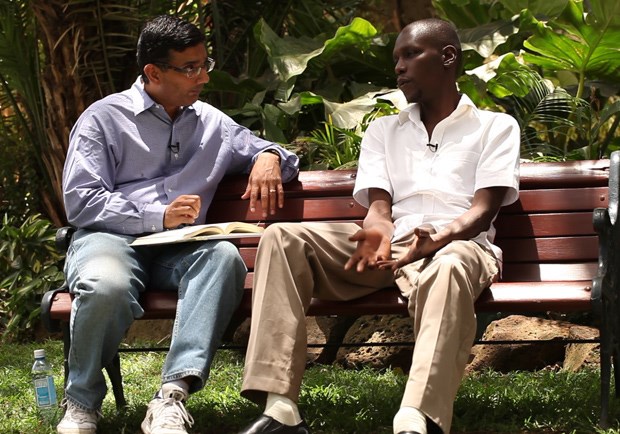 Dinesh D'Souza wears many hats: Author, apologist, debater, public intellectual, college president. With 2016:Obama's America, the former Reagan staffer and current president of The King's College in New York City adds "documentary filmmaker" to the list. Make that blockbuster documentary filmmaker.
The film, a conservative political documentary which explores Barack Obama's past and speculates about what his second term in office would mean for the United States, has become a surprise breakout at the box office, earning $28 million so far. That total makes it the highest grossing conservative documentary of all time, the second most successful political documentary of all time (behind Michael Moore's 2004 film, Fahrenheit 9/11), and No. 6 on the list of all documentaries. Industry insiders suggest that the film, made for $2.5 million, will likely end its run with a box office total of more than $35 million, easily making it 2012's highest grossing nonfiction film.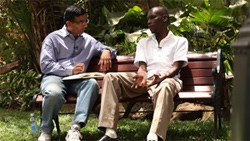 The film premiered on one screen in Houston on July 13, and has since expanded to 2,017 theaters, due to better-than-expected per theater averages and high audience demand. Ticket demand was so high in Newport Beach, Calif. that the film was moved into the 1,000-seat "Big Newport" theater, which boasts the largest screen on the West Coast.
What's behind the film's success? Who are the audiences flocking to see it? Political scientists and industry analysts (not to mention the Obama and Romney campaign teams) are doubtless scrambling to figure these questions out. In my view, the film's appeal, and its likely strong word of mouth buzz, lies in the fact that it presents an argument against President Obama that we haven't seen before. There is new information here about Obama's personal history—or at least information that is new to most people because, unsurprisingly, it has not been highlighted by the left-leaning media. More on that later.
One might question the wisdom of a college president getting into the business of politically partisan filmmaking. As an employee at a Christian college myself (at Biola University), I wince thinking about what students, faculty and staff at King's might think about their leader issuing so public a polemic against President Obama—especially if they disagree with the politics of D'Souza, but even if they don't. With this film, D'Souza positions himself—and by association, his college—firmly in the political fray of the 2012 election season. 2016 may well prove to be one of the most important pieces of media in this election, especially if Obama loses. If that happens, one wonders if D'Souza would leave King's for a position in the Romney administration. He may, in fact, be a better fit there.
Still, 2016: Obama's America must be evaluated on its own terms. The film, co-directed by John Sullivan and D'Souza and based on material from D'Souza's books about Obama (Obama's America: Unmaking the American Dream and The Roots of Obama's Rage), follows the tried-and-true formula of the partisan political documentary, as perfected by the likes of Al Gore and Michael Moore. Here, D'Souza fashions himself as a sort of conservative version of Moore—personalizing the film and making it a "journalistic fact-finding mission" as D'Souza himself crisscrosses the globe in search of answers about what drives Obama and where his ideological heart might lie.
Like any of Moore's films, 2016 reveals its bias very early on; it's clear that D'Souza has an agenda, and that everything in the film—interview segments, animated graphics, history lessons, "facts and figures"—has been sculpted to advance an overarching claim. In this case, the argument is essentially that Barack Obama is bad news for America because his background, education, and ideology are steeped in an anti-colonialist worldview that sees America (and more broadly, the west) as more of a threat than a hope for the world.
Whether you end up agreeing with him or not, it is refreshing to see that D'Souza advances his thesis in a more intellectual and less snarky manner than Michael Moore, even if it is no less manipulative (the foreboding music and unnerving editing in documentaries like these drives me crazy). D'Souza consults psychologists, professors, and a handful of other Ph.Ds in his quest to uncover Obama's personal intellectual journey, and his own skill as an academic and a debater comes through. The result is a skillfully paced, 89-minute missive that is at once engrossing, provocative, and frustrating.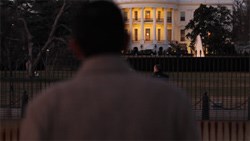 There are plenty of positive things to say about the film. The first is that, contrary to what some have tried to imply about the film, it is not a crazy Tea Party campaign commercial asserting blatant lies. The film makes clear that it doesn't think Obama is a Muslim or a socialist, or that he was born outside the U.S. Rather, it takes him seriously enough to explore his past in a deeper way. As I watched the film it dawned on me that it is truly surprising how little about Obama's personal past most of us know. Why has the media not explored the details of his biography? Why, apart from Obama's own 1995 memoir, Dreams From My Father, has so little been publicly narrated about our president's fascinating past?
D'Souza interacts with Dreams From My Father throughout 2016, and one of the film's shrewdest moves is incorporating Obama's actual narration from the book (presumably taken from his reading on the audiobook). D'Souza's objective is to suggest that President Obama's passions and hopes, politics and ideology are deeply informed by his late father, and that his father's beliefs were strongly anti-western and anti-colonialist. D'Souza postulates that Obama, like many sons of absentee fathers, drove himself to succeed where his father—an intellectual with great promise who battled alcoholism and died in a drunk driving accident—failed. D'Souza also explores other intellectual influencers on the President—people like Frank Marshall Davis, a card-carrying communist who was once a "mentor" to Obama; Edward Said, post-colonialist scholar and anti-Zionist who was Obama's professor; and Roberto Unger, a leftist post-colonialist who became close to Obama at Harvard.
D'Souza's own biography informs the filmmaker's disgust over what he sees as anti-colonialist tendencies in Obama. D'Souza was born in India but made a name for himself in America. "In America my destiny isn't given to me; it's constructed by me," he says. For him, the west is heroic; America is the best hope for the world. It offers Indians like him an opportunity to not be bound by the caste system, arranged marriage, etc. D'Souza is understandably critical of Americans who romanticize the "liberating" mysticism of a place like India while denigrating capitalism and western economic success. For D'Souza and others interviewed in the film—including Obama's own half brother in Kenya—the western/imperial contributions to the Third World outweigh the negatives.
D'Souza's explorations of Obama's intellectual development are genuinely interesting, even if they're exaggerated and overly politicized. The film's final third, however—exploring Obama's first term in office and speculating about his second term—becomes a bit too much like an extended attack ad. This section is a sort of catch-all for hot button conservative talking points: nuclear Iran, the mess in North Africa, Obamacare, the escalating debt, economic woes, and so on. D'Souza attempts to make sense of it all through the anti-colonialist, "America is not the best hope for the world" framework, which he suggests is the tie that binds all of Obama's decisions. This is a rather clumsy finale for a film that is better when it looks deep into Obama's past rather than speculatively into Obama's future.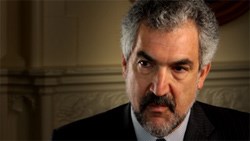 One of the film's low points comes when D'Souza suggests that Obama was only elected president because America needed to purge its collective guilt over race and, by electing an African-American to be president, "move beyond" our racist past once and for all. Certainly there is something to the role of race in the election of Barack Obama, but it is condescending and simplistic to suggest that Obama's race was the only characteristic that appealed to voters.
Still, the film's questions about Obama's background and personal ideologies are provocative. D'Souza's agenda is what it is, and so are the politics of each and every moviegoer, but I for one found value in learning a bit more about who our president is and what might have shaped him.
The extent to which D'Souza's portrait of Obama is accurate remains to be seen, as does the impact of this film on the election. It's worth noting that the film's success has been enough of a concern to lead Obama's "Truth Team" to release an official statement, calling the film "nothing more than an insidious attempt to dishonestly smear the President." The statement also attempts to discredit D'Souza, pointing out his "long history of attempting to add a veneer of intellectual respectability to fringe theories, conspiratorial fear-mongering, and flat-out falsehoods."
In an interview with The Hollywood Reporter, D'Souza responded to the White House's statement by saying, "Their original strategy was to lie low and hope this goes away, but now they're launching a full-scale attack …. And this is one of the most bizarre, clumsy and ineffective attacks I have seen in politics."
In the game of politics, where contradictory truth claims and mutually exclusive narratives abound, it's hard to know which story to believe. D'Souza's film certainly falls within that grey area. But so do Obama's counter-claims. Perhaps the lesson for us all is that in most matters where two sides claim the other is lying, the truth usually lies somewhere in the middle. Sadly, documentaries don't seem all that interested in "the middle" anymore.
Talk About It
Discussion starters
Which parts of D'Souza's arguments about Obama are most convincing to you? Least convincing?
How should Christians feel about colonialism and the impact of western influence on the Third World?
The film never brings up Obama's Christianity. If what D'Souza asserts about Obama's ideology is true, how might his Christian faith inform or conflict with his ideologies?
The Family Corner
For parents to consider
2016: Obama's America is rated PG for thematic elements, brief language and smoking images Aside from a general sense of foreboding and a level of political discourse that may be unfamiliar to teens and children, there is very little in 2016: Obama's America that families would find objectionable. It's a fairly clean film, with a scene of smoking and some allusions to drinking, and maybe one or two curse words, but that's about it.
© 2012 Christianity Today. All rights reserved. Click for reprint information.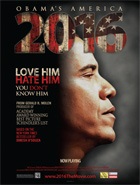 Browse All Movie Reviews By: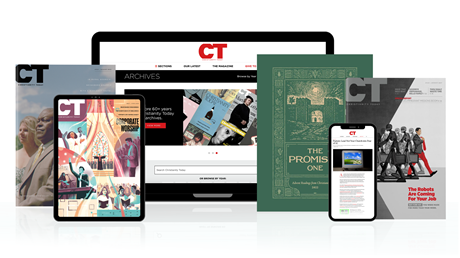 Annual & Monthly subscriptions available.
Print & Digital Issues of CT magazine
Complete access to every article on ChristianityToday.com
Unlimited access to 65+ years of CT's online archives
Member-only special issues
Subscribe
2016: Obama's America
2016: Obama's America