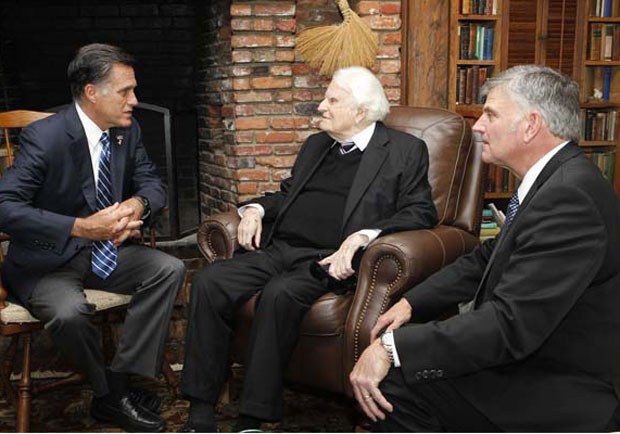 The Billy Graham Evangelistic Association (BGEA) recently removed an article from its website that listed Mormonism as a "cult." The change followed Mitt Romney's home visit to Billy Graham last week, where the evangelist pledged "help" to the Mormon presidential candidate's campaign. The BGEA later explained, "We removed the information from the website because we do not wish to participate in a theological debate about something that has become politicized during this campaign."
(Note: Responses below are on a spectrum, starting with "yes" and ending with "no.")
"One very good thing about the Romney candidacy is that it is causing both evangelicals and Mormons to clarify terminology in civil dialogue—as among friends. I don't believe this is a cause of concern, but rather one that will lead to discussions focusing on dialogue that has the flavor and content of grace."
Jerry Root, director of Wheaton Evangelism Institute, Wheaton College
"Mormonism fits the traditional evangelical definition of a 'theological cult,' but that is not what most Americans think of when they think of a cult; they think of a compound in Waco. I think it is more helpful to call it a different religion, like Islam and Judaism, and to share the gospel of Jesus with them accordingly."
Ed Stetzer, president, LifeWay Research
"My experience is that LDS folks—leaders and grass-roots alike—love Billy Graham. For the BGEA to use the term 'cult' in describing folks who are open to hearing Billy's message is needlessly setting up a barrier. Friendly discussions together about what it means to be a sinner saved by grace is a wonderful place to start. The BGEA has implicitly encouraged those important dialogues by setting aside a word that is designed to shut down serious, friendly explorations of the meaning of the gospel."
Rich Mouw, president, Fuller Theological Seminary
"Yes, but not for the reason they apparently did. If [the BGEA] did so to help the Romney candidacy, then that was probably folly. First, because it likely won't help in any meaningful way; and second, because it gives the appearance that the BGEA might think that—on certain occasions—they will let politics trump principles. However, in the big picture I'm not sad that they are moving away from the word 'cult' for Mormonism. These days, the word is nothing more than a pejorative, and unhelpful in communicating the true gospel to Latter-Day Saints (LDS)."
Craig Hazen, professor of comparative religion and apologetics, Biola University
"The BGEA has politicized theology by removing it. The point of the previous accusation that Mormonism is a cult is because it denies the gospel; now the BGEA has backed off that gospel claim."
Scot McKnight, professor of New Testament, Northern Baptist Theological Seminary
"We can vote for an atheist, a Buddhist, or a Muslim who represents our values while never retreating from how these faiths differ from our own. We affirm what we can—largely through our vote—but we stay wise, discerning, and loving about what we cannot affirm. How I wish the BGEA had affirmed political principle without appearing to retreat from religious principle."
Stephen Mansfield, author, The Mormonizing of America (Worthy Publishing, 2012)
"It is unfortunate that the BGEA chose to remove the cult designation describing Mormonism this week. It will appear to the world that the Graham organization has chosen political expediency over spiritual conviction. It is possible to endorse Mitt Romney, as I have done, and yet maintain that Mormonism is a false religion that leads people away from the one true God."
Robert Jeffress, pastor, First Baptist Church (Dallas)
Related:
Coming Monday, a look at how Graham's political pronouncements have changed over the years.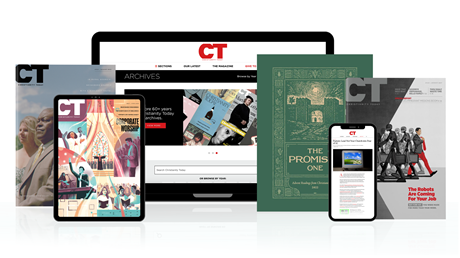 Annual & Monthly subscriptions available.
Print & Digital Issues of CT magazine
Complete access to every article on ChristianityToday.com
Unlimited access to 65+ years of CT's online archives
Member-only special issues
Subscribe
Should the Billy Graham Evangelistic Association have Removed Mormons from "Cult" List?
Should the Billy Graham Evangelistic Association ...