true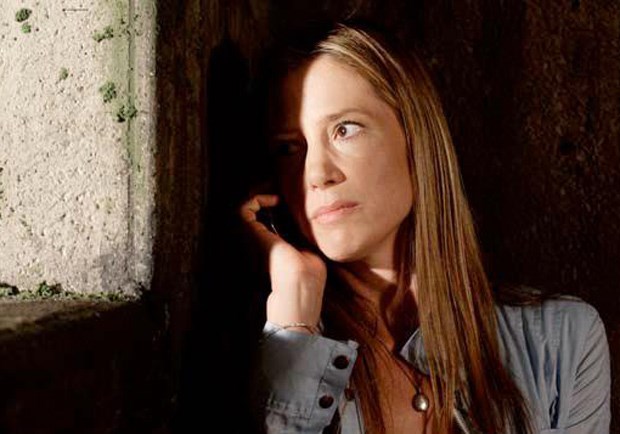 In 1995, Mira Sorvino won an Academy Award for her role as a prostitute in the Woody Allen film Mighty Aphrodite. Today, Sorvino, a mother of four and devout Christian, spends much of her time trying to free young women and girls from the throes of forced prostitution.
The UN's Goodwill Ambassador to Combat Human Trafficking, Sorvino is a passionate advocate for the cause—taking trips abroad to observe the problem, researching the issue, giving speeches and interviews on the topic, and, most recently, making a movie about it. Trade of Innocents, a drama about the sex trafficking industry in Southeast Asia, opens Friday in New York and will expand to other theaters across the U.S. in the weeks ahead.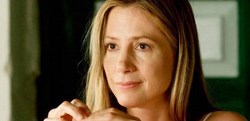 In the film, Sorvino plays the wife of an NGO worker (Dermot Mulroney) in Cambodia who is trying to help local police crack down on human trafficking. Sorvino's character, grieving the murder of her own daughter, volunteers with girls who have been rescued from sexual slavery.
As a young girl, Sorvino read the Diary of Anne Frank and was influenced by the horrors of the holocaust. As a Harvard student, she wrote her thesis on the causes of conflict between Chinese and African students; she recently wrote (in Guideposts) that she "wanted to understand what gave rise to one human being's ability to see another as somehow less than human."
CT interviewed Sorvino recently by e-mail about Trade of Innocents and her passionate activism.
Why did you want to play this role?
I felt that it was a moving portrayal of the plight of children being sold for sex, and highlighted some potent strategies to fight it. Since I spend a great deal of my time working on that fight with the UN, I felt it could be a powerful combination of my activist efforts and my artistic ventures.
You did Lifetime TV's Human Trafficking back in 2005. Any similarities between the two projects?
They are both about modern day slavery, but Trade of Innocents is exclusively about the sale of children for sexual exploitation, and the protagonists are not law enforcement but NGO workers. Dermot's character works on undercover sting operations that gather evidence to spur police raids on brothels dealing in little girls, and I play his bereaved wife (we have lost our daughter to a pedophile) who is now finding new hope by helping formerly trafficked girls rehabilitate in a shelter. In real life, law enforcement and NGO efforts must go hand in hand; it is the only way to tackle the crime from both the perpetrator and victim sides of the fence.
How do you get people to watch a movie about sex trafficking?
It is a gripping drama/thriller with wonderful performances, beautifully shot—it spares nothing in the motion picture department. It is entertainment even as it is moving and enlightening. For Christians, I think it will wake people up to realize that slavery isn't dead and gone and that its most unseen, unheard, and vulnerable victims are little children, who were always close to Christ's heart. The trafficking of children for sexual exploitation isn't just happening in Cambodia, where the film is based, but everywhere and especially here in the U.S. And there is a great deal more that we Americans can do to stop it than we are doing right now.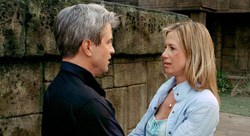 In Trade of Innocents, your character is grieving the loss of a daughter. As a mom, how do you put yourself in her shoes? Do you imagine what it would be like if it were your own child?
As an actress, you must never go to the well about damage to your own children; it is too terrible and not something you play with in order to fulfill the needs of a role. But I can tell you that when travelling to Mexico City with the UN, I met a tiny girl knee high to a grasshopper, and I nearly died when I learned she had just been rescued from a Cancun brothel, where she had worked from the age of 3 to 7—the current age of my own daughter. I could not help but see my own precious girl when I looked into her eyes, and I couldn't sleep for weeks.
I've read that you took your kids to the set while making Trade of Innocents. What have you been able to tell them this difficult topic?
I have told both of my older children that there are certain bad people in the world who use people like things only to make money, and basically keep them imprisoned to work for free, and that this is called slavery, and that mommy works against this.
As a mom, what perspective do you bring to this issue, and how do you keep your anger in check?
I have a very hard time containing my sadness or anger at times. I once interviewed a trafficker for three hours and was feeling sick to my stomach at his complacent attitude: he was now an informant for the police, but still worked at the roadside "clubs" in Spain which traffic girls in from Latin America, and he was doing very little to stem that tide or really help the girls out. Finally I was shaking and just broke down crying, telling him he wasn't doing enough to help them, that he had to work until each and every girl was safe and freed. Apparently it had an effect; his police contact told me that after his meeting with me he became much more helpful and now they were masterminding a takedown of five major trafficking rings due to him.
Do you think of yourself as an activist? There are stereotypes of "angry activists" holding placards and screaming at people, and there are "peaceful activists" who quietly get things done. What about you?
I don't think of any negative connotations when I say I am an activist; there is a great tradition of enormous change being made in the world by great peaceful activists, starting with Jesus Christ, and people in recent times such as Dr. Martin Luther King and Gandhi. I would never put myself in their league but boy, do they inspire me!
With four kids and your commitment to family, you aren't making movies year-round. What are some of your personal guidelines for taking roles? Are you particularly drawn to social justice films?
I definitely take into consideration what my children might think of my work when they view it in years to come. Sometimes my mandate is entertainment, such as Romy and Michele, but even that movie had a great message for kids who suffer being unpopular underdogs in high school. I do like movies with social justice messages, but I also love great writing that deftly evokes the human condition with pathos and humor, like my recent Union Square, directed by Nancy Savoca.
What's your "proudest moment" as an actress?
Gosh, I definitely felt so grateful for the Academy Award. I also loved hearing that Arthur Miller said of me, after seeing my portrayal of Marilyn Monroe: "Who is that girl? How did she understand Marilyn's pain?"
What's next for you?
I just completed Space Warriors this summer, and I think it is going to be a wonderful film for all ages, about a bunch of kids who go to Space Camp and end up trying to save the cosmonauts on the Space Station. Dermot and I got to work together again, this time as an estranged couple trying to work things out for the benefit of their son, the main space camper.
Sorvino encourages readers to go to the websites of the Polaris Project and/or the UN's Human Trafficking Trust Fund to take action.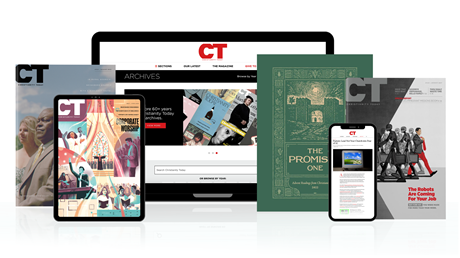 Annual & Monthly subscriptions available.
Print & Digital Issues of CT magazine
Complete access to every article on ChristianityToday.com
Unlimited access to 65+ years of CT's online archives
Member-only special issues
Subscribe
Mira Sorvino: Saving Sex Slaves
Mira Sorvino: Saving Sex Slaves