An uncomfortable backdrop lay behind President Obama's address to the annual National Prayer Breakfast Thursday, as religious groups have generated increasing concern over his administration's mandate to cover contraceptives under the 2010 health care law. Evangelicals have been joining Catholics in voicing growing concerns over the requirement to cover certain contraceptives such as Plan B (or "the morning-after pill"), as well as the Obama administration's narrow religious exemption of churches.
The President said Thursday that the administration is "linking arms with faith-based groups across the country" but did not address faith-based groups' response to his administration's policy. The night before, director of Domestic Policy Council Cecilia Muñoz defended the mandate, noting that most Catholic women have used contraception, 28 states already require contraception coverage, and comparing the cost of contraceptives to unintended pregnancy.
Several Christian college presidents took their concerns this week to their legislators in Washington, D.C., during the Council for Christian Colleges & Universities' (CCCU) annual presidents gathering, said Shapri LoMaglio, who heads government relations for the CCCU. Christian college administrators have long held concerns over whether they would be able to apply for federal funding if they hire within a specific religious tradition and employees agree to specific standards of sexual conduct, but concern about the mandate runs even deeper since groups cannot opt out.
"This is not an option where you can choose to not participate in this program or take a certain grant. There's no discretion, which is why people are so stunned," LoMaglio said. "It's saying, 'If you exist, you will do this.'"
Even if the religious exemption extended to employees of religiously affiliated institutions, CCCU school leaders voice concerns about whether schools unaffiliated with a denomination would be exempt and whether the mandate would still apply to student health care plans. The rule includes an exemption for certain "religious employers," such as churches, but a religious employer such as parachurch groups or Catholic hospitals would not be exempt if it employs or serves large numbers of people of a different faith.
"It sets a very bad precedent. Both of principle and as a matter of tactics and politics, it's a serious misstep on the part of the administration," said Galen Carey, vice president of government relations for the National Association of Evangelicals (NAE). "There needs to be a very robust religious exemption for any religious groups, not just churches."
The NAE was among several evangelicals groups "in solidarity but separately" from Catholic groups that requested a stronger religious exemption after Health and Human Services ruled in August that insurance plans must provide contraception with no copayment. In January, however, federal officials reaffirmed its position, saying the government would give church-affiliated organizations an extra year to adapt to the requirement.
"I believe this proposal strikes the appropriate balance between respecting religious freedom and increasing access to important preventive services," said Kathleen Sebelius, the secretary of Health and Human Services.
"We saw the administration's response as saying, 'I know you like oxygen, but we'll give you a year to get used to living with out it,'" said Eric Baxter, senior counsel at the Becket Fund for Religious Liberty, which filed a lawsuit on behalf of Colorado Christian University in December.
"The administration is out of place in deciding what activities should arise within religious conviction," Baxter said. "When the administration issued its statement recognizing concerns about religious liberty and saying in the same breath 'We'll give you one year to get used to it,' that caught the attention of a lot more non-Catholic institutions."
Earlier this week, Senator Marco Rubio of (R–Fla.) introduced a bill to amend federal law to prevent the 2010 health care reform law from requiring any person or organization to provide coverage of contraception or sterilization in violation of religious belief. Without such an amendment, observers worry that the administration's exemption could serve as a federal standard for other decisions where parachurches could be unprotected.
"The more parachurch organizations are going to look like every other organization and less able to preserve their identity and serve the public in a way that's dictated by their faith," said Stanley Carlson-Thies, president of the Institutional Religious Freedom Alliance. "Under the guise of discrimination, saying that every health plan has to include these services portrays a mistaken idea of what the public is and how religion works itself out in life."
Under the mandate, covered contraceptives would include ella (ulipristal acetate) and Plan B (levonorgestrel) that work by making it unlikely that an embryo will be able to attach to the wall of the uterus, which many evangelicals consider abortifacients.
"We tend to have the mistaken notion, when we see contraceptives discussed, we think that's not our issue, that it's the Catholic issue," said Kim Colby, senior counsel for the Christian Legal Society. "What's encouraging is that there's quite a bit of unity among Christian groups between Catholics, evangelicals, and some Jewish groups on the issue for religious liberty generally. There's a lot at stake because the administration can't get away with trying to offer such a microscopic exemption for religious liberty."
Bishops in the Catholic Church have been reading a letter to congregants warning them that the church's teachings on contraception are under threat from the Obama administration. Politically, outrage from Catholics has received more attention because they offer more of potential swing vote in the upcoming election. Before the January decision, Obama personally called Sister Carol Keehan, head of the Catholic Health Association of the United States, who was an important supporter of Obama's Affordable Care Act.
"You have an interesting phenomenon where the judicial branch is more sympathetic to religious liberty than a Democratic-run executive branch," Ross Douthat, a columnist for The New York Times, told CT. "There's a sense that he's betrayed people he was trying to woo, whereas it seems like it's been a while since he's been trying to woo evangelicals. Everyone is interested in political impact and evangelical outrage is probably not going to change for Obama."
Obama also called New York Archbishop Timothy Dolan, who has called the decision an "an unprecedented line in the sand."
"The handling of the issue offers a hint of Obama's approach to governing and campaigning in 2012," Glenn Thrush wrote for Politico. "When confronted with a position close to his heart—and dear to the base—Obama is increasingly inclined to side with people who will vote for him even if it means enraging those who might, but probably won't, vote for him."
Related Elsewhere:
Previous coverage of health care, contraception, life ethics, and politics includes:
Your Insurance May Already Cover 'Abortion-Inducing Drugs' | Health and Human Services ruled last week that insurance plans must provide contraception with no copayment. (August 12, 2011)
Reforming Health Care Reform | How states are blocking abortion coverage. (June 29, 2010)
Health Care Reform Enacted—Now What? | Activists react to the new health care law and reignite a movement for immigration reform. (March 26, 2010)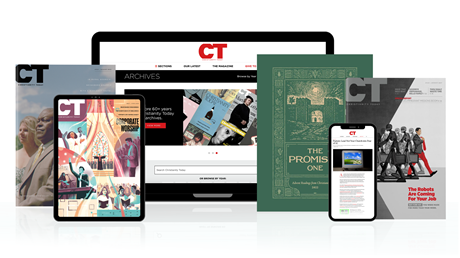 Annual & Monthly subscriptions available.
Print & Digital Issues of CT magazine
Complete access to every article on ChristianityToday.com
Unlimited access to 65+ years of CT's online archives
Member-only special issues
Subscribe
Evangelicals Mounting Concerns over Obama Administration's Contraceptive Mandate
Evangelicals Mounting Concerns over Obama ...