Two weeks after President Mubarak left office, tens of thousands of Egyptians gathered in the now-famous Tahrir Square for what they called a "Friday of Cleansing and Protecting the Revolution."
Right in the center of the demonstrations, Muslim Sheikh Reda Ragab and Coptic priest Father Khazman walked hand-in-hand through the square, welcomed by warm applause and cheering from protesters chanting "Muslim and Christian, we are all one."
Sheikh Ragab addressed the massive crowd, saying, "We came here today to show the world that there is no sectarian strife … " And the crowd chanted in response, "The time of strife has passed." 
As the world looked on in awe at the protests in Egypt that led to the ouster of the authoritarian regime, a far more profound revolution took place away from television cameras. During the last month, we Christians in Egypt have witnessed an unprecedented coming together of local Muslims and Christians, especially among young people.
Unlike typical religious dialogue gatherings, which have been en vogue since the 9/11 tragedy and typically involve religious leaders (often the same individuals) attending conferences and forums, this was entirely a grassroots movement led by what might be considered the next generation.
In the midst of the crisis, or rather perhaps because of it, they discovered, in the words of the early 20th-century Arab Christian revolutionary writer and artist Kahlil Gibran, that "Your neighbor is your other self dwelling behind a wall. In understanding, all walls shall fall down."
This is my eighth year living in Cairo, where I serve as the Rector of St. John's Church, an international Episcopal church that serves the diplomatic, NGO, academic, and business communities. Having grown up within and spent most of my life in Islamic contexts, I have observed the unique catalytic role that international churches in Arab Muslim-majority countries can play toward building bridges between Christians and Muslims. While we have numerous outreaches to help build understanding, respect, and friendship between the two faiths, nothing could have prepared us for this moment.
When historians write up the story of this recent "revolution," in which Egyptian Christians and Muslims demonstrated an extraordinary camaraderie, I believe they will observe that a critical foundation was created weeks before in the most tragic of ways.
Last New Year's Eve, just after midnight, a bomb exploded outside a Coptic church in Alexandria, Egypt, just as worshipers were beginning to leave their worship service. Some 23 were killed and more than 90 were seriously wounded. While the perpetrators meant to bring increased sectarian tension, their plan backfired. Six days later, when Coptic Christians across Egypt celebrated Eastern Christmas, many Muslims attended services with them to show their solidarity. In the streets, people displayed posters and bumper stickers showing the cross and crescent next to each other, often interwoven in design, with the phrase, "We are all Egyptians." 
Weeks later, young Muslims and Christians took to the streets in anti-government protests. Countless protesters' signs highlighted the crescent and cross next to each other. Perhaps the most moving of images was of the Coptic Church service held in Tahrir Square that Muslims helped facilitate; when the service came to an end, all jointly shouted, "Amen, amen." Similarly, Christians with hands clasped together encircled Muslims so they could pray without harassment. These amazing images were broadcast to the world.My last visit to Tahrir Square was breathtaking: people in harmony, selfless support for each other, Muslims and Christians together.
During the harrowing days of looting that followed the now infamous disappearance of police from the streets and the opening of the prisons, Christian and Muslim neighbors throughout Egypt spontaneously came together as one to protect their neighborhoods by forming night watches. One night, our apartment building was attacked by mobs of armed looters nine times. Each time, our Muslim neighbors sheltered us all from harm.
There are many credible accounts of how Muslims protected churches. A Muslim friend of ours takes great pride in his instrumental role in guarding the historic fifth-century Hanging Church in Old Cairo, a sacred site to Coptic Christians.
Among Christians, new attitudes are taking root. An Egyptian Christian friend of ours who previously had hardly a good word to say about any Muslim is re-examining his underlying convictions.
But what about Christians in the West?
I see Western Christians having several fundamentally important roles:
Like the Egyptian youth that led the way with their non-violence, we also need to work toward finding new ways to engage peacefully and set aside unreasonable fears. Already some Christians have begun to demonize the Egyptian Muslim Brotherhood. (Muslim Brotherhood members were among those Muslims who helped to facilitate the Christian worship services at Tahrir Square.)
We also need to make sure our help to the Egyptian people is offered regardless of their religion, by showering upon them our good will, trust, appreciation, love, solidarity, and sympathy.
We must discover ways to eliminate further alienation between Christians and Muslims. At St. John's Church, we have found that the arts can serve as an effective way to build bridges. Our 2011 interfaith Caravan Festival of the Arts (www.oncaravan.org), originally scheduled for the first week of February, is bringing together 45 premier Muslim and Christian artists around the theme of "My Neighbor."
Our goal is to build bridges between Muslims and Christians through visual art as well as literature, film, and music. The arts festival obviously was postponed due to the uprising. Many of the participating artists joined the protests in Tahrir Square, including the actor Khalid Abdalla, star of the film The Kite Runner, who courageously remained on the square for all 18 days.
Western Christians should pray for church leaders in Egypt to take an active role in Egypt's new future. Everyone's life in Egypt has changed rapidly. Some of the greatest change and potential lies in the faith-friendly youth movement of Egyptian Christians and Muslims working together side by side to re-shape their amazing country.
Our church's Caravan Festival of the Arts is now re-scheduled for May, and this delay will provide the festival with a greater opportunity for successful bridge-building. No matter what changes come about, there has been a revolution in the minds of people about their value to each other—all are made in God's image, regardless of creed.
Rev. Canon Paul-Gordon Chandler is an author, U.S. Episcopal priest, and interfaith advocate living and working in the Middle East. For more, see www.paulgordonchandler.com.
"Speaking Out" is Christianity Today's guest opinion column and (unlike an editorial) does not necessarily represent the opinion of the publication.
Related Elsewhere:
Christianity Today reported on Egypt's Christians and on how Egyptian Christians joined calls for reform.
CT also has a special section on Egypt.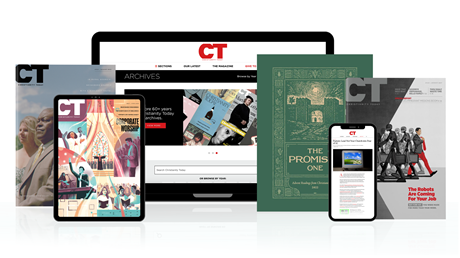 Annual & Monthly subscriptions available.
Print & Digital Issues of CT magazine
Complete access to every article on ChristianityToday.com
Unlimited access to 65+ years of CT's online archives
Member-only special issues
Subscribe
Behind Egypt's Revolution
Behind Egypt's Revolution