Political Advocacy Tracker is a roundup of what Christian activist organizations have been talking about the past week.
How to Pray for Election Day
Labor Day may be the symbolic start of the campaign season, but for some Christian political activists, the campaign begins with a 40-day prayer vigil that will culminate before the November elections.
The 40 days of prayer was originally designed by the Southern Baptist Convention (SBC).
The SBC guide provides daily guides to prayer topics and Scripture to read and consider. The guide begins with prayers for revival in the lives of individuals, the church, and the country. Among the topics under "church revival" is "God's Revived People to Register to Vote." The prayer point comes days before registration deadlines in most states. The guide states, "Voting is an indispensable part of responsible Christian citizenship." It recommends praying to God to do the following:
Burden Christians to want to be involved in the direction of the country.
Lead church leaders to preach on the importance of Christian involvement in the election.
Compel Christians to take the time to register to vote.
Help churches find creative ways to encourage Christians to register to vote.
Help you talk to Christian friends about the importance of voting.
Help you get the information needed about the candidates and the issues to be able to vote intelligently.
Confound the efforts of people who try to stop Christians from getting informed in the churches.
The guide picks up other civic and political topics on October 12, when it gives guidance on prayer for "national renewal." The focus is on public morality issues, including pornography, abortion, "family-friendly" policy, traditional marriage, religious liberty, impartial justice, and "the barbaric practice of embryo-destructive stem-cell research." The final two weeks of prayer focus on public officials (including that God "provide the resources godly candidates need to win elections") and wisdom in voting. The final day focuses on praying for "God's People to Vote." The guide specifically recommends prayer for God to do the following:
Prevent anything from happening that would prevent you from voting.
Help churches find ways to help Christians get to the polls to vote.
Convict Christians of their spiritual responsibility to vote.
Lead Christians to vote according to biblical values rather than for a party.
Lead Christians to vote according to biblical values rather than personal benefit.
Help you understand his will for the future of the country as you prepare to vote.
Help you share with your church the importance of voting.
The SBC North American Mission Board and the Ethics and Religious Liberty Commission (ERLC) jointly issued the guide for prayer, which can be done daily or for 40 hours before Election Day. The SBC sponsored a similar vigil in 2008.
The 40-day prayer vigil expanded when Renewing American Leadership (ReAL) scheduled its own prayer event, "Pray & Act," at the same time. ReAL was founded last year by former House Speaker Newt Gingrich. Pray & Act is led by ReAL and founder of Prison Fellowship Chuck Colson. Pray & Act calls for prayer leading up to the election. People are asked to act by signing the Manhattan Declaration, which states that the key issues of our time are life, marriage, and religious liberty. This week ReAL featured a webcast of a kick-off event for Pray & Act.
Pray & Act is endorsed by scores of pastors as well as leaders of advocacy groups, including Jim Daly (Focus on the Family), Mike Huckabee (former governor of Arkansas), Richard Land (ERLC), Penny Nance (Concerned Women for America), Douglas Napier and Alan Sears (Alliance Defense Fund), Tony Perkins (Family Research Council), Samuel Rodriguez (National Hispanic Christian Leadership Conference), and Don and Tim Wildmon (American Family Association).
Perkins, president of Family Research Council (FRC), called for people to participate in a web video. "Pray for our country. Pray for our leaders. Pray for the upcoming election. Pray for marriage. Pray for the sanctity of human life," said Perkins. "And then we need to act."
If the two prayer vigils are not enough, the National Religious Broadcasters (NRB) has its own 40-day prayer campaign. The "If My People" campaign began September 1 and will run through October 10. The campaign has its own set of devotionals and public service announcements that can be played on member stations.
O'Donnell joins Values Voter Summit
Tea Party candidate Christine O'Donnell's upset in Delaware's Republican Senate primary dominated the political headlines this week. O'Donnell is a social conservative with ties to conservative Christian organizations. The New York Times reports that she is a Roman Catholic "who for a time considered herself an evangelical." She received little support from national Republican groups prior to her win.
O'Donnell will join the annual Values Voter Summit, which will host Republican presidential hopefuls, conservative celebrities, and political activists. Perkins commended O'Donnell "for valiantly defending faith, family, and freedom throughout this campaign."
"[She] has spoken out on behalf of the average person in her state who has been burdened by excessive tax and regulatory policies. She has tapped into the deep-seated mistrust that voters have toward big government. As in so many other states, the citizens are angered at the slow and steady loss of individual freedoms due to the massive overreach of government," said Perkins.
CitizenLink's Catherine Snow wrote that "Tuesday's primary election results proved to be yet another portent of what is to happen on Nov. 2, a mere 49 days from now—a seismic wake up call for the political establishment and the media elite."
American Family Association's Bryan Fischer said O'Donnell's win shows that "the ultimate divide in American politics is no longer between Democrats and Republicans. It is now between the Ruling Class and the Citizen Class. Sadly, most of the leadership of the Republican Party at the national level belong[s] to the Ruling Class. They're in it for power, not for principle."
Odds and Ends
• Sojourners president Jim Wallis spoke at a gathering of over 500 immigration activists in Washington, D.C., this week. He told them, "We are here today because there is no such thing as an illegal human being. We are all, first, children of God, endowed with the image of our creator and deserving of respect. … We believe in the rule of law, but we also understand that it is these things that are the purpose of the law. When the law no longer fulfills this purpose, it is unjust and must be reformed."
• Alliance Defense Fund won a victory for a Catholic student organization that was denied funds at the University of Wisconsin-Madison. The organization had reached a settlement in a previous lawsuit but went back to court when the university did not give them student funds. The court ordered the school to treat the Catholic club as they would any other student organization.
• CitizenLink's Jenny Tyree supported "extending the Bush tax cuts including preventing the marriage penalty from reinstatement and extending the child tax credit." Both are unlikely to be extended to families with high incomes. "Unfortunately, the point of discussion is about the upper class and whether they deserve, because of their income level, to benefit from being married and raising children. This decision should not be made based on income, but on the merits of marriage and family. Either a strong marriage and family is a benefit to this country, or it's not," said Tyree.
• The National Association of Evangelicals' (NAE) monthly survey of its board of directors found that most U.S. evangelical leaders express support—albeit qualified—for U.S. military action in Afghanistan. NAE president Leith Anderson said, "Most evangelicals in America subscribe to the theological position called 'Just War Theory,' that it is morally justifiable to go to war under certain conditions. The problem with Afghanistan is that the nature of the war is so complex that it is difficult to know whether this falls within the confines of a just war."
Related Elsewhere:
Earlier Political Advocacy Trackers are available on our site.
Christianity Today also follows political developments on the politics blog.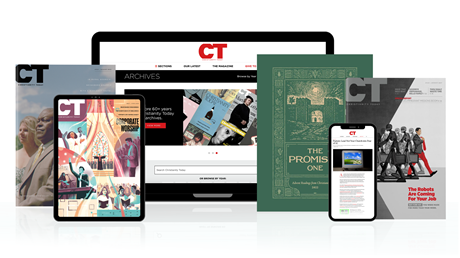 Annual & Monthly subscriptions available.
Print & Digital Issues of CT magazine
Complete access to every article on ChristianityToday.com
Unlimited access to 65+ years of CT's online archives
Member-only special issues
Subscribe
40 Days of (Political) Purpose
40 Days of (Political) Purpose