Political Advocacy Tracker is a roundup of what Christian activist organizations have been talking about the past week.
Beck's 'Black Robe Regiment'
At his rally last weekend on the Washington Mall, Fox News host Glenn Beck brought 240 clergy onstage. Harkening back to the Revolutionary War, Beck called the group a "Black Robe Regiment."  He said the clergy "all locked arms saying the principles of America need to be taught from the pulpit."
The Black Robe Regiment included prominent evangelicals including James Dobson and Richard Land, president of the Southern Baptist Ethics & Religious Liberty Commission, according to Beck. 
Beck said he began organizing the Black Robe Regiment by gathering a couple dozen evangelical leaders (which is reported to have occurred June 30 in New York). Participants included Dobson, Land, and John Hagee. Beck said he told the leaders, "I'm asking you not to stand with me, but to stand with freedom and liberty, because we're all going to lose our religious freedom if we don't."  He recounted the following:
And I ended and sat down, and James Robison pounded the table, and he said, "Brothers, I know all of you here." And he said, "I can testify that the things that this man says are true because I've felt them too." And he said, "Shame on us for the Lord coming to each of us and telling us, but us not doing it." And then he said something that I thought was very funny, "And so the Lord has to go to a Mormon, and an alcoholic on top of that." And he said, "I will stand, I will stand." And all of them, one right after another—one person said, "I can't. I'll lose half my congregation." And that's when—that's when Dr. Dobson said, "What kind of a hypocrite are we if we believe these things, but we don't say them?" And Dr. Dobson said, he looked me right in the eye—and Dr. Dobson is a guy who doesn't, you know, he doesn't agree on theology, and we have our theological differences—and he looked me right in the eye—just a real integrity and power—and he said, "I will start tomorrow, I will start tomorrow." And he did. And he did.
Land told MediaMatters, "At that meeting, [Beck] said this is where he had been led to go. He asked me to be a charter member."
Land also told National Public Radio that the rally was neither political nor sectarian. "We had rabbis praying. We had Catholic priests praying. We had Muslim imams praying and participating. We had Protestant Christians," said Land. "And [Beck] kept saying over and over again: This is not a political event, and politics is not the answer. The answer is spiritual renewal and rebuilding a civil society one person; one family; one church, mosque, synagogue, temple and one community at a time."
Sojourners blogger Valerie Elverton Dixon, however, called the rally "an exercise in civil religion."
"In my opinion civil religion is dangerous because it is a subtle form of idolatry. The nation is ultimate. It leads us to believe that, if we live a certain piety, God will serve us by blessing us.God will bless the nation.It does not make God our ultimate concern.It does not remind us that God does not exist to serve us, but we exist to serve God.We live within a universal rather than a national moral horizon, and we ought to shape public policy to conform to universal claims of justice," Dixon wrote.
Breakpoint's Diane Singer also questioned the rally. She was "disquieted" because Beck is a Mormon.  She wrote, "If you're like me and believe [Mormons] have been deceived into following 'another Jesus,' then perhaps you share my concerns. I want REAL revival to come to America, which means it must be based on Truth, not deception."
American Family Association's Bryan Fischer said that while Beck's faith is a problem, evangelicals have been able to use Beck for their purposes.
"While Glenn Beck provided the platform, evangelicals provided the message. Beck depended heavily on historian and committed evangelical David Barton for assistance in picking speakers and selecting those who would lead in prayer and worship," said Fischer. "A Mormon teed up the ball for evangelical Protestants. And evangelicals hit it out of the park."
Odds and Ends
• The National Association of Evangelicals (NAE) released a statement supporting World Vision, which recently won a case involving three employees who were fired because they no longer agreed with World Vision's beliefs. The U.S. Ninth Circuit Court ruled that World Vision is a "religious organization." This means that World Vision was within its rights to fire the employees. NAE legal counsel Carl Esbeck said the case "confirms the fundamental right of religious organizations, protected by the Civil Rights Act of 1964, to hire staff who shares their biblical understanding. No one questions the right of secular groups to hire staff who support the organization's purpose. Religious organizations deserve the same protection."
• Sojourners president Jim Wallis commented on the formal end American combat in Iraq. "So was the war in Iraq worth the enormous human cost? My answer is no, the results are definitely not worth the cost. That is both a political and a theological statement; but it is primarily a moral judgment—which is exactly what those of us in the faith community are supposed to make about wars," said Wallis. "But today, it matters less about who was right or wrong about the war in Iraq. Today I feel little celebration in America for the 'end' of our combat mission in Iraq. I feel mostly relief … and sadness."
• ERLC's Doug Carlson was one of many who praised a recent ruling that blocked any federal funds from being spent on research on human embryos. President Obama had allowed the funding as part of an executive order in 2009. Carlson said the ruling "might seem to put to rest the ethical concerns of tax dollars being put to work on embryos destroyed for experimentation. But the cheering could be short-lived if Congress has any say in the matter." Carlson warned that Congress could consider a new law allowing the funding.
• Family Research Council (FRC) president Tony Perkins responded to news that former Republican National Committee (RNC) chairman and President Bush campaign advisor Ken Mehlman had come out of the closet as a gay man. "I'm saddened because I know Ken and care about him as a person. Homosexuality not only has negative implications for society, it also has profound, well-documented negative physical and mental health consequencesfor those who engage in homosexual conduct as well," said Perkins. He also said Mehlman's sexuality was "one of the major reasons" why marriage activists "received little support and even outright resistance from Party officials at the national level, which contributed to the GOP's electoral failures in 2006 and 2008."
• Some groups were critical of President Obama and the U.S. State Department's first-ever report to the U.N. Human Rights Council. The report included discussion of racial and ethnic inequality that remains in American life. Liberty Counsel founder Mathew Staver said "the presidency of Barack Obama will be remembered as one that sought to humiliate America by prostrating it before some of the worst human rights violators in the world." FRC president Tony Perkins criticized the report's discussion of Arizona's immigration law. "This is a model of how a nation debases itself before those who hate it," said Perkins.
• Earlier this year, Chuck Colson said the U.S. was weakening its commitment to "freedom of religion" in favor of mere "freedom of worship." For Colson, the change from "religion" to "worship" was a deliberate attempt to restrict religion from the public square. But recent comments by President Obama assuring Muslims that America is committed to "freedom of religion" has Colson "really confused." He said he doubted that his campaign was successful or that the administration considered the words as interchangeable. "Another possibility is that the President was seeking to reassure Muslims that they can practice their religion here, but that he isn't advocating that Muslims give freedom of religion to others in their countries," said Colson.
• Concerned Women for America (CWA) criticized a photo shoot in Elle magazine that featured Kim Kardashian and teen pop star Justin Bieber. CWA called Kardashian a "cougar" and the photo shoot inappropriate. "As a society, America has established a trend of giving female predators a pass; the most notably being female predator teachers. Communities still see women as nurturers and caregivers," said CWA's pornography expert Donna Miller. "However, female predators provide alcohol and pornography to minors and groom them like any male predator would. Will this trend become even more popular as Hollywood, via glossy photo shoots like the one in Elle, continuously romanticizes adult/child relationships?"
Related Elsewhere:
Earlier Political Advocacy Trackers are available on our site.
Christianity Today also follows political developments on the politics blog.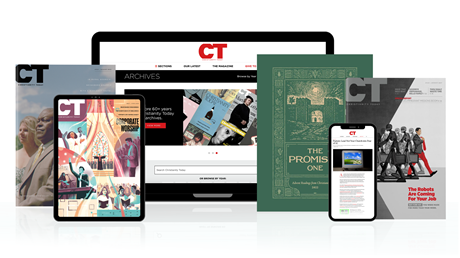 Annual & Monthly subscriptions available.
Print & Digital Issues of CT magazine
Complete access to every article on ChristianityToday.com
Unlimited access to 65+ years of CT's online archives
Member-only special issues
Subscribe
And Glenn Beck Shall Lead Them
And Glenn Beck Shall Lead Them