In a presidential address at InterVarsity Christian Fellowship's annual conference in 1972, evangelical luminary John Stott admitted that he found himself "wondering how the apostle [Paul] would react if he were to visit Western Christendom today. I think he would deplore … the contemporary lack of a Christian mind" (from Your Mind Matters). Quoting Anglican theologian Harry Blamires, Stott continued: "The Christian mind has succumbed to the secular drift with a degree of weakness and nervelessness unmatched in Christian history. It is difficult to do justice in words to the complete loss of intellectual morale in the twentieth-century church."
Are things any different nearly 40 years later?
New Humanist magazine recently co-hosted a debate at London's Royal Society for the Arts, Manufacture and Commerce on the question, "Where is the God debate going?" Panelists included novelist Marilynne Robinson, philosopher Roger Scruton, and historian Jonathan Rée. According to The Guardian's Mark Vernon, the debate mostly turned into a critique of the New Atheism, with some questioners in the audience proposing reasons for why "people of faith never question their beliefs (unlike scientists)."
Vernon hints that while the New Atheism may be slipping out of fashion, the God debate is not. Indeed, religious questions are still on the public's agenda. But it's not just atheists and agnostics who are lobbing objections at Christianity and theism in general, and bemoan a perceived anti-intellectualism among people of faith. Some within the church are grappling with the problem of evil, religious pluralism, and the origins debate, to name a few issues, wondering if their faith is intellectually robust enough to face into these topics honestly.
Not too long ago, I received an e-mail from a college student expressing his intellectual struggles with Christianity. He gave me permission to share this excerpt:
I have realized that the arguments I have been fighting all these years—against ethical relativism, against Darwinism, against atheism, against Pentecostalism, against nihilism, against the gay-rights advocates, against amillenialists, against Lutherans and Catholics, against you-name-it—were not fights against those things at all. I had been spoon-fed caricatures my whole life. Triumphantly defeating the caricatures was easy. But sooner or later, I learned that I would have to encounter real competing arguments instead of watered-down versions. You can't live in your rosy, private schooled, small … church world forever, where every challenge (or perceived challenge, whether innocent or not) to Christianity has a nice, clean, naively compelling answer.
I had been spoon-fed caricatures my whole life. The student captured well the triumphalist, anti-intellectual strain present in some quarters of the church. Of course not all objections to the faith are intellectual in nature. But I can't help wondering if some of us are unwittingly contributing to the ship-wrecking of faith because we fear to directly and honestly addressing seemingly forceful objections. Do we fear that God and his people cannot handle rational scrutiny? That if we honestly and seriously confront the objections leveled against God and the church, both will be found wanting?
I happen to think the answer is no. In college I majored in history and minored in religion and philosophy. I had my own struggles with doubt. Yet I can't count the number of times I was given pat answers, presented with straw man arguments, or told, "See, you shouldn't study philosophy—it only serves to lead you astray." It is this sort of environment that prompted Christian philosopher Clifford Williams to write, "It is difficult to imagine thinking Christians remaining long in such a condition" (see his The Life of the Mind: A Christian Perspective, 2002).
My husband, a philosopher, and I have become convinced that part of the problem is that we have paid little attention to vices of the intellect: being closed to the ideas of others, an unwillingness to exchange ideas, a poor sense of one's own fallibility, a disposition to yield to the excitement and rashness of the overly enthusiastic members of a community, an unwillingness to conceive and examine alternatives to popular ideas, a tendency to wilt in the face of opposition, and impatience with thorough, genuine inquiry.
And we are further convinced that it is both necessary and healthy to question our faith within the church community in order to truly own it. As Tim Keller writes in his 2008 book, The Reason for God, "A faith without some doubts is like a human body without any antibodies in it …. A person's faith can collapse almost overnight if she has failed over the years to listen patiently to her own doubts, which should only be discarded after long reflection …." It's hard to question within community if we are unsure we have the freedom to do so or aren't confident we will receive loving and thoughtful responses.
It's true: We cannot coerce people into loving Jesus and following him. But we can do our part to lovingly remove the intellectual obstacles that those like the New Humanist and New Atheists are highlighting by building up our antibodies and rooting out a fear of critical inquiry in our circles.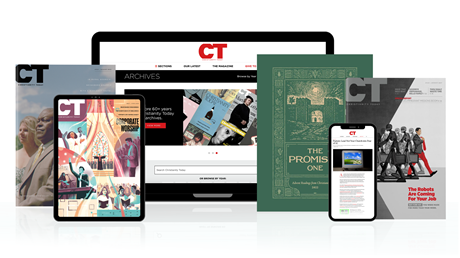 Annual & Monthly subscriptions available.
Print & Digital Issues of CT magazine
Complete access to every article on ChristianityToday.com
Unlimited access to 65+ years of CT's online archives
Member-only special issues
Subscribe
When Doubt Comes to Church
When Doubt Comes to Church